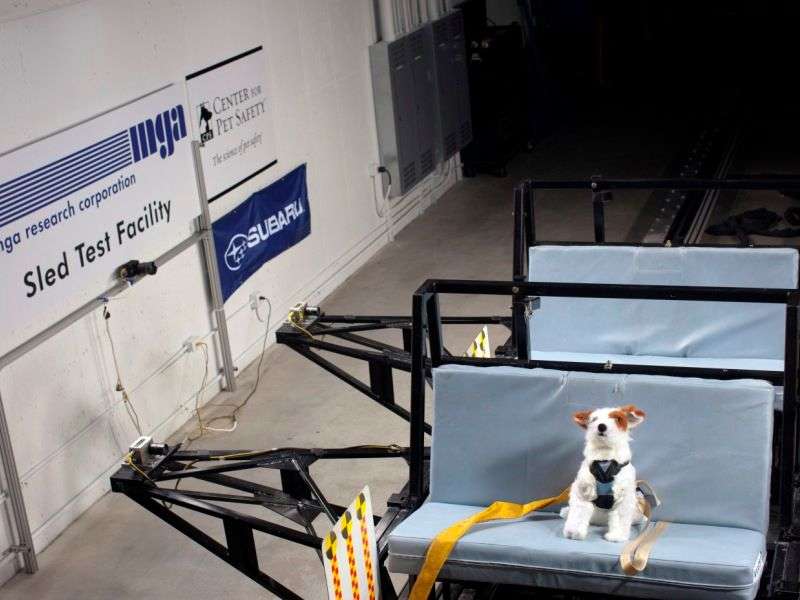 If you treat your pet like it's a member of your family, then you likely make sure they are properly harnessed in your car to protect them in case of an accident. But is the harness you are using safe? According to Subaru and the Center for Pet Safety, it might be.
This week, Subaru/CPS released the results of their first crash tests with pet harnesses. The tests were done by MGA Research Corporation, an independent National Highway Traffic Safety Administration (NHTSA)-contracted testing laboratory. The tests put seven different harnesses on a sled with three different crash test dog dummies - a 25 pound terrier mix, a 45 pound Border Collie, and a 75 pound Golden Retriever. From there, the sled moves violently to mimic a 30 MPH impact to find out how the harnesses fare.
Out of the seven harnesses, the Sleepypod ClickIt Utility was the only one to earn top marks. The other six showed signs of stitching and hardware problems. One of the harnesses had a "catastrophic failure" where it "allows the test dog to become a full projectile or releases the test dog from the restraint."
Even more worrying from Subaru/CPS tests? There isn't a standard or uniform testing procedure for dog restraint systems. All of the manufacturers involved in the test said their products went through "crash testing" and/or provide "crash protection." CPS says that a performance standard and testing protocols need to be established.
"Subaru and CPS share a common love for pets and safety, and it is our mission to communicate to pet owners that an effective harness should keep the pet in place to prevent distraction to the driver as well as offer measurable levels of protection to all passengers in the event of a crash. I, like many people, consider my dog to be a part of my family, and dogs need to be secured with harnesses that have been tested for safety the same way car seats and seat belts that protect our family members have been tested, both for the pet's safety as well as the safety of all passengers," said Lindsey Wolko, founder and CEO of the Center for Pet Safety.