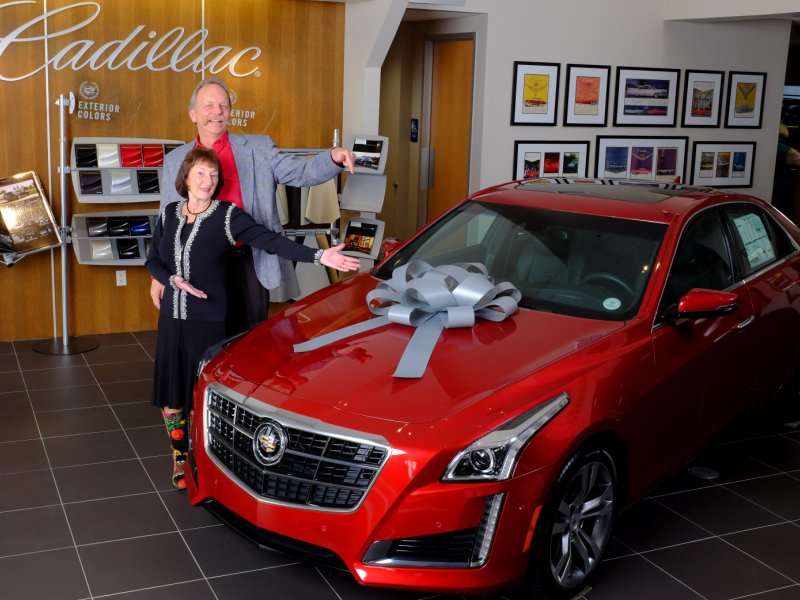 The wait is finally over for the 2014 Cadillac CTS Vsport. Cadillac's new mid-range performer, slotting between the all-new CTS sedan and still-to-come V-Series model, is on its way to customers now, starting with Tim and Pat Whited.
After making the top bid at a Barrett-Jackson auction in August, they recently picked up the very first production model from McCaddon Cadillac in Boulder. And while the winning ante of $120,000 was a bit higher than the car's actual MSRP of $59,995, the Whiteds were more than happy with the way things worked out: Not only are they the first to enjoy Cadillac's new Twin-Turbo V6 as fitted to Motor Trend's Car of the Year—the 2014 Cadillac CTS—but the money also goes to support the SAE Foundation's STEM (science, technology, engineering, and math) education programs.
"The choice to purchase the vehicle was a combination of this being a great opportunity to support the SAE Foundation and a great opportunity to obtain the first 2014 CTS," according to Tim Whited. "We saw the SAE Foundation/Cadillac display at Reno, then listened to the great presentation … on the auction block. At that point, Pat and I looked at each other and decided to participate in the bidding—the rest is history."
As for the future, the Whiteds will benefit from a brand-new powertrain that combines Cadillac's first twin-turbo V6 with its first eight-speed automatic transmission. Displacing 3.6 liters, the engine makes 420 hp and 430 lb.-ft. of torque, which is enough to propel the car from 0-60 mph in a brisk 4.6 seconds.
Also helping the Whiteds wind up their 2014 Cadillac CTS Vsport will be features like:
Sport-tuned suspension and steering systems
A Brembo brake upgrade
Driver-selectable track mode
An electronic limited-slip differential
18-inch aluminum wheels wrapped in staggered-width Pirelli summer performance tires (although an all-season 19-inch tire/wheel combo also is available)
Meanwhile, the efforts of Cadillac, Barrett-Jackson, the Whiteds and their local dealership are "helping to deliver quality STEM programming in the classroom and helping to ensure the next generation of professionals has the skills and education necessary to compete on a global basis," according to Lori Gatmaitan, director of the SAE Foundation.