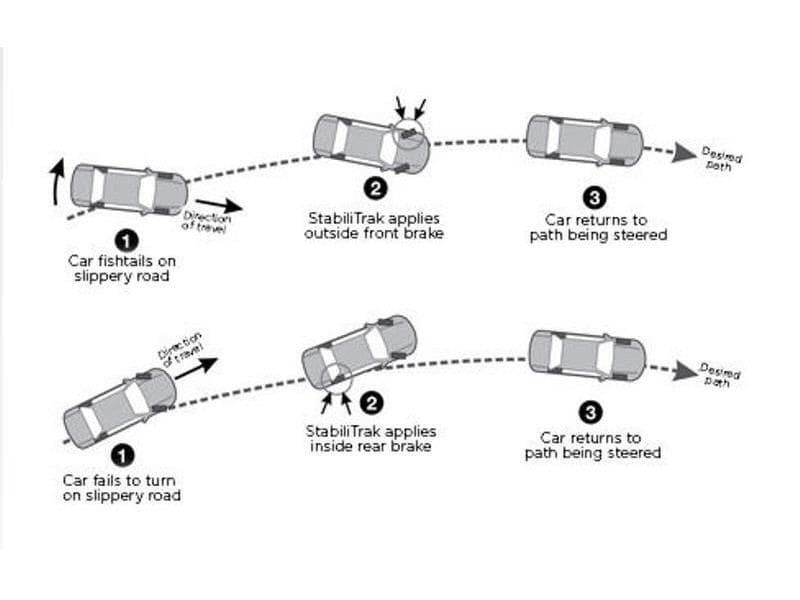 stabilitrak ・ Photo by General Motors
StabiliTrak is the trademark name for General Motors' electronic stability control system. General Motor's introduced this system in their 1997 Cadillac. It then quickly became available on many company cars and trucks. By 2007, the StabiliTrak Control System was standard on all GM SUVs and vans sold in Canada and the U.S. with the exception of commercial and fleet vehicles. As of February 2007, the StabiliTrak system was in the following vehicles: • Buick – Lucerne, LaCrosse, Terraza, and the Rainier • Cadillac – CTS, Escalade, Escalade EXT, Escalade ESV, STS, SRX, and the XLR • Chevrolet – Avalanche, Corvette (known as Active Handling), Express, Malibu, Suburban, Tahoe, Trailblazer, Trailblazer EXT, Uplander, and the Equinox • GMC - Acadia, Envoy, Envoy XL, Savana, Yukon, Yukon and the XL • Hummer – the StabiliTrak is on the H3 • Pontiac – G6, Grand Prix, Montana SV6, Vibe, Solstice GXP, Torrent • Saab – 9-7X • Saturn – Relay, Outlook, Aura XR, Sky Red Line
How does StabiliTrak Work?
Like any good electronic stability system, the StabiliTrak is designed to make driving safer by helping the vehicle to stay on its path when going around corners.
What happens is as a driver heads to fast into a corner, the tires can't grip the road and sends the vehicle either skidding or spinning out of control. Now the StabiliTrak system, using a complex set of sensors and a controller, sends a quick series of pumps to the individual brakes to help the vehicle pull out of the turn and stay straight on the road. The sensor can measure the difference between the angle of the steering wheel and the direction you are actually turning. Then, as defined by the situation, it uses precise for precision pressure on the right brakes to help the driver stay in the right direction.
The entire process happens so quickly that the driver's won't really know that it is going on. They won't even recognize the need for a correction in the steering it happens so fast. If they do suddenly recognize that they are heading into the corner too fast and pounce on the brakes, the system will still be able to detect and deal with the uneven braking problem.
The StabiliTrak in specific circumstances, like oversteering (fishtailing) and understeering (plowing) works like this: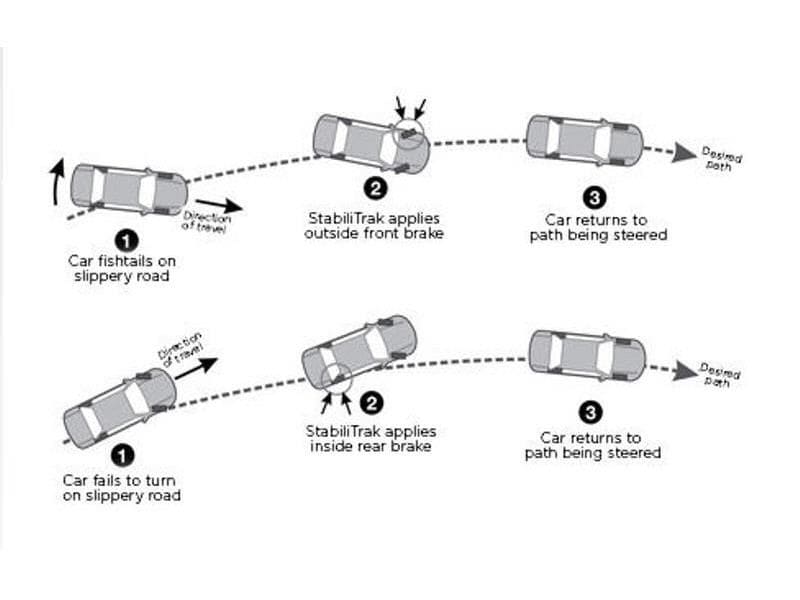 Photo by General Motors
Understeering
If a vehicle is an understeering position, then it turns less that it was intended to keep on its intended direction. Therefore, it will continue to move forward because the front wheels don't have the required traction to change direction. Here the stability system will gently brake the inside rear wheel to get the front end of the truck to follow the path of the curve.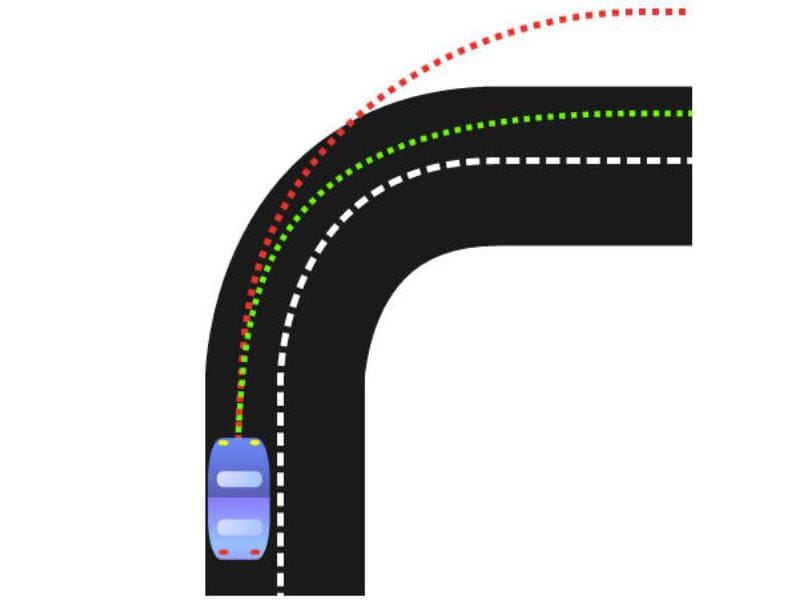 Photo by Wikimedia Commons
Oversteering
When a vehicle oversteers, then it turns too much because the back of the vehicle now spins and slips out and away from the intended direction. The stability system will gently brake the outside front wheel to help bring the rear end of the vehicle back into line with the driver's intended path.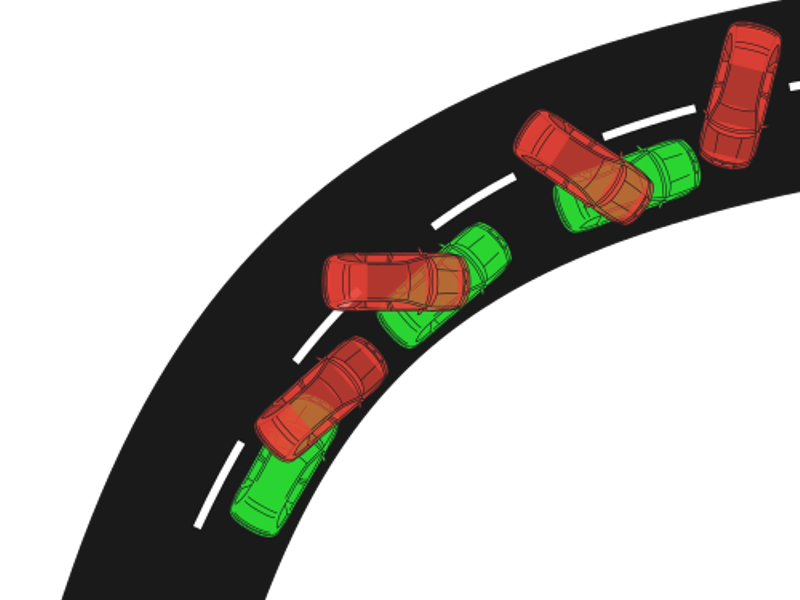 Photo by Wikimedia Commons
How to use the System
The best thing you can do is read the owner's manual and practice getting comfortable with your system. Specifically:
In an emergency, remember to apply brakes hard and stay on them.
Don't pump your brakes. That is what you do if you have standard brakes. With StabiliTrak brakes, pumping stops them from being effective.
These brakes do not make you stop quicker but they will help with your steering when you are braking. This helps you to steer around obstacles.
At certain times, the StabiliTrak system may shorten your stopping distance.
As much as this system is there to help you out, it can't perform a miracle. Drive safely and don't depend on the StabiliTrak to get you out of trouble.