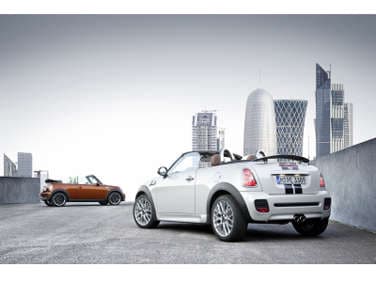 There's still nearly a month before the ol' vernal equinox, but if major league baseball can kick off its spring training in February, so can the team at Autobytel—and what better way to do so than by checking out some of the auto industry's most affordable convertibles? After all, it's already drop-top season in some parts of the country, and there's definitely been a noticeable up-tick in the number of practically priced choices available for fans of open-air driving.
Fiat 500C
Priced from just $19,500, the 2012 500 Cabrio continues to pay homage to its roots by deploying a modernized version of the canvas roof used in the original 1957 model, along with subtle changes to the windshield angle and A-pillars for an increased feeling of airiness. Today's powered dual-layer cloth top can be fully opened at speeds of up to 50 mph, but it can also be positioned part-way open for all-season versatility. And for added livability, the top can detect when the 500 Cabrio's liftgate is opened, then automatically retract to allow easy access to the car's surprisingly roomy storage areas. Thanks to the top's design, the 500c provides 23.4 cubic feet of cargo space when its rear seats are folded down, and a non-negligible 5.4 cubic feet with the seats up.
Jeep Wrangler
The Wrangler is another major beneficiary of the Chrysler Group's turnaround, adding a significantly upgraded interior for 2011 and an impressive new powertrain for the 2012 model year. Now packing a Pentastar V6, the Wrangler offers 40 percent more horsepower than the 2011 model, 10 percent more torque, and 10.5 percent better highway fuel efficiency. The results of all these enhancements have included a 30 percent jump in sales in 2011, a 23 percent increase in January 2012, and a slew of industry awards in both years. The Wrangler is one of the least expensive convertibles in America, too, with an MSRP that begins at $22,045, but it just might supply the most open open-air driving experience—remember, not only is the Wrangler's top removable, but so are its doors. And keep in mind that that price tag also delivers one of the industry's more capable four-wheel-drive systems.page]Mazda MX-5 Miata —The iconic Miata has been thrilling U.S. drivers since 1990 and the two-seat roadster remains a one-of-a-kind proposition 22 years later. For an MSRP that opens at $23,470, the car provides legendary driving dynamics and one of the easiest-to-use manual tops ever invented. In fact, owners can open and close the soft top right from the driver's seat, with just one hand. A power retractable hard-top is available as well—albeit at a $4,070 premium—and this year, Mazda is using that model as the foundation for the Special Edition that debuted recently at the Chicago Auto Show. Offered in either Velocity Red or Crystal White Pearl, and set off by a glossy black hard-top, this limited-run Miata also includes the Premium Package of convenience technologies and the Suspension Package of handling enhancers. Just 450 units will be offered in the U.S., with a starting price of $31,225.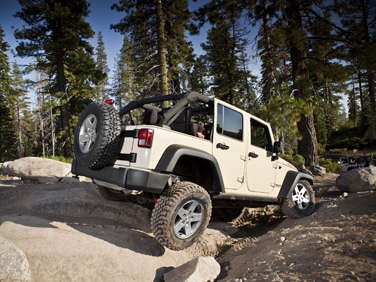 MINI Roadster
MINI distilled its four-place Convertible model into a two-seat Roadster for 2012, creating a modern-day reinterpretation of the classic British formula for open-air excitement—only with much better quality and reliability, a simpler-to-operate cloth top, and, thanks to a cargo area that measures 8.5 cubic feet, much improved practicality. The Roadster's starting price of $25,050 naturally includes the brand's go-kart-like handling and eye-catching interior and exterior style, with a peppy I4 engine that makes 121 hp and enables an EPA line of up to 27 mpg city/35 mpg highway. Drivers also can upgrade performance with the 181-hp Cooper S Roadster ($28,050) and ultimate John Cooper Works edition, with an output of 208 hp, a 0-60 time of 6.3 seconds and a base cost of $35,200. For those who do need the extra pair of seats supplied by the MINI convertible, that model starts at $25,650.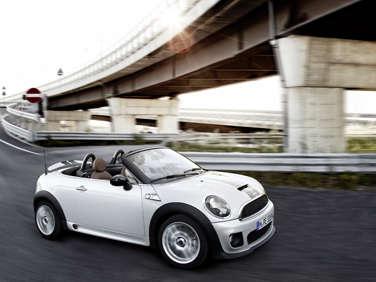 Chrysler 200 Convertible
The critics haven't always been kind to Chrysler's midsize offering, but its metamorphosis from the Sebring to the 200 has seen a comprehensive upgrade in terms of quality and attention to detail, and that also shows in the 2012 Chrysler 200 Convertible. It's distinguished by a soft-touch interior that can hold up to four adults in relative comfort, along with a choice between a power retractable soft or hard top, both of which can be operated by using a button on the car's key fob. The price of admission here is $26,675, but the additional $1,795 premium for one of the automaker's Pentastar V6 engines is well worth the cost: It has an extra 110 hp on tap as compared to the standard I4, while actually enabling slightly better fuel efficiency. The numbers here: 19 mpg city/29 mpg highway and 283 hp.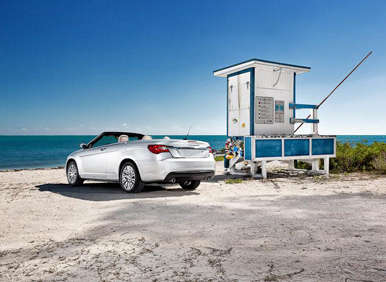 Bonus Pick: VW Beetle Cabriolet—Although nothing is official yet, most observers are expecting Volkswagen to show off a convertible version of the redesigned 2012 Beetle at the upcoming New York Auto Show in April, and also to offer the new drop-top with one of its TDI clean-diesel engines. Stay tuned to Autobytel for updates!