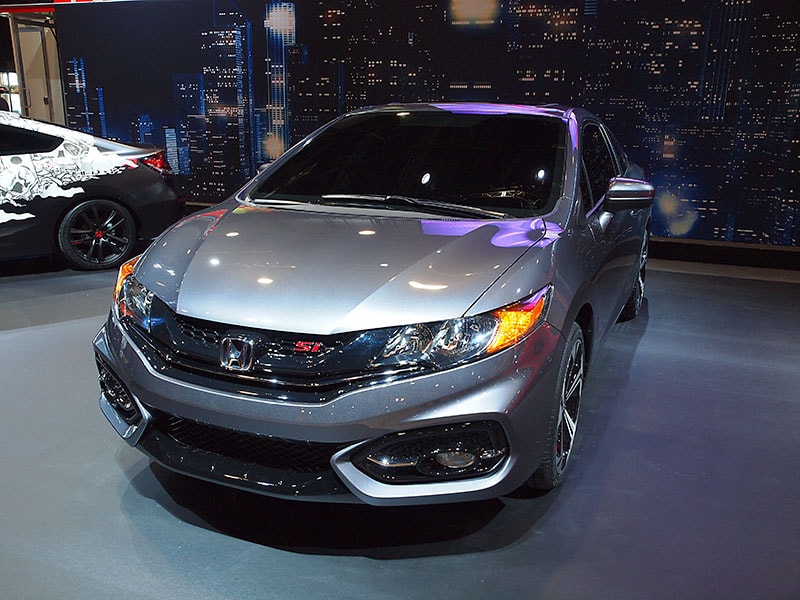 2015 honda civic si coupe
Offering distinct and distinctive style, high-performance powertrains, and a premium cabin environment, the 2015 Honda Civic Si Coupe and Sedan are essentially unchanged from the previous year. But then again, so is their pricing. Both models do see $100 price bumps, yet the 2015 Honda Civic Si Coupe still starts at an affordable $22,990, while the Sedan model checks in at $23,090. 
Further, regardless of the number of doors, the 2015 Honda Civic Si models serve up a noticeably improved performance as compared to the standard Civics, backed by a surprisingly potent, surprisingly efficient powertrain. The standard setup pairs a 2.4-liter four-cylinder engine with a six-speed manual transmission and helical limited-slip differential, then delivers 205 hp, 174 lb.-ft. of torque and EPA ratings of 22 mpg city/31 mpg highway/25 mpg combined.
The sportiest 2015 Honda Civics also rely on Si-exclusive suspension tuning for superior all-around driving dynamics, complemented by standard content like a 360-watt Display Audio system with a 7-inch screen that doubles as a rearview-camera monitor, Honda's LaneWatch blind-spot feature, next-gen HondaLink technology, Bluetooth for hands-free calling and audio streaming, a multi-function steering wheel, and a one-touch power moonroof.
And remember, both versions had just been significantly upgraded for the 2014 model, with the Coupe in particular benefiting from a new, more aggressive approach to design.
As for the standard 2015 Honda Civic models, they're already at dealerships with MSRPs that open at $18,290.