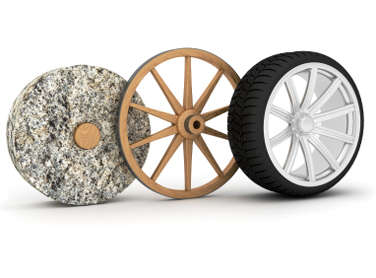 Spare tires are increasingly finding themselves on the endangered species list in new car dealerships across the country. More and more often, manufacturers are choosing not to include a spare tire with the sale of a new vehicle, for a variety of different reasons that range from cost to convenience. Instead of a spare tire, new car buyers are instead being left with a choice of different stop-gap flat repair solutions – or in some cases, nothing at all.
The cost argument is easy to understand: not offering a spare tire with an inexpensive, entry-level vehicle introduces savings during manufacturing that an automaker can then theoretically pass on to the buyer, allowing them to be more competitive with regards to pricing. According to the LATimes.com, Hyundai has managed to save $22 per vehicle by not including a spare tire with models like the Hyundai Elantra, a decision which when multiplied by the number of compact sedans the Korean car company plans to sell in the United States adds up millions of dollars.
Other automakers are nixing the spare tire for practical reasons. With corporate average fuel economy regulations set to become more stringent in the near future, and due to the renewed consumer focus on an automobile's advertised fuel economy, any form of weight reduction can introduce a welcome fuel savings increase that can then be plastered on an automobile's window sticker. In some cases, the small mileage boost offered by removing the 20 to 30 lbs of spare tire, rim and jack is enough to push an automobile's EPA rating up by as much as a few tenths of a percent, which through the magic of rounding can then end up being presented as a full half-mpg improvement.
Erasing a vehicle's spare tire from the list of standard equipment also opens up the opportunity to increase an automobile's trunk space, particularly in smaller cars, crossovers and SUVs. When it comes to performance cars, limited trunk real estate is often complicated by the fact that the front and rear tires are of different sizes, which introduces clearance and safety issues and makes including a "one-size-fits-all" spare almost impossible.
How are automakers skirting the obvious safety issue presented by a vehicle which does not offer a spare tire capable of rescuing drivers stranded on the side of a lonely highway by a blow-out? Some choose to include tire inflation kits, which are cans of compressed gas and chemical goop that are intended to refill a tire with air and temporarily seal punctures. On occasion, manufacturers will also provide electric air pumps to go with their sealant kits. Other automobiles, such as those built by BMW and some higher-end GM models come equipped with run-flat tires which can be driven for distances of up to 50 miles after a puncture at speeds of up to 50 miles per hour, thanks to a reinforced sidewall design.
There are unfortunately flaws with each of these end-runs around the need to include a spare tire. Tire inflation kits are only useful in instances where a tire hasn't been seriously damaged or shredded, as the chemicals used to seal the rubber can only work with basic punctures. Run-flat tires offer a rougher and less performance-oriented ride than a standard tire (an important issue for luxury and sports cars), and once they have been punctured they are almost impossible to repair. The high cost of run-flat tires (typically at least 25 percent more expensive than a comparable non-run-flat option), combined with their limited availability can also complicate replacing a flat while on an extended road trip through a rural area.
Despite these caveats, the LATimes.com reports that a full 13 percent of new cars sold in the United States no longer offer a spare tire. In an age where manufacturers perceive most drivers as being more interested in using their mobile phone to call up a roadside assistance service rather than risk their personal safety swapping out a flat for fresh rubber on the side of the road, the number of automobiles being offered with even a space-saver spare will most likely continue to decrease as time goes on.