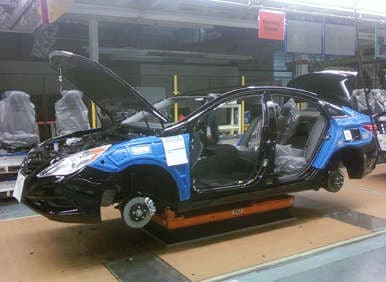 Believe it or not, at one point the American auto industry had such a bad reputation that the phrase "Made In America" was practically the kiss of death for a new car. Among the many reasons cited for this was the indifferent build quality applied to so many of the models manufactured in the United States. Because of this, the workers of the entire American auto industry eventually came to be stigmatized.
Until, that is, offshore manufacturers from Germany, Japan and Korea decided to build their most popular models here in the United States—applying their homegrown methodologies. Volkswagen was the first, eventually Nissan, Toyota, BMW, Honda, Mercedes-Benz, Hyundai and Kia followed. Proving American workers could equal or better their counterparts in the rest of the world, many of the foreign cars made in America built in these factories have been found to be among the most satisfying vehicles built in the U.S.A.
We recently partnered with AutoPacific to survey 75,000 new car buyers within their first three months of ownership to determine their overall satisfaction with the vehicles they purchased. Examining the findings revealed seven "Foreign Cars Made in America" models from offshore manufacturers proudly residing among the top ranked products, thus proving that given a solid design and exacting standards, an Alabama factory worker can build a Mercedes-Benz just as good as a factory worker in Sindelfingen does.
The Seven Most Satisfying Foreign Cars Made In America: Honda CR-V
Attractive to both young people with active lifestyles as well as growing families, Honda's CR-V—manufactured in Marysville, Ohio—offers considerable versatility, a driving experience closely related to that of a car, and remarkable functionality.
 Completely redesigned for the 2012 model year, the Honda CR-V uses an intelligent all-wheel drive system. The vehicle also garnered powertrain improvements that resulted in more power and better fuel economy.
 Honda's smallest SUV also features the company's i-MID intelligent multi-information display, which incorporates Pandora Internet radio and SMS text-messaging Naturally, there's also an available rear-seat DVD entertainment system.
 All of this, combined with Honda's legendary reputation for reliability, combines to produce one highly satisfying mid-size crossover suv. Which, BTW, also explains how the 2012 Honda CR-V took the Top-Rated Mid-Size Crossover SUV award.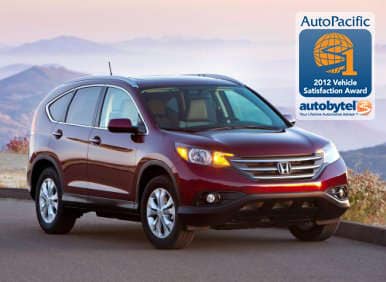 The Seven Most Satisfying Foreign Cars Made In America: Honda Odyssey
Honda's Odyssey minivan is routinely listed among the best minivans on the market. Thus it comes as no surprise the Honda hailing from Lincoln, Alabama drove away with the title of Top Rated Minivan.
 Seating eight and providing amenities such as a removable center console with a flip-up trash bag holder, the Honda also delivers engaging driving dynamics and good fuel economy.  Other standard features include keyless entry, automatic headlights, air-conditioning, full power accessories, and cruise control.
 A blind spot warning system, a voice-operated navigation system with 15GB of digital storage, a multi-view camera, a rear-seat video entertainment system with a widescreen monitor, and a high-end 12-speaker surround-sound theater on wheels audio system are among the highlights of the Odyssey's family friendly options list.
 With amenities like these, plus a strong reputation for reliability along with terrific build quality, the Odyssey was a shoo-in for high owner satisfaction ratings among foreign cars built in America.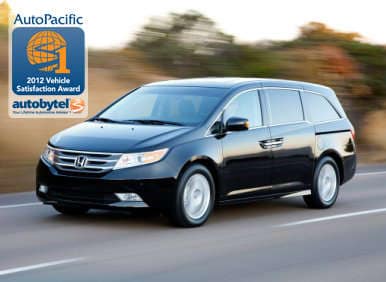 The Seven Most Satisfying Foreign Cars Made In America: Honda Pilot
Rolling off the production line in Lincoln, Alabama, the 2012 Honda Pilot benefits tremendously from the sleeker exterior design bestowed upon it during its recent redesign. Named Top-Rated Premium Mid-Size Crossover SUV, the Pilot seats eight, offers 87 cubic feet of cargo capacity and delivers 25 miles per gallon on the highway.
Available as either a rear-drive or an all-wheel drive proposition, the Pilot uses a five-speed automatic transmission. Power is supplied by a 3.5-liter V6 generating 250 horsepower and 253 ft-lbs of torque.
Packaging all of the goodness for which Honda product is justifiably admired, along with increased quiet and broad array of standard features, the 2012 Honda Pilot readily pleases. Aided by strong build quality and steadfast reliability, Honda's Pilot easily takes the highest rated premium mid-size crossover rating.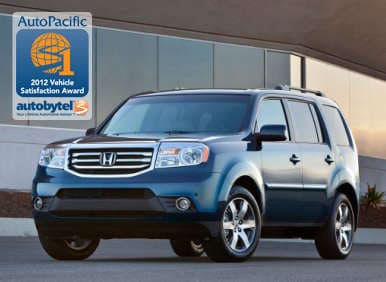 The Seven Most Satisfying Foreign Cars Made In America: Hyundai Sonata Hybrid
Deftly blending the exceptional fuel economy expected of a hybrid automobile with the outstanding feature set of Hyundai's Sonata perfectly positioned the graceful sedan to take the Top-Rated Hybrid Car award.
We're talking about a mid-size hybrid sedan here, so fuel economy in the 40-mpg range on the highway is expected—at minimum. What's unexpected at the Montgomery, Alabama-built Sonata's price point is a six-speaker AM/FM/CD/MP3 sound system, an eight-way power driver's seat, a Bluetooth hands-free phone system, fog lights, and LED tail lamps.
New battery technology enables the Hyundai to package its electric components more efficiently and weigh less as well. The Sonata Hybrid's battery uses polymer gel electrolytes instead of the typical nickel-metal hydride setup. This results in a battery some 25 percent lighter, 40 percent smaller, 10 percent more efficient and capable of performing 1.7 times longer than traditional hybrid batteries.
If that isn't owner satisfying, we'd please like to be introduced to something that is.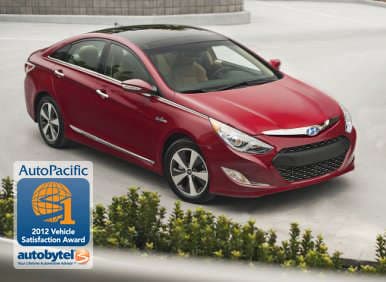 The Seven Most Satisfying Foreign Cars Made In America: Mercedes-Benz M-Class
Built in a factory near Tuscaloosa, Alabama, the 2012 Mercedes-Benz ML claimed the title of Top-Rated Premium Luxury Crossover SUV with its wholly capable go-anywhere attitude. And while most vehicles in this category never go near a trail, owners of the Mercedes-Benz M-Class derive significant satisfaction from the knowledge they could do so if they ever chose to.
Further, the M-Class family is a remarkably versatile line of vehicles. The diesel versions return prodigious fuel economy, while the AMG versions deliver retina-searing performance. The V8 and V6 gasoline models positioned in between those two extremes set the M-Class up to appeal to a very broad range of owners.
Furthering the pleasure derived from driving the top-rated premium luxury crossover is its high-quality interior containing a broad palette of features. What's more, over the road, the Benz crossover drives better than many cars do, exhibiting dynamic abilities far exceeding owner's expectations.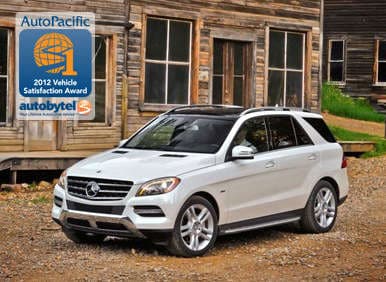 The Seven Most Satisfying Foreign Cars Made In America: Subaru Legacy
Given overall vehicle satisfaction is in fact derived from ownership experiences, it comes as no surprise Subaru Legacy owners are particularly satisfied with their cars. Highly robust, nicely equipped, and fun to drive; the Lafayette, Indiana-built Subaru readily attained the top-rated mid-size car Vehicle Satisfaction Award.
The Legacy exhibits outstanding handling characteristics because of the low center of gravity afforded courtesy of the horizontally opposed engine's propensity for riding low in the engine bay. Factor in responsive steering, resolute braking ability and handsome styling, and you'll come away with a pretty satisfied lot of buyers.
The Legacy's equipment list is strong as well, including such niceties as; automatic headlights, air-conditioning, cruise control, a height-adjustable driver's seat, a tilt-and-telescoping steering wheel, and full power accessories—all as standard equipment.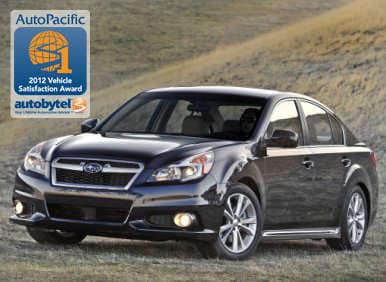 The Seven Most Satisfying Foreign Cars Made In America: Volkswagen Passat
Straight out of a brand-new factory in Chattanooga, Tennessee, the 2012 VW Passat is being called by many the "American" Passat. So quite naturally, it rounds out our list of the best American-made imported automobiles.
Larger and more spacious than the "German" Passat it replaced, the new model boasts best-in-class rear-seat legroom, along with intelligent crash response, automatic climate control, and a three-year/36,000-mile free maintenance plan.
Survey respondents found these amenities particularly fetching.
Named the best-rated premium mid-size car in America, the 2012 Volkswagen Passat is also rewarding to drive, thanks to its Autobahn heritage. Further, it's packed to the gills with terrific features. These include; keyless entry, remote start, eighteen-inch wheels, navigation, leather, wood trim, and a six-cylinder engine—all for less than $35,000.