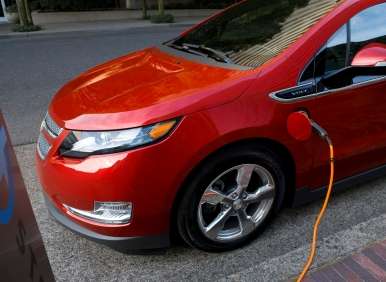 The issue surrounding the NHTSA investigation into the accident safety of potentially fire-prone lithium ion battery packs found in the Chevrolet Volt has been well publicized over the past week. Another potential fire hazard affecting Volt owners has not received nearly as much attention, however: overheating or malfunctioning power cables.
Yahoo! Autos is reporting that a growing number of Chevrolet Volt owners are having the power cord that comes with the compact sedan replaced due to problems associated with the cable during charging. The cable is designed to be used in situations where a dedicated charging station is not available, and it plugs into a standard 120-volt socket much like any other major appliance. Although the NHTSA has yet to receive any complaints from Volt drivers, Internet reports from the Volt community indicate that the cable has a propensity to overheat while in use, with Yahoo! Autos quoting some owners as saying that the cable was hot enough to actually burn the skin after the vehicle was plugged in for an extended period.
In some cases, the problems appeared to be related to using adapter plugs instead of a direct, electrician-installed 120-volt electrical outlet. Other overheating Volt power cable reports seem to be point towards to certain outlets, and not necessarily the cable itself, being the culprits. Unlike conventional gasoline-powered cars which make use of carefully-regulated fueling stations, the Volt is at the mercy of the quality of a given household electrical system, which may not always be up to the task of safely recharging a hybrid vehicle's battery.
GM has indeed replaced several Chevrolet Volt power cables under warranty - some more than once - but has yet to look into a possible design flaw with the charging system. Although there have been a number of garage fires involving the Volt over the course of the past year, independent investigations have confirmed that the electric vehicle was in no way responsible for the flames. GM has incrementally improved the charging cable since the vehicle was first launch, but remains confident in the current plug and does not foresee a recall in the vehicle's future.
It is important to remember that, with over 6,000 Volts now plying American highways, the problems that have been reported with overheating cables or even the isolated incidents of fires resulting from improperly disposed of batteries represent a very small number of vehicles. In fact, most Chevrolet Volt owners are perfectly satisfied with their vehicles, with Inside Line reporting that a GM spokesman has confirmed almost all Volt drivers have elected to not take advantage of the company's offer of a temporary loaner car pending the resolution of the current NHTSA investigation.