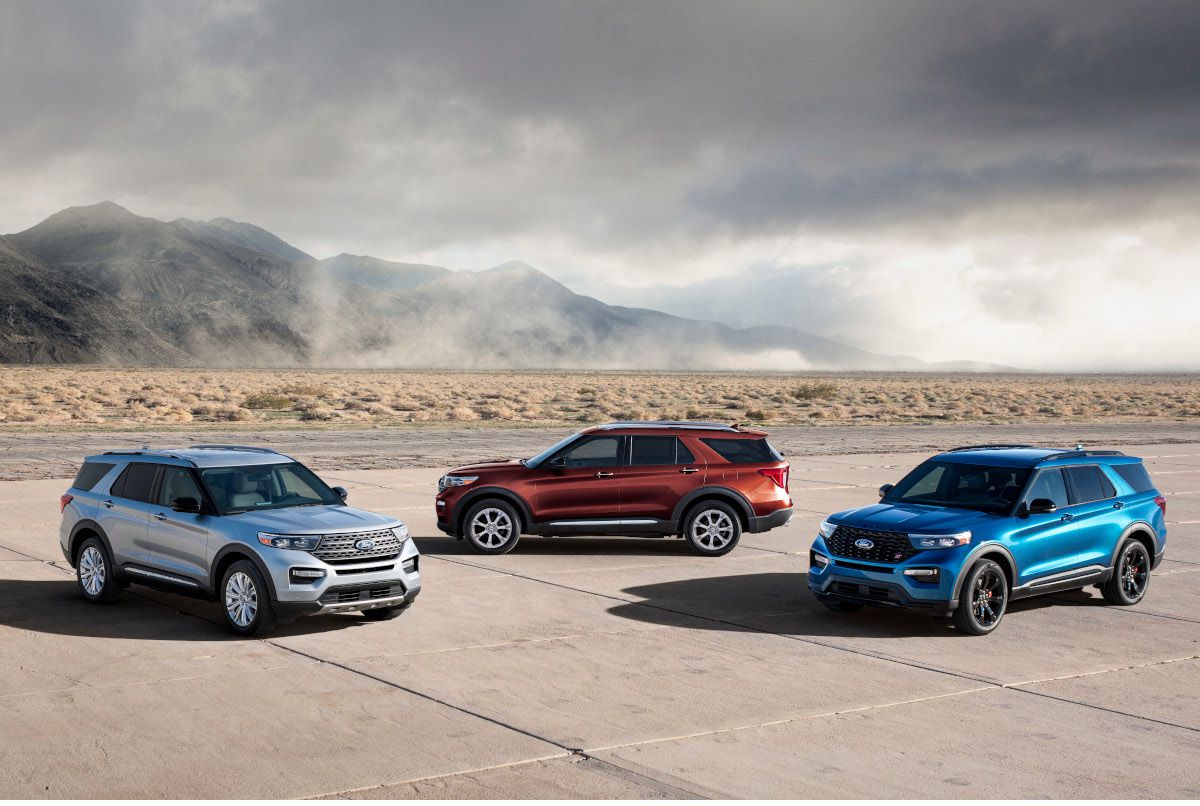 The new 2020 Ford Explorer introduces new technology and safety features ・ Photo by Ford
In case you hadn't heard, Ford is bringing an all-new Explorer to the marketplace for 2020. Since this is America's best selling SUV, it's big news. This Explorer will be more powerful, more capable, and better suited for the families of today. While you'd expect that from an all-new model, we've still got to mention a few things you can get excited about.
Cutting-edge safety technology, advanced infotainment, and an efficient 4-cylinder turbo engine all come standard on the 2020 Explorer. To start, every Explorer comes with CoPilot 360, which includes autonomous emergency braking with pedestrian detection, blind spot monitoring with rear cross-traffic alert, a lane-keeping system, and automatic headlights with auto high-beams. The rearview camera even has a power wash cleaner to automatically clean off dirt and gunk when the lens is dirty. An 8-inch touch screen and support for Android Auto and Apple CarPlay is also standard, as is an available WiFi hotspot that can support up to 10 users. 
For the first time, buyers will be able to opt for a hybrid Explorer. Ford estimates that a tank of fuel will last you 500 miles with the rear-wheel drive model. The hybrid will also be available with all-wheel drive for those who need it.
Even better news: The lithium-ion battery pack is built into the chassis below the second-row seats, which means third-row and cargo space is not sacrificed for fuel efficiency.
If you dream about the performance of a sports car, but you have an entire family to carry, the Explorer ST could be just what you're looking for. A unique 3.0-L EcoBoost V6 is projected to make 400 horsepower and 415 lb-ft of torque. Ford says the top speed with be 143 mph on the track. That's definitely not your average family wagon. A performance-tuned all-wheel drive system comes standard on the ST, and there is an optional Street Pack and Track Pack that adds 21-inch wheels and performance brakes. All of it is tuned by the folks at Ford Performance, who make everything from the Ford GT supercar to the Raptor off-road pickup, so you can be sure this is one quick SUV.
A premium interior is just the tip of the proverbial iceberg when it comes to features and tech on the Platinum Explorer. Massaging seats make sure that after a long drive you arrive refreshed and ready for adventure. A 980-watt, 14-speaker Bang & Olufsen premium audio system plays all the tunes, and when you opt for that package, you also get a new 10.1-inch infotainment screen that offers split-screen functionality. You won't even need to park yourself — Active Park Assist 2.0 comes standard on Platinum and can automatically parallel or perpendicular park the vehicle. Unlike previous versions, you don't have to operate the gas or the brake; the car handles it all.
Ford's not just spewing marketing euphemisms; the Explorer is built on an all-new platform. Its rear-wheel drive architecture will underpin a whole new era of Ford vehicles to come. That means the standard Explorer will come with rear-wheel drive, instead of front-wheel drive. Don't fret; you'll still be able to get an Explorer with all-wheel drive if you need it.