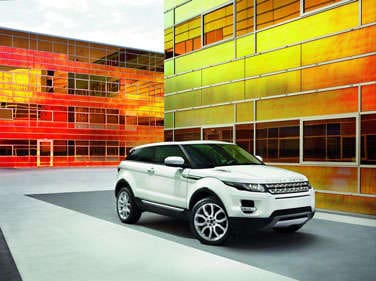 You don't have to go big in order to get behind the wheel of a comfortable and luxurious sport-utility vehicle. There are several compact premium crossovers and SUVs that offer a high level of class and style along with an engaging driving experience and substantial practicality. These vehicles, while not necessarily bargains, are often considerably cheaper than their larger brethren, which can make them an excellent entry-point to the wider world of luxury vehicles.
Let's take a look a eight compact luxury SUVs that offer classy family transportation wrapped in a high end package.
01. 2012 Land Rover Range Rover Evoque
The 2012 Land Rover Range Rover Evoque is the newest entry into the British brand's lineup, and the compact SUV makes a splash by offering not just a traditional four-door model but also a stunning two-door coupe. Both versions of the Land Rover Range Rover Evoque come with five passenger seating, and the four-door hatchback adds 51 cubic feet of total cargo space to the mix. This is of course on top of the brand's sparkling off-road reputation (well deserved with the Evoque) and a healthy dose of high end luxury gear.
The 2012 Land Rover Range Rover Evoque also offers a high tech drivetrain built around a turbocharged, 2.0-liter EcoBoost four-cylinder engine. This not unit only offers up 240 horsepower and 270 lb-ft of torque, but it also delivers fuel economy rated at 19-mpg city and 28-mpg highway, making it the most efficient Range Rover every built. A six-speed automatic transmission and full-time four-wheel drive are included as standard equipment with the Evoque.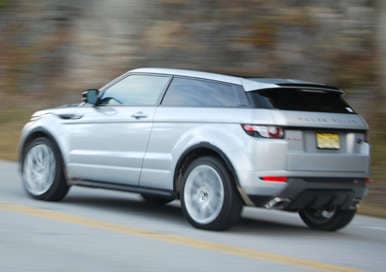 Page 3
The 2011 Infiniti EX35 is perhaps the most wagon-like of all compact luxury crossovers currently available. The Infiniti EX35's sleek styling is an indicator that it offers a tighter suspension and chassis package than many of its competitors, allowing it to drive far more like a sporty family car than a tall SUV. Five passenger seating and just under 50 cubic feet of cargo room (with the rear row folded forward) are solid indicators of the Infiniti's practical nature, and it also offers a long list of technology and safety features that have become the automaker's calling card.
The 2011 Infiniti EX35 is powered by a willing 3.5-liter V-6 engine that puts out 297 horses and 253 lb-ft of torque. A seven-speed automatic transmission is included free of charge with the crossover, and buyers can choose between either standard rear-wheel drive or optional all-wheel drive. Fuel economy for the SUV shows as 17-mpg city and 24-mpg highway.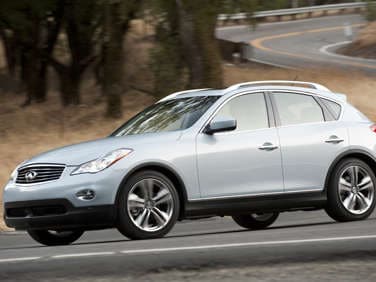 03. 2011 BMW X3
The 2011 BMW X3 has been completely redesigned in order to offer driving dynamics that are much closer to the BMW 3 Series sedan upon which its platform has been based. The BMW X3 is larger than it was in its previous generation, providing more interior space for its five passengers and a total hauling capacity that has swelled to 63.3 cubic feet, and the vehicle's quotient of comfort equipment has also grown to match customer expectations in an increasingly competitive area of the market.
The 2011 BMW X3 starts out with a 240 horsepower, 3.0-liter inline six-cylinder engine that is also good for 221 lb-ft of torque. Fuel mileage for the motor checks in at 19-mpg around town and 25-mpg on the highway. A more potent turbocharged edition of the same engine is also available as an upgrade, bringing with it 300 horsepower and 300 lb-ft of torque and fuel mileage that actually matches the entry-level engine in city driving and improves the highway measure by one mile per gallon. An eight-speed automatic and all-wheel drive come with each version of the BMW X3.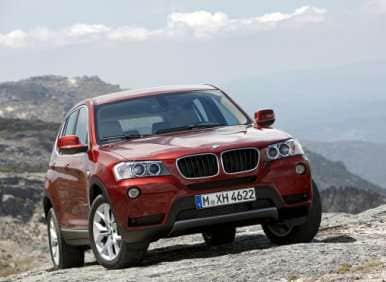 04. 2012 Acura RDX
The 2011 Acura RDX is another luxury SUV in the compact class that impresses with its handling, and its more affordable pricing makes it an attractive choice for deal-hungry family shoppers. 61 cubic feet of total interior storage space are available in the Acura RDX with the second row of accommodations out of the picture, and the vehicle can hold up to five occupants at a time.
The 2011 Acura RDX offers a turbocharged four-cylinder as its exclusive engine choice. The 2.3-liter motor generates 240 horsepower and 260 lb-ft of torque, and Acura's innovative Super-Handling All-Wheel Drive (SH-AWD) system actively shuttles torque to the outside wheels while cornering in order to improve handling and acceleration. SH-AWD is available as an option, while front-wheel drive is standard. Both editions of the Acura RDX offer the same five-speed automatic transmission, and fuel economy for the small SUV is rated at 19-mpg city and 24-mpg highway.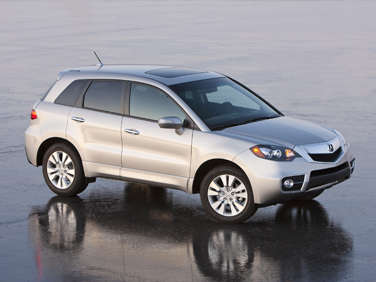 05. 2011 Mercedes-Benz GLK350
The 2011 Mercedes-Benz GLK350 offers the Teutonic automaker's traditional luxury trappings in a compact form that emphasizes style and comfort over blistering performance. The five-passenger Mercedes-Benz GLK350 features 54.7 cubic feet of total luggage room, while also offering the availability of a panoramic sunroof, HID headlights, a rear seat entertainment system and a surround sound system.
Under the hood, 2011 Mercedes-Benz GLK350 comes with a 3.5-liter V-6 that has been tuned to provide 268 horsepower and 258 lb-ft of torque. Rear-wheel drive comes free of charge, but four-wheel drive can be ordered as an option. A seven-speed automatic transmission helps the GLK350 achieve a fuel mileage rating of 16-mpg city and 23-mpg highway.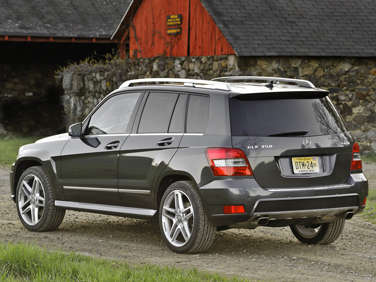 06. 2012 Cadillac SRX
The 2012 Cadillac SRX might be a bit larger than some of the other compact luxury crossovers found on this list, but it doesn't drive like a traditional, bulky SUV. Instead, the Cadillac SRX offers a quiet and well-cushioned ride for each of its five passengers, and the vehicle feels much smaller from behind the wheel than its visual impression would suggest. 61 cubic feet of total cargo space are complemented by interior styling that is a notch above what was found in the first generation of the premium SUV.
The 2012 Cadillac SRX has whittled its engine options down to just one for the current model year, a 308 horsepower, 3.6-liter V-6 that also generates 265 lb-ft of torque. Matched with a six-speed automatic transmission that features an Eco mode, the SRX offers fuel economy in the neighborhood of 17-mpg in stop and go driving and 24-mpg on the highway. All-wheel drive can also be added to the crossover's list of features.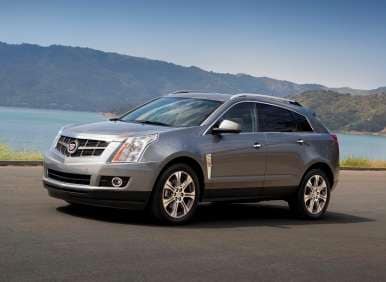 07. 2012 Audi Q5
The 2012 Audi Q5 proves that it is possible to mix fuel efficiency and fun and come up with a desirable compact SUV that appeals to families looking for luxurious comfort and sporty driving fun. The Audi Q5's supple chassis (based on the Audi A4 sedan) gives it an edge when it comes to tackling corners and rough pavement, and its generous interior volume is appreciated whether the vehicle is loaded up with five passengers or a total of 57 cubic feet of gear in the rear cargo area.
The 2012 Audi Q5's base motor is a 2.0-liter, turbocharged four-cylinder that offers up a peppy 211 horsepower along with 258 lb-ft of torque, along with a respectable fuel economy rating of 20-mpg city and 27-mpg highway. Opting for the vehicle's 3.2-liter V-6 brings 270 horses and 243 lb-ft of twist to the table but drops fuel mileage to 18-mpg city and 23-mpg highway. Each version of the Q5 comes with quattro all-wheel drive, and while the four-cylinder model features an eight-speed automatic gearbox the V-6 makes do with a six-speed auto.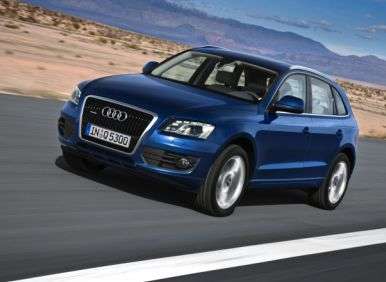 08. 2011 Volvo XC60
The 2011 Volvo XC60 represents a confluence of Swedish safety, premium European design and next-generation Volvo styling. The Volvo XC60 comes with room for as many as five passengers as well as 67 cubic feet of cargo space, and on top of its available leather upholstery and upscale navigation system the crossover can be had with the City Safety system, a blind spot warning system, a lane departure warning system and even the ability to alert owners of an intruder lurking inside the vehicle while it is parked (by way of a heartbeat detection system).
The 2011 Volvo XC60 offers a pair of six-cylinder engine options. Initially, the XC60 features a 240 horsepower, 3.2-liter inline unit that is also capable of generating 236 lb-ft of torque. Fuel mileage for this motor shows as 18-mpg city and 25-mpg city in front-wheel drive trim, with all-wheel drive available as an option. The SUV's top of the line 3.0-liter inline motor puts out 300 turbocharged horsepower and 325 lb-ft of torque. All-wheel drive is standard and fuel economy for the quicker XC60 is rated at 17-mpg city and 22-mpg highway. A six-speed automatic is the only gearbox to be found on the Volvo SUV's equipment list.