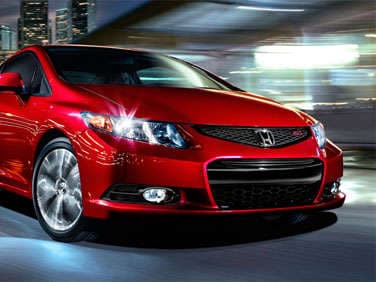 Small cars have traditionally been the starting point for first-time buyers looking to get in on the new vehicle ladder.  There has rarely been a better time than now to get behind the wheel of a compact vehicle, and this class of automobile is no longer restricted to just affordable options - luxury brands have also joined the ranks of those who offer small cars alongside their larger models.  This means that there are compact vehicles suited to a wide range of different budgets, tastes, and driving needs.
Let's take a quick look at 10 modern compact cars.
01. 2012 Honda Civic
The 2012 Honda Civic is the latest evolution of one of the most enduring compact nameplates on the market.  The Honda Civic can be had in both sedan and coupe editions,  and it features the option of a hybrid drivetrain (offering an impressive 44-mpg in combined driving) as well as the sporty Si trim that provides 201 horsepower and 170 lb-ft of torque from a 2.4-liter, four-cylinder engine.  The workhorse of the Civic lineup is its 1.8-liter, four-cylinder motor, which produces 140 horsepower, can be matched with either a five-speed manual or five-speed automatic transmission, and delivers fuel mileage of 41-mpg on the highway.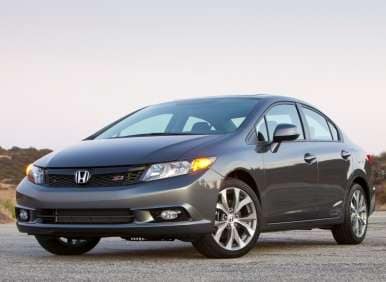 02. 2012 Mazda MAZDA5
The 2012 Mazda MAZDA5 is a compact people mover that proves that vans don't have to be large to be practical.  The Mazda MAZDA5 offers a pair of sliding doors, six passenger seating across three rows, and a decent amount of interior storage space.  It also provides car-like handling, something that is rare in the van segment, thanks to its lightweight design and careful suspension tuning.  Power comes from a 2.5-liter, four-cylinder unit that generates 157 horses and is shifted via an optional six-speed manual transmission (for enthusiasts) or a five-speed automatic.  Fuel economy for the MAZDA5 is rated at 28-mpg highway.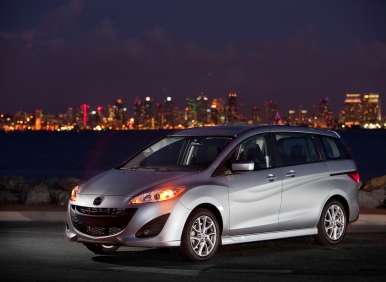 03. 2012 Subaru Impreza
Like the Civic, the 2012 Subaru Impreza has also been completely redesigned for the current model year, and whether found in sedan or hatchback form it displays new styling, a revised and higher quality interior, and a fresh drivetrain.  All-wheel drive is standard with the Subaru Impreza, and the big news for 2012 is the fact that the vehicle now squeezes 36-mpg highway out of its 2.0-liter, 148 horsepower four-cylinder motor.  This is made possible in part by the use of a new continuously-variable automatic transmission, which is available alongside a five-speed manual option.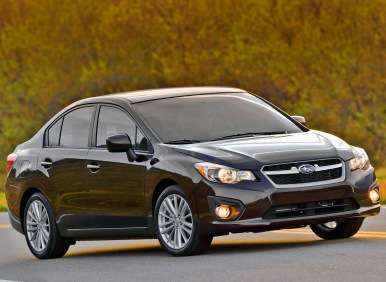 04. 2012 Buick Verano
The 2012 Buick Verano is a new small sedan effort from the domestic premium brand that has hitched its star to the idea that younger buyers are once again willing to take a chance on a Buick.  The Buick Verano offers semi-conservative styling with additional attention paid to detail, and on the inside it features excellent sound deadening that helps to keep the drive to and from work reasonably peaceful.  In the engine compartment sits a 2.4-liter, four-cylinder that provides a healthy 180 horsepower and 171 lb-ft of torque, shifted via a six-speed automatic transmission.  Fuel economy for the comfy compact is rated at 31-mpg during highway cruising.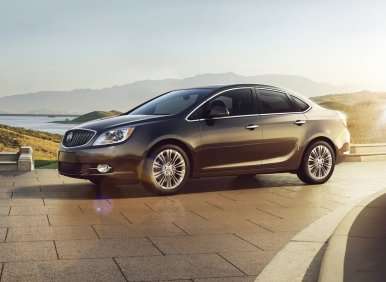 05. 2012 Chevrolet Cruze
The 2012 Chevrolet Cruze is the compact four-door automobile that lends its basic platform to the previously-mentioned Verano.  That being said, there are several key differences between the models.  For one, the Chevrolet Cruze offers entirely unique drivetrain selections: entry-level editions of the car come with a 1.8-liter, four-cylinder motor rated at 138 ponies, while an optional 1.4-liter unit makes use of a turbocharger to deliver the same horsepower but better torque, as well as strong fuel mileage (42-mpg highway vs. 35-mpg highway).  Inside and out the two automobiles feature their own specific design motifs, and underneath the skin the Cruze's suspension system can be had in a stiffer configuration compared to that of the Verano.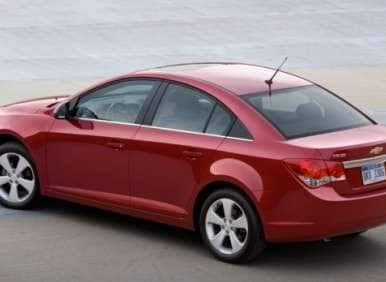 06. 2012 Mazda MAZDA3
The 2012 Mazda Mazda3 is another small car that provides the choice between either a traditional sedan or a practical and roomy hatchback.  The Mazda MAZDA3 continues the brand's practice of offering better-than-average handling even at an affordable price point, and the vehicle is sold with a dazzling array of drivetrain options.  Base models feature a 148 horsepower, 2.0-liter engine, while a Skyactiv power plant that generates 155 horsepower is also available.  Top-tier Mazda MAZDA3s are outfitted with a 167 horsepower, 2.5-liter four-cylinder that also provides 168 lb-ft of torque.  Transmission choices include five and six-speed manual and automatics, and the Skyactiv MAZDA3 posts fuel mileage numbers of 40-mpg on the highway.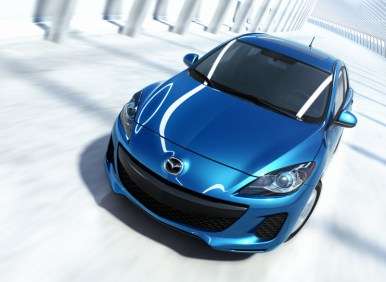 07. 2012 Kia Forte
The 2012 Kia Forte is a value-focused entry-level compact that aims to satisfy family-oriented sedan shoppers as well as those looking for a sportier coupe (or Koup, as Kia calls it) or a hatchback.  The Kia Forte is initially offered with a 156 horsepower, 2.0-liter four-cylinder engine that provides mileage of 37-mpg highway when ordered with the Fuel Economy package.  Moving up to the SX trim level introduces a 2.4-liter, 173 horsepower four-cylinder motor that knocks efficiency down to 32-mpg highway.  A six-speed manual or six-speed automatic transmission can be found handling the gear shifting duties with either engine.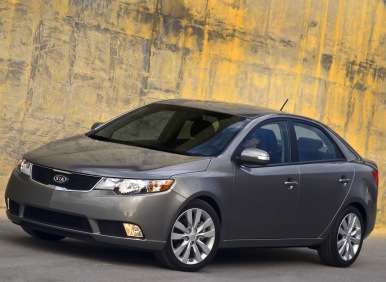 08. 2012 Honda CR-Z
The 2012 Honda CR-Z is unique amongst compact coupes with its combination of two-passenger seating and a hybrid drivetrain that aims to combine both fuel-sipping and fun in the same package.  The Honda CR-Z's suspension system has also been designed to provide excellent road-holding, a characteristic that is enhanced by its relatively light curb weight.  The hybrid system itself consists of a 1.5-liter, four-cylinder engine that works together with a battery-powered electric motor to deliver 122 horsepower and 128 lb-ft of torque.  A six-speed manual transmission is standard - another unusual hybrid feature - while a continuously-variable automatic tranny can also be specified.  Fuel economy for the frugal CR-Z is rated at 35-mpg city and 39-mpg highway.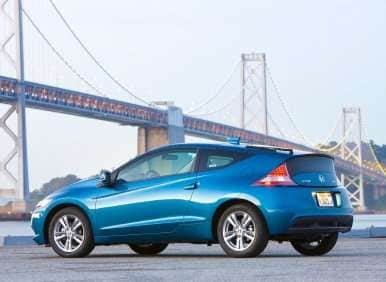 09. 2012 Ford Focus
The 2012 Ford Focus is a versatile compact competitor that delivers European styling and handling across both sedan and hatchback body styles.  Helping to add to the Ford Focus' appeal is a new four-cylinder engine that produces 160 horsepower and 146 lb-ft of torque while returning a fuel mileage rating of 28-mpg in stop and go driving and 38-mpg on the highway.  The all-new Focus can be had with either a five-speed manual or a six-speed, dual-clutch automated manual gearbox, with the latter offering quicker shifting capabilities as well as access to the compact's highest fuel economy numbers.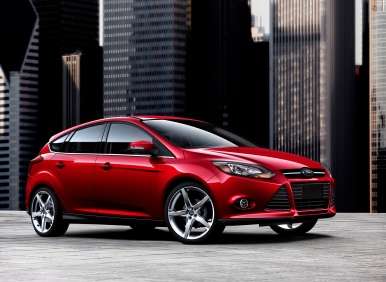 10. 2012 BMW 1 Series
The 2012 BMW 1 Series is perhaps the most successful of the luxury compacts in terms of its critical reception.  The BMW 1 Series coupe (a convertible is also available) shrinks down the German brand's successful formula of connected handling, excellent power, and a high quotient of available premium features, and while some find its styling polarizing others are instantly enamored of its stand-out looks. 
The 1 Series is initially offered with a 230 horsepower, 3.0-liter six-cylinder engine, but stepping up to the 135i model introduces a turbocharged edition of this mill that is good for a startling 300 horses and 300 lb-ft of torque.  Transmission choices include either a six-speed manual or a six-speed autobox, and fuel economy tops out at 28-mpg highway for the more powerful of the two motors.