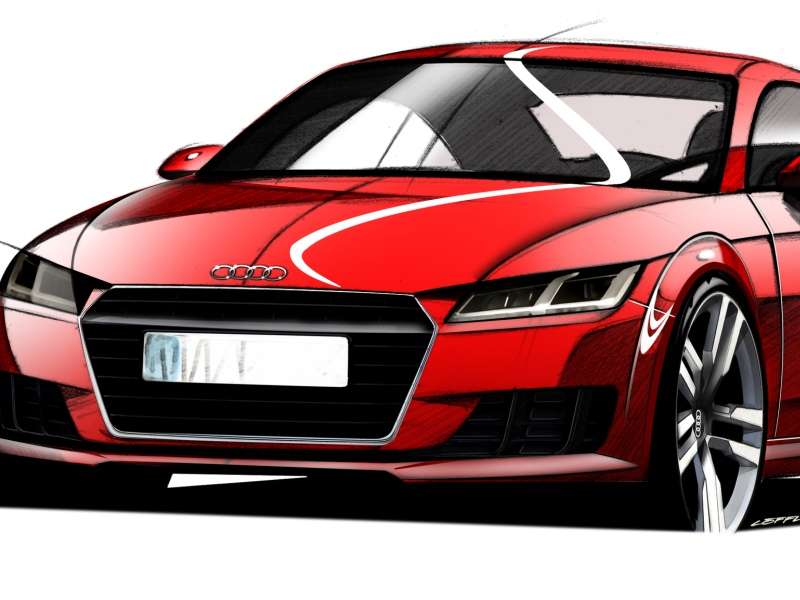 Audi designers and engineers went back to square one to create the 2015 Audi TT, with the brand noting that its team has "reinterpreted a host of ideas from the first TT generation from 1998—in a dynamic, diverse way."
And while we'll have to wait until next month to see the actual car, which is scheduled to debut at the Geneva Motor Show in March, the four-rings brand did release a sketch of the new TT ahead of its Swiss introduction. The drawing shows a fairly subtle evolution of the current Audi TT, with a strong use of horizontal design cues to help retain a wide and low silhouette, but most details won't come into focus until the car takes the stage early next month.
One thing is clear, however: The 2015 Audi TT will continue to extend the brand's reputation for upscale exterior lighting, this time by integrating "divider struts" in the design of both the headlights and the taillamps. Those accents work to reflect the light from the car's daytime running lamps, and additionally create some harder-angled cues to complement the rounded exterior that's become a hallmark of the TT lineup. Naturally, the headlights of the 2015 Audi TT will be offered with either "traditional" LED technology or the brand's new Matrix LED setup that automatically fine tunes each individual lighting element for optimum illumination depending on road conditions.
Other tidbits from the TT's early press materials:
Audi's four rings move to the center of the leading edge of the hood, echoing the appearance of the Audi R8.
A hi-po Audi TTS is in the production plans, with S Line cues like four exhaust tips.
Instead of a central MMI monitor, the TT will help introduce Audi's "virtual cockpit."
The party line from the company: "The third generation of the Audi TT, the design icon, has been systematically refined in every department, both inside and out—resulting in a pedigree sports car."