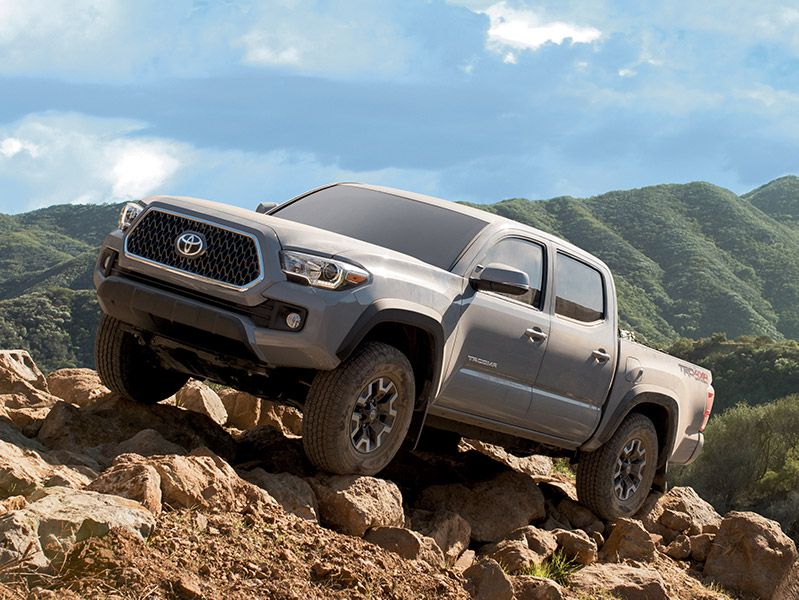 2019 Toyota Tacoma Off Road front three quarter ・ Photo by Toyota
The demand for small pickups continues to grow, and that's brought out an increasing number of Toyota Tacoma competitors to consider. However, it's unlikely any of them will outsell the Tacoma anytime soon. Toyota's small truck has been No. 1 in the segment for more than a decade, thanks to a broad lineup of tough pickups. The Tacoma offers plenty of technology, too, starting with a comprehensive bundle of standard safety features.
But here's the thing: Although they may not catch the Tacoma in terms of sales, many rivals have already caught up — and surpassed the Toyota — in other ways. The newest mid-size pickups can be better connected, provide more capability, and earn higher fuel-economy ratings. There are also some new names joining the crowd, including the very first Jeep pickup in more than 25 years.
2019 Chevrolet Colorado
The 2019 Chevrolet Colorado is one of the top Toyota Tacoma competitors to consider. After all, the Colorado tops the Tacoma when it comes to both towing power and fuel economy, and it also offers more connectivity technology.
It all starts with the gas-powered Colorado, which is stronger and more efficient than its Toyota rival. But the real difference-maker is the Bowtie brand's available diesel engine. With that unit beneath its hood — and no diesel available in the Tacoma — the Colorado has a 13 percent lead in towing and a 30 percent advantage in highway fuel economy. That's a maximum trailer rating of 7,700 pounds and an EPA rating of 30 mpg on the highway. As far as technology benefits, only the Chevy supplies Android Auto, Apple CarPlay, and mobile Wi-Fi.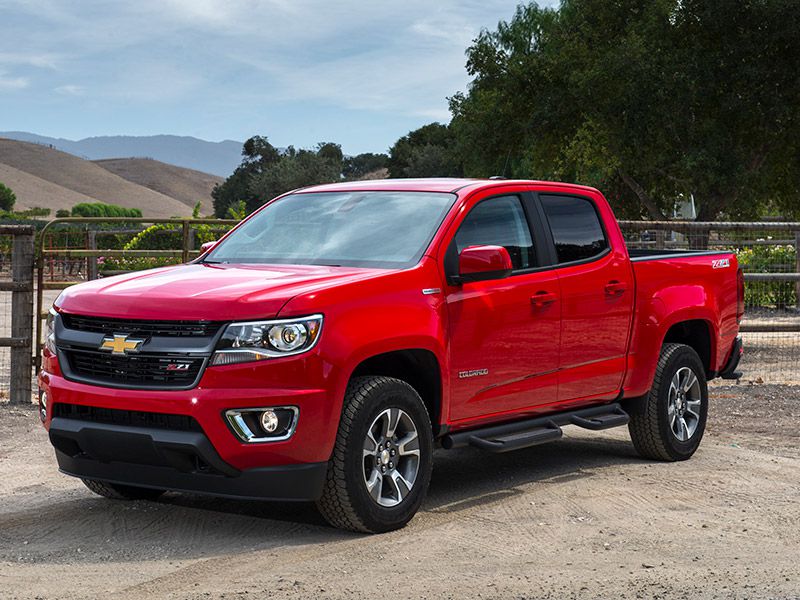 Photo by General Motors
2019 Ford Ranger
Toyota Tacoma competitors to consider also include the 2019 Ford Ranger. It's a familiar name on a brand-new truck. The 2019 Ranger takes almost everything that folks love about the full-size Ford F-Series and puts it into a mid-size package. For example, the Ranger comes standard with a 2.3-liter Ecoboost engine that delivers 270 horsepower, 310 pound-feet of torque, and the ability to pull up to 7,500 pounds — an extra 700 pounds versus the Tacoma.
The Ranger shows off extra technology as well. You can order the Blue Oval's mid-size pickup — but not Toyota's — with mobile Wi-Fi, Android Auto, and Apple CarPlay. Ford's Co-Pilot360 package then lets the Ranger compete in the driver-assistance department. This bundles resources like automatic emergency braking, a blind-spot system with trailer coverage, lane-keeping assistance, and dynamic hitch assistance.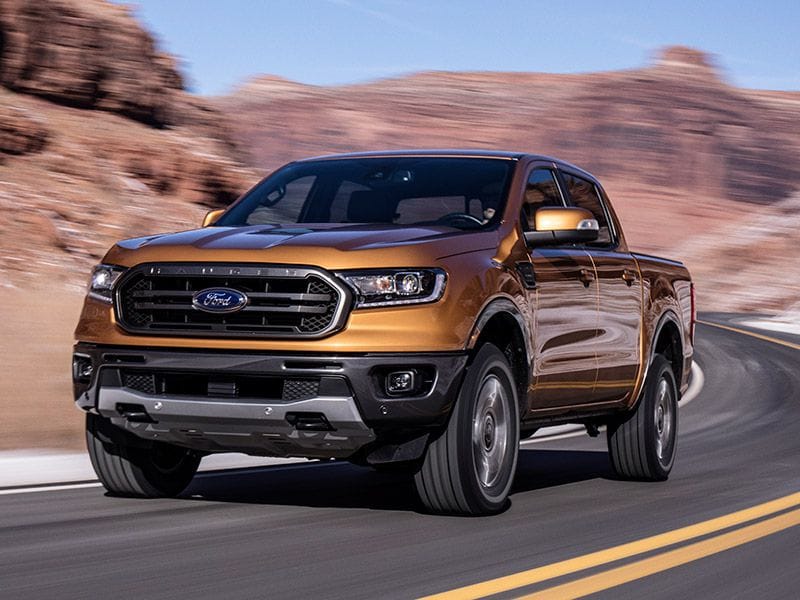 Photo by Ford
2019 Nissan Frontier
If you're looking for the least expensive Toyota Tacoma competitors to consider, you should look to your local Nissan dealership. There you can get a 2019 Nissan Frontier with an MSRP of $18,990. The cheapest Tacoma is $25,700. When you do the math, the Toyota's starting price is a whopping 35 percent higher than the Frontier's. Moneywise, that works out to $6,710.
And those numbers are for the four-cylinder trucks. In fact, the V6-powered Frontier — which opens at $25,620 — is also less expensive than the four-cylinder Tacoma base model. The Frontier doesn't have quite the same amount of starting content, of course. Yet even that can be an advantage. Many pickup drivers actually prefer a manual transmission, and a five-speed setup is standard for the Frontier. The comparable Tacoma is automatic-only.
Photo by Nissan
2020 Jeep Gladiator
At the upper end of the pricing spectrum, Jeep has one of the more expensive Toyota Tacoma competitors to consider. The all-new 2020 Jeep Gladiator — the first Jeep pickup in more than 25 years — rocks an MSRP of $33,545. It's unlikely that will stop many customers, though: Jeep built 4,190 Gladiator Launch Edition vehicles that sold out in a single day despite a sticker price of more than $62,000.
Nor is there much that can stop the Gladiator itself. Like the iconic Jeep Wrangler, the Gladiator will be available in a high-end Rubicon trim for hardcore off-road driving. This setup can boast 33-inch off-road tires, Jeep's robust Rock-Trac 4x4 system, and next-generation Dana 44 axles. The Gladiator also matches the Wrangler with a removable roof, windshield, and doors for the ultimate open-air driving experience.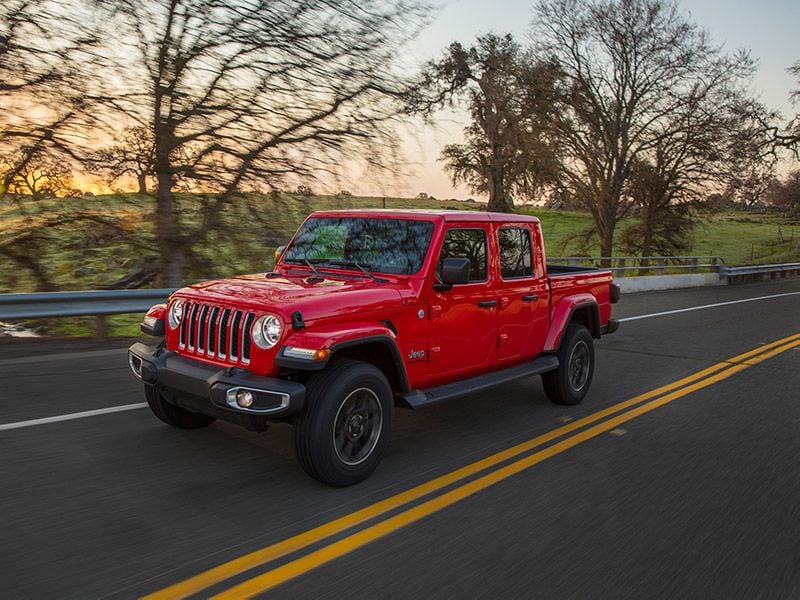 Photo by Jeep
2019 GMC Canyon
General Motors features two worthy Toyota Tacoma competitors to consider. Along with the Chevy Colorado, GM can provide the 2019 GMC Canyon. The Canyon and Colorado are corporate cousins that share a lot of hardware and software alike. So the Canyon offers similar equipment like mobile Wi-Fi, Android Auto, Apple CarPlay, a forward-collision alert, a lane-departure warning, and an available diesel engine.
That also means the Canyon has Tacoma-topping trailer and fuel economy ratings. Remember, the Canyon can pull up to 7,700 pounds and hit 30 mpg on the highway with that diesel powerplant. The Canyon stands out from the Colorado — and even more so from the Tacoma — in its Denali trim. Canyon luxury peaks in this model with 20-inch machine-finished aluminum-alloy wheels, 5-inch chrome assist steps, Denali-specific leather upholstery, and heated and ventilated front seats.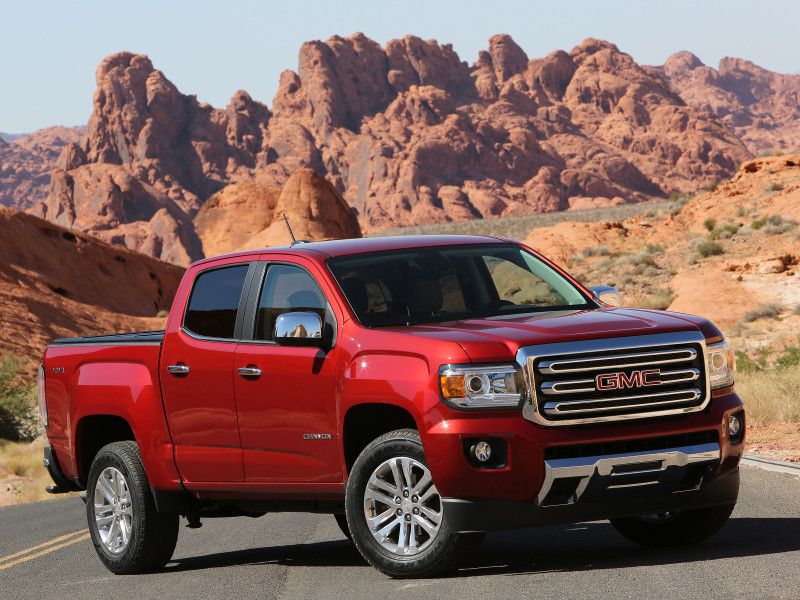 Photo by General Motors
2019 Honda Ridgeline
The last of our Toyota Tacoma competitors to consider is first in the segment for safety ratings. Only the 2019 Honda Ridgeline has been named a Top Safety Pick by the Insurance Institute for Highway Safety. Notably, models equipped with the optional Honda Sensing package and LED headlamps earned the best possible grades for front crash-prevention technology and headlight performance.
As for what's in that Sensing bundle, you get adaptive cruise control, automatic forward emergency braking, a forward-collision warning, a lane-departure alert, and lane-keeping assistance. The Ridgeline is also available with a lockable in-bed trunk that's missing from the Tacoma, while none of the competition has Honda's system that converts the cargo-bed walls into outdoor audio speakers. The same cargo box is rugged enough for a payload of 1,580 pounds.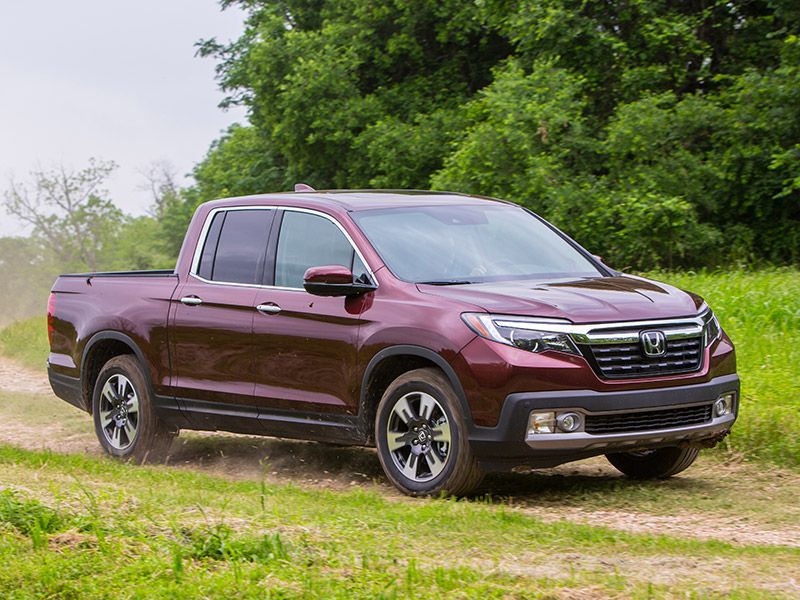 Photo by Honda