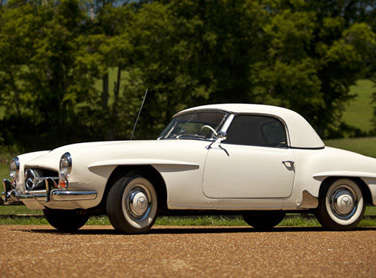 What's better than a celebrity who knows their automotive stuff and drives something a little more special than a run-of-the-mill exotic or luxury car? How about a celebrity who is willing to donate their unique car to a good cause. This is exactly what pop star Sheryl Crow has done with her 1959 Mercedes-Benz 190 SL roadster, which will be auctioned off by Gooding later this month in order to raise funds for charity.
The 1959 Mercedes-Benz 190 SL was completely restored just over five years ago, and its 105 horsepower, 1.9-liter four-cylinder engine runs strong. It comes with a soft and hardtop, with the latter painted white to match the roadster's finish. There was once a time when this two-door convertible represented the cream of the premium sporty car crop, and its four-speed manual transmission, independent front suspension and rear swing-axle suspension with coil springs all around allowed it to offer a very different type of ride when compared to American offerings from the same era. European handling and a focus on lower curb weights and smaller engine sizes were unusual characteristics on U.S highways in the 1950's, and this particular model was even more rare due to a price that was several times higher than that of most other vehicles on the market.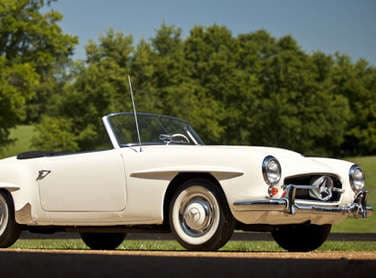 The Mercedes-Benz 190 SL was an expensive automobile to purchase all the way back in 1959, and that remains true today. Initial estimates by Gooding & Company place the eventual sale price at between $50,000 and $80,000. According to ABC News, Crow has much loftier hopes for the auction, having been quoted as saying she wants the vehicle to go for as much as a half a million dollars. She also stated that more realistically, she would be pleased if the Mercedes-Benz – which she has owned for six years – could crack six figures.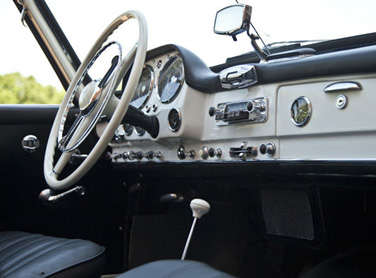 The funds from the auction of this particular automobile will be used to support those who have been affected by the tornado tragedy that took place in Joplin, Missouri this past May. With $3 billion in damages done to the city by the twister, the area is in drastic need of assistance. Crow herself grew up in Missouri, and wanted to do whatever she could to help the people from her home state get their lives back on track. The proceeds of Crow's sale will be earmarked for the Joplin Schools Recovery Fund.