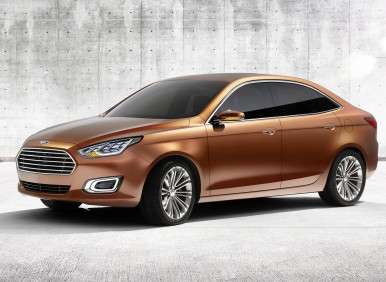 Ford showed off a new concept at the Shanghai Motor Show with a name from the past: the Escort Concept. Ford says the Escort Concept "..is designed to meet the demands of Chinese consumers within a specific subsegment of China's largest and fastest-growing segments, compact cars." Not a bad place to start since compact cars made up 25 percent of total car sales in China last year.
The Escort Concept carries many of Ford's design trademarks such as the hexagonal grille and LED headlights. But unlike some of Ford's recent designs, the Escort Concept  doesn't have the bold, distinctiveness. There is a reason for that. From Ford's press release on the Escort Concept:
"In Ford's market research, customers in China described seeking a vehicle that is stylish – but not one that is arrogant or pretentious – while also allowing for a balanced life that almost always includes family and friends."
Now Ford isn't saying anything about the interior or what is powering the Escort Concept, this is mostly being used as a preview of what to expect in the coming years from the company for China.