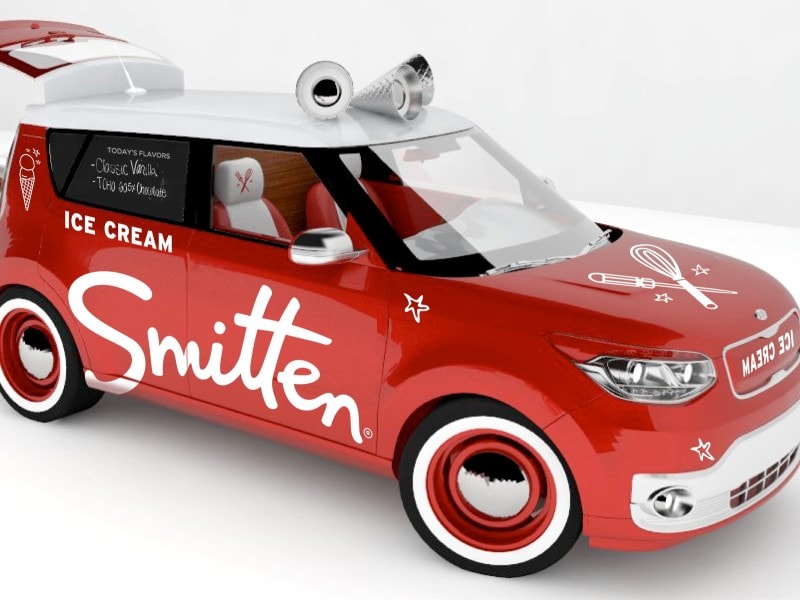 kia soul
Kia's theme for the upcoming SEMA Show is "A Day at the Races," so it certainly makes sense that one of the company's featured concepts is a 2015 Kia Soul that relies on a jolt of nitrogen for added performance. But the result isn't some kind of Soul street racer with a nitrous kit—it's an electric ice cream truck decked out in the livery of San Francisco's Smitten, which freezes the frosty treat with liquid nitrogen to create "the smoothest, densest and most flavorful ice cream on earth." 
Of course, the 2015 Kia Soul EV is fairly cool as well, with post tax-credit pricing as low as $26,200, an EPA-certified all-electric driving range of 93 miles, and EPA-estimated five-year fuel savings of $7,500 as compared to the average new vehicle. Additionally, while the production model of the 2015 Kia Soul EV doesn't offer an in-car ice-cream machine—yet—it does come standard with:
Kia's UVO eServices infotainment/connectivity system with voice-command navigation, an 8-inch touchscreen display, Bluetooth and rear-view camera system
Six-speaker audio with dash-mounted tweeters, USB and auxiliary inputs, and HD Radio
Flex Steer multi-mode steering technology
An Active Eco System that retunes key vehicle-system performance for optimum efficiency
Advanced heat-pump climate technology that can leverage waste heat from the car's electronics systems, along with climate scheduling that allows owners to pre-condition the cabin of the 2015 Kia Soul EV when its still plugged into a charger
Premium seating with heated front seats and bio-fabric surfaces throughout, complemented by a heated, leather-wrapped steering wheel and interior trim made from bio-materials like corn and sugar-cane extracts
The 2015 Kia Soul EV also comes with a standard DC fast charger than can top off the car's battery pack to an 80 percent charge in 20 to 30 minutes.
As a reminder, the 2014 SEMA Show, the world's biggest blowout for the automotive aftermarket industry, opens November 4 in Las Vegas (but is closed to the public).