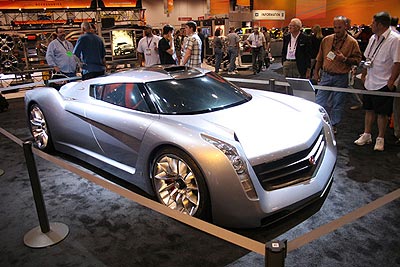 Leno's Ecojet – Photo Gallery: Say you have a garage full of classic cars. And say you have a really big house, an adoring public and considerable influence in Hollywood the auto world. Why, you'd be Jay Leno. Or a rap star. Either way, it beats sitting in a cubicle and sorting paper, eh? If you Jay, and after all of that -- you still had more money than most small nations – you would have a difficult choice: what to do next? Why, you'd build your own bio-diesel jet car. Of course! That's what the real Jay did, with a hand from GM's advanced design studio. Named Ecojet, the "green" supercar debuted at the 2006 SEMA Show with promises to go really, really fast. Cupholders? Optional.
Ecojet to make you feel powerful
It may not be a 1932 Ford Deuce or a custom Olds Toronado, but Jay Leno's latest baby is still a hot rod – in the extreme. It's powerful, beautiful, makes no excuses for what it is, and reflects today's environmental concerns. Plus – the thing's got a jet engine in it, looks like the batmobile and runs on corn. How can you top that? The Ecojet makes 650-horsepower and 400 lb.-ft. of torque from a mid-engine, Honeywell LT-101 turbine that burns cornola. Gas mileage? According to Jay, around 6, making the Ecojet drivable only when there's a good harvest. The engine sits in a modified Corvette Z06 hydroformed aluminum frame with aluminum and magnesium structural and chassis components. The vehicle's shell is an advanced construction of carbon fiber over Kevlar.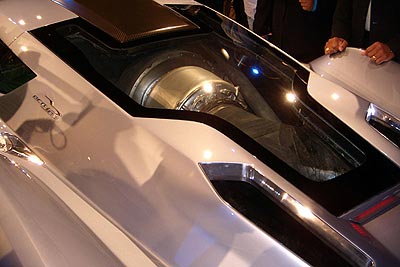 Ecojet to make you beautiful
According to Ed Welburn, GM vice president of global design, and Leno, the EcoJet's genesis goes back to a discussion between Leno, an avid car enthusiast and collector, and Bernard Juchli, the chief mechanic and caretaker of Leno's collection. Leno then turned to Welburn for design direction. Two weeks of sketches later, and the design – which borrows cues from jet aircraft and F1 racers – was in place and work began. "EcoJet's esthetics were driven by aeronautical and jet-age influences," said Welburn. "It's a purpose-driven design that conveys power, capability and even danger, with a hint of Cadillac's design vocabulary." Our take? It looks like really cool batmobile.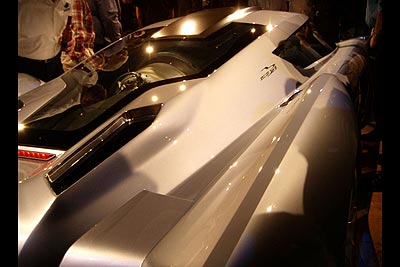 Ecojet Specifications
Leno Ecojet: Mid-engine, turbine-powered, two-seat supercar Engine: Honeywell LT-101 Horsepower (percent of turbine speed): 650 at 70 Torque (percent of turbine speed): 400 lb.-ft. at 70 Fuel type: Bio-diesel Wheels (inches): 20 x 10, front / 22 x 12, rear Tires: 255/35R20 front / 305/30R22 rear Track (inches): 66.9 / 1698 front / 66.6 / 1692 rear Wheelbase (inches): 110 Overall length (inches): 184 Overall width (inches): 79.4 Overall height (inches): 46.5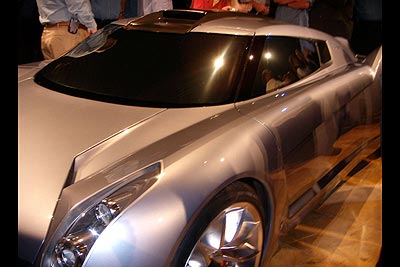 Leno 2005 SEMA rewind: '32 Bowtie Deuce
Debuted at the 2005 SEMA Show, the roadster combines several American automotive legends into a single ride: The '34 Chevy, the '32 Ford Deuce roadster, a GM small-block V8, and the Corvette Z06. General Motors Performance Division engineers used the GM small block to pump the roadster full with an amazing 580-horsepower. It's the same engine used in the 2006 Corvette Z06 and is available to enthusiasts only through GM Performance Parts.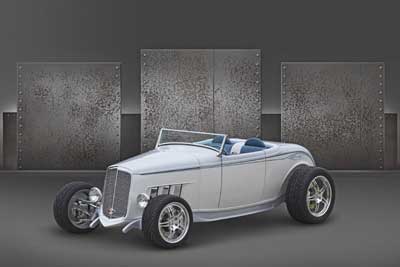 Leno 2004 SEMA rewind: '66 Olds Toronado
Leno's 1966 Toronado, which was showcased at the 2004 SEMA Show, has been impeccably restored, updated and given a custom power boost into the stratosphere. Leno's Toronado features a 1,070-horsepower twin-turbocharged V-8 GM Performance Parts prototype crate engine, and a classically restored exterior and a stock interior. Underneath, however, there's a modified C5 Corvette chassis and suspension and a Corvette rear transaxle.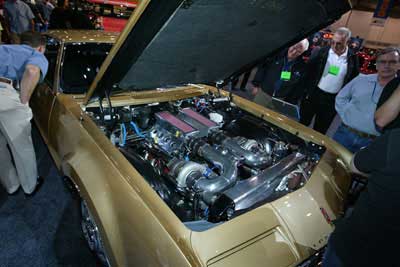 Leno 2003 SEMA rewind: '55 Buick Roadmaster
Leno's 2003 SEMA contribution was a restored 1955 Buick Roadmaster, boasting a new 572 cubic-inch GM crate engine that makes 620 horsepower. Most of the parts, according to GM, were GM Performance Parts, while the restoration was done by Leno and his Big Dog shop manager, Bernard Juchli.
Photos courtesy of Brian Chee, Ron Perry