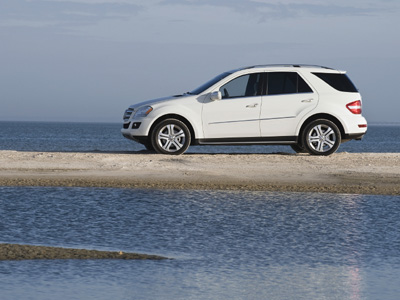 It's the summer of 2008 and the price of gasoline and diesel fuel is higher than the combined rehab bills for Amy Winehouse and Lindsay Lohan. At least it sure feels that way. In the U.S., the $5.00-plus per gallon for diesel fuel tops gas prices by a good 50 cents or more. That must feel like hard luck for Mercedes-Benz, a company that puts high stock in diesel engines for performance, fuel economy and environmental sensitivity, as well as future development. Especially hard, because Mercedes-Benz just spent the last two years campaigning its E320 BlueTec sedan and convincing much of America that diesels were no longer noisy, smelly, environmentally unfriendly, or slow.
Truth is, however, BlueTec diesel is still a smart way to go.
For 2009, Mercedes drops its impressive 3.0-liter BlueTec turbocharged diesel V-6 engine into a trio of SUVs: the ML320 BlueTec, the R320 BlueTec, and the GL320 BlueTec. About as far from a diesel truck as you can get, the M-B BlueTec luxury SUVs are environmental pioneers, the first diesel SUVs to be licensed as emissions-legal in all 50 U.S. states.
These diesel SUVs are running as clean as gasoline-powered cars. Cleaner, even, when we're talking about oxides of nitrogen (NOx). Nitrogen oxides live at the top of the hate list of children and asthmatics, because they react with sunlight to form smog. Historically, NOx production has also been a particular bugaboo for diesel engines since higher-compression engines (and diesels are much higher than gas engines) produce a lot more NOx in the exhaust. (That's the end of the science lesson.)
The Mercedes-Benz BlueTec diesels run at an impressively high 16.5:1 compression ratio, but they don't push a lot of smog out their tailpipes. Ask me why...(pause for effect)...good question, because the answer is even cooler in a Beavis and Butthead kind of way: Before the BlueTec diesel exhaust has a chance to escape out the pipes, it gets spritzed with AdBlue, which is the Mercedes name for an ammonia-rich urea solution. And yes, Beavis, urea is the majority waste product in our urine.
When the diesel exhaust gets dosed with urea, the ammonia reacts with the nitrous oxides to essentially neutralize about 80 percent of them in a downstream catalytic converter. Thus, the majority of the NOx emissions are converted into harmless and earth-friendly nitrogen and water. According to Mercedes, the 7-gallon AdBlue reservoir will get refilled by the dealer at the 10,000-mile oil changes.
Other catalysts in the BlueTec system significantly clean up the carbon monoxide and unburned hydrocarbons, while an aggressive particulate filter captures virtually all of the particulate emissions from the exhaust. All good for the planet.
Also good for the planet – and your pocketbook – is BlueTec diesel fuel economy. For comparison, let's look at an ML320 BlueTec (3.0-liter gasoline V-6) with one of its prime competitors, BMW's X5 (3.0-liter gasoline inline-6). On paper, the M-Class diesel gets better fuel economy (18 mpg, city/24 mpg, highway) than the premium-gas-burning BMW (15 mpg, city/21 mpg, highway). But now let's add in the fact that diesel costs more.
In mid-July as this story is being written, the AAA reports that the national average price of premium gas is $4.51 a gallon. Diesel averages $4.82 a gallon. Going by these prices, it would cost about $602.50 to drive the Mercedes from Los Angeles to New York, while the BMW would set you back $644.93. Significant? Well, it is if you were planning to skip buying a diesel in order to save money at the pump.
So what about performance? Well, what diesels have always done well – towing and hauling loads – the 2009 BlueTec turbodiesel SUVs do very well. The 3.0-liter engine makes a ho-hum 210 horsepower. But in terms of torque – the grunt that gets you off the line and lets you make light work of heavy hauling – the BlueTec diesel delivers: 398 lb.-ft. of torque stretching from 1,600 up to 2,400 rpm.
That's impressive torque, especially coming on so strong just off idle. Really, if the folks on the TV show Lost had wanted to move that stupid island, they should have just rented one of the BlueTec diesel SUVs to tow it to the new location. True, that low-end torque drops off pretty quickly after 2,400 rpm, which can be a little disconcerting if you're trying to get around a slower vehicle on the highway, but around town the engine always gives you an immediate and appreciated lift off the line.
The 2009 ML320 BlueTec, R320 BlueTec and GL320 BlueTec SUVs all go on sale in October. Prices have not yet been announced, but a good bet is that they will retail for around $1,500 to $1,600 more than their 2008 320 CDI turbodiesel counterparts. This nets out to about $46,000 for the M-Class, $47,000 for the R-Class, and $55,000 for the GL-Class.
By Richard Homan Photo Credit: Mercedes-Benz