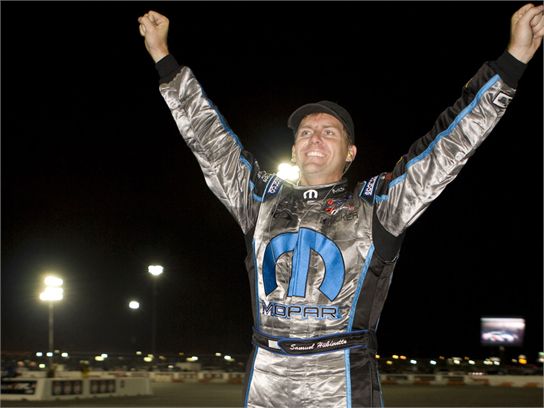 Before we start this Autobytel With and go into any detail about Formula DRIFT driver Samuel Hubinette, we thought you should see this video of Hubinette in his NuFormz Mopar/BFG Charger DRIFT car:
It's good! Samuel Hubinette's ability to so deftly control a vehicle is one of the reasons he is a highly sought-after stunt-car driver and the current Formula DRIFT points leader (and two-time champion). Antics like the above point-after kick are also what have earned the Swedish-born Samuel Hubinette the nickname "The Crazy Swede". Chances are, even if you've never seen him on the track, you've probably seen him through his work in numerous car commercials, as well as in movies such as The Fast and the Furious. With that, another Autobytel With.
I bought a car with another friend of mine. We bought it for really cheap before I even had a driver's license. We bought it basically to go out and trash it on some gravel roads. We got it for like $100, and it was some old FWD beater, I don't know, maybe a Toyota or something. We're like, "Oh, that's a good deal" and some old person was selling it to us. We took it to a gravel road and just trashed it. After a while we ended up sliding into a ditch and smacking a big rock, and the whole rear-end came off. That was my first car.
Then when I turned 18, the age to get a drivers license in Sweden, I purchased an Opel Manta, a really great car, with a 2.0-liter four-cylinder engine. It was a two-door coupe, kind of like a Nissan 240 in its setup. It came out with Recaro seats and a nice rear wing, and had real good weight distribution. My car didn't have a differential, so I bought a differential and basically upgraded my model to the top-model for the Manta. It had synchronized rear gears so you could come cruising in 10-15 mph and pop in the rear gear, dump the clutch and do a burnout. I had a lot of good times with that car; that's the car where I really pushed hard and did a lot of crazy stuff, and really got more into 360-degree spins and stuff on asphalt. I'd done it on snow before in my Dad's Mercedes 300 Turbodiesel, but when I finally got my own car, that's when I really learned how to drift well on dry pavement too.
I had a Dodge Charger SRT8 with a supercharger and all kinds of extra goodies for a few years, but I wanted to move on to something else. It was hard to get a hold of a Dodge Challenger, which is kind of crazy, but I couldn't get a hold of one earlier this year, so I moved over to a BMW M5. I upgraded it with a Corsa exhaust system which sounds great, and I have KW Coilovers all around, and I painted the grille black and smoked the taillights and tinted the windows. I have also 20-inch rims from NC Forged that they custom made for me, I got to design the rims myself. They also have a floating cap in the middle so the logo is always staring down, it's my own logo, my Viking, so I got to design my own wheels from NC Forged. They are 3-piece wheels with a big 6-inch lip in back, so they look really cool. They are the wheel sponsor of my drift team. I had the ECU flashed the other week so there is no speed governor, so I have to try it out sometime, see how fast this thing really goes.
This year we are competing in the NuFormz Mopar/BFG Viper, we're building a Dodge Challenger too, but we aren't bringing it out this year [should debut at this year's SEMA convention]. So we have two Vipers, both supercharged producing over 700 hp. They're all decked out with more steering angle, and we have KW suspension on one and an Eibach suspension on the other one, kind of a mix there, but it's a full blown, prepped drift machine. We have a different setup of wheels from NC Forged so we can use both 335 tires and 295 tires. We use the KDW tire from BFGoodrich that we've been very successful with. We're doing all we can to bring back the championship. We also brought out the NuFormz Mopar/BFG Charger this last week in Mexico and got 2nd place out of sixteen guys. We showcased it down there, and people really enjoyed listening to that high-revving V8.
Doing movies are very spectacular, I did both The Fast and the Furious three and four, and that is impressive in the way of a big production, but commercial-wise, I've done a lot of different cars. [The Lamborghini] is definitely my favorite. First of all, great group of guys, the car obviously made everyone very excited about this shoot, and the great thing is that Lamborghini, the client, wanted performance and wanted the car to go sideways, and they were really pushing us to do what we could to make this car do something outstanding. The car really handled better than I expected. I hadn't had a chance to drive it before and didn't have a real respect for the car, but this '09 model, they did some nice refining changes, and I really enjoyed the whole car. A little slow in shifting, but I'm a little spoiled with the SMG I have in my M5 because I can adjust how hard it is shifting, something you don't have in the Gallardo. But overall, how can you go wrong? We were filming from helicopters, up on mountain roads, and going sideways in downtown L.A. It's definitely something people pay attention to because it's quite an extreme car.
Check out the Lamborghini Gallardo LP 560-4 video that Samuel drove below; if you have any ounce of interest in cars you will love this (as have over a half-million other people on YouTube).
It's a top series in the United States, so you start somewhere mellow and work yourself up. As with any other motorsport, it's seat time, it's about getting as much a feel as possible.