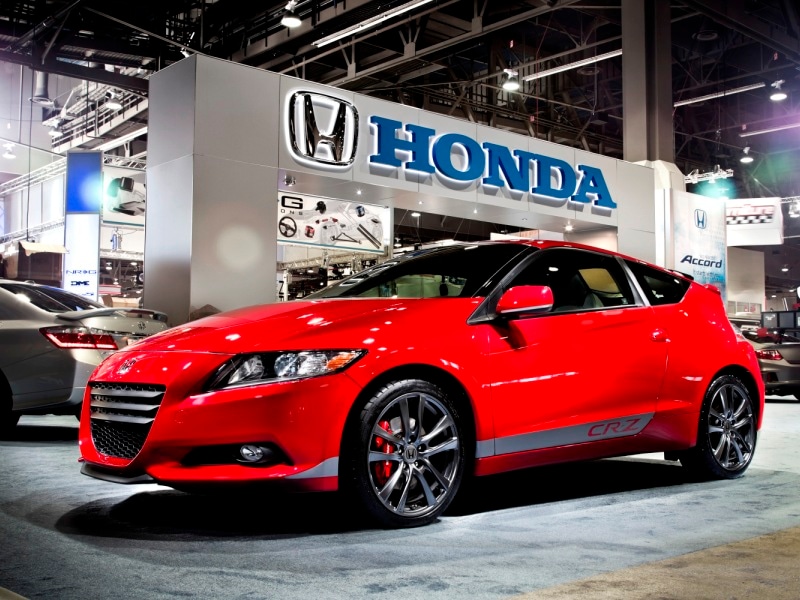 2015 honda cr-z
Although Honda has blinked with the second-gen Insight, cutting the low-cost hybrid due to its low sales numbers, the brand's other dedicated hybrid is back for at least one more selling season as the 2015 Honda CR-Z. Pricing does increase slightly, with the MSRP of the 2015 Honda CR-Z rising $150 to reach $20,145, but that still makes it one of the least-expensive hybrids in the country. Of course, the raison d'etre for the 2015 Honda CR-Z doesn't have much to do with its pricing.
Positioned as the "sport hybrid coupe" of the brand's lineup, the 2015 Honda CR-Z is engineered to combine superior driving dynamics and likewise excellent fuel-economy marks. Thus, it boasts a relatively sophisticated suspension, manual and continuously variable transmissions, and a powertrain that blends a 1.5-liter i-VTEC engine with Honda's "Integrated Motor Assist" electric motor to deliver up to 130 hp and 140 lb.-ft. of torque. Additionally, a wide range of Honda Performance Development (HPD) accessories are offered for the car, ranging from a limited-slip differential to brake, suspension and exhaust kits.
Customers should note, however, that the transmission choice is a real difference-maker here: Although the six-speed DIY transmission can unleash the full torque total mentioned above, EPA ratings for the manually transmissioned 2015 Honda CR-Z come to 31 mpg city/38 mpg highway/34 mpg combined. Conversely, the CVT raises those fuel-economy ratings to 36 mpg city/39 mpg highway/37 mpg combined, but at the cost of 13 lb.-ft. of twisting power (a drop of nearly 10 percent).
Regardless, the 2015 Honda CR-Z does offer a fairly stout list of standard equipment, including a six-speaker, 160-watt audio system (with USB interface), rearview camera, automatic climate control, Bluetooth HandsFreeLink, LED brake lights and heated outside mirrors. Honda's Satellite-Linked Navigation System highlights the available upgrades, which further include a 360-watt premium audio setup, cabin enhancements like a leather-wrapped steering wheel and aluminum-and-leather-accented shifter, Bluetooth audio streaming, and LED daytime running lamps.
Customers also can contact their local Autobytel Honda dealership for more about the 2015 Honda CR-Z.