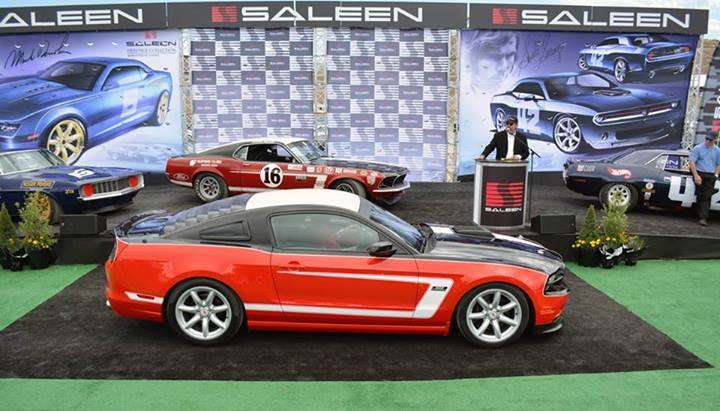 Saleen Automotive was on hand in Pebble Beach this past week to announce its new Heritage Collection lineup. The Heritage Collection pays tribute to SCCA Trans-Am in the late sixties and early seventies.
"All of our vehicles in the Saleen Heritage Collection were designed and engineered to retain the authentic lineage of the original factory-backed racecars. In driving and seeing the new Saleen versions of each car I am quickly taken back to the memories I personally have of these cars at Riverside International Raceway from the 60's and 70's," said Steve Saleen, President and CEO of Saleen.
The first vehicle in this collection is the Saleen George Follmer Edition Mustang. George Follmer was one of the most successful drivers during the sixties. If you needed a win and the pressure was on, you called in Follmer. During the 1969 Trans-Am season, Follmer campaigned a Boss 302 Mustang wearing the number 16 and a tri-color livery.
The Saleen George Follmer Edition Mustang is almost an exact copy of that vehicle with a tri-color livery, 302 badging, and a fair number of scoops and louvers. A 302 V8 producing an estimated 470 horsepower is paired with a six-speed manual. You also get a track-tuned suspension and upgraded brakes.
You can place a pre-order for the George Follmer Edition Mustang right now. Prices start at $70,000 with deliveries beginning sometime in the fall.
After the Mustang will be the Mark Donohue Edition Chevrolet Camaro, modeled after the #6 car raced by Donohue in 1969. An official reveal is expected in the winter. Wrapping up the collection is the Savage Edition Barracuda, modeled after the #42 Plymouth Barracuda that tore up race tracks in 1970. That will be revealed sometime in early 2014. Both models are up for pre-order as well.