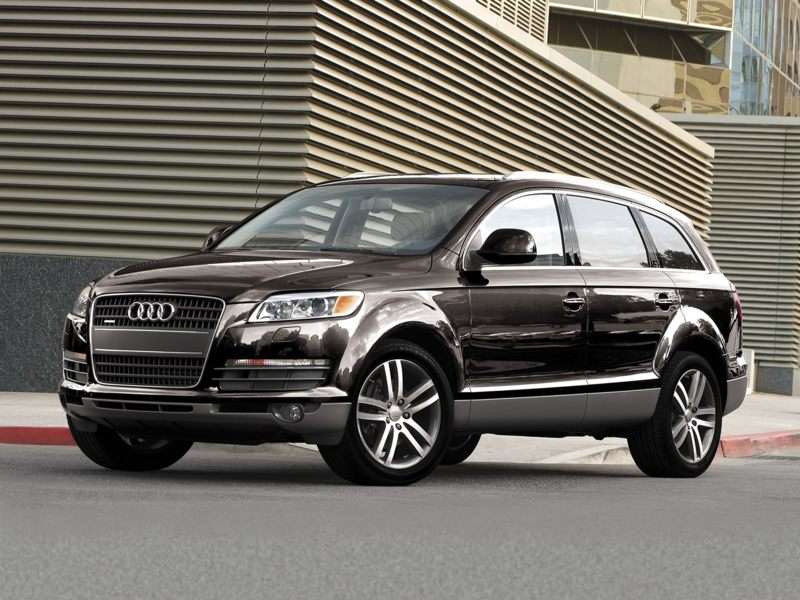 Proving that cars are much safer now than ever before, the Insurance Institute for Highway Safety (IIHS) released the list of its Top Safety Picks for 2009. The list includes a total of 72 vehicles, which is more than double the amount of 2008's list and more than triple the amount from 2007. The IIHS, which compiles its own crash test data and rates each car on a scale from GOOD to POOR, puts together its Top Safety Picks by picking the cars that scored highest for protecting occupants from frontal, side and rear impacts, as well offering electronic stability control as either standard or optional equipment.
The IIHS broke down the results into 12 categories ranging from microcars up to large SUVs. All but the microcar segment were represented by at least one vehicle on the list, and the only microcar that is currently sold in the United States is the smart fortwo. Ford Motor Company, including Ford, Mercury, Lincoln and Volvo, had top honors this year with a total of 16 vehicles being named Top Safety Picks. The Institute also named Honda, Acura and Subaru as standouts for having vehicles named a Top Safety Pick in every vehicle class in which they compete. Chrysler LLC and smart were the only manufacturers that had no vehicles named to the list.
For rating purposes, the IIHS uses three distinct tests to come up with an applicable score. For front crash ratings, the cars are slammed into a deforming offset barrier at 40 miles per hour. The side crash test uses a 3,300-pound SUV-sized vehicle ramming the side of the car at 31 miles per hour. If the car offers optional side air bags, models both equipped and unequipped are tested. Finally, the rear crash test focus on protection of the driver's neck in the event of a rear-end collision at 20 miles per hour. This test is performed on a sled focusing on just the seat and an average sized driver.
The Institute also named an additional 26 vehicles that earned good ratings in the front and side crash tests and offered electronic stability control as standard or optional, but fell short in rear crash protection. The list of "Also-Ran" vehicles include the Infiniti G35, Toyota Prius and Lexus GS as well as recent award winners such as the Chevrolet Malibu, Saturn Aura and Mazda CX-9.
Here is the complete list of all the vehicles broken down by class that made the IIHS' 2009 Top Safety Picks:
Acura RL
Audi A6
Cadillac CTS
Ford Taurus
Lincoln MKS
Mercury Sable
Toyota Avalon
Volvo S80
Acura TL
Acura TSX
Audi A3
Audi A4
BMW 3 Series 4-door models
Ford Fusion with optional electronic stability control
Honda Accord 4-door models
Mercedes-Benz C-Class
Mercury Milan with optional electronic stability control
Saab 9-3
Subaru Legacy
Volkswagen Jetta
Volkswagen Passat
Saab 9-3
Volkswagen Eos
Volvo C70
Honda Civic 4-door models (except Si) with optional electronic stability control
Mitsubishi Lancer with optional electronic stability control
Scion xB
Subaru Impreza with optional electronic stability control
Toyota Corolla with optional electronic stability control
Volkswagen Rabbit
Honda Fit with optional electronic stability control
Honda Odyssey
Hyundai Entourage
Kia Sedona
Audi Q7
Buick Enclave
Chevrolet Traverse
GMC Acadia
Saturn Outlook
Acura MDX
Acura RDX
BMW X3
BMW X5
Ford Edge
Ford Flex
Ford Taurus X
Honda Pilot
Hyundai Santa Fe
Hyundai Veracruz
Infiniti EX35
Lincoln MKX
Mercedes-Benz M-Class
Nissan Murano
Saturn VUE
Subaru Tribeca
Toyota FJ Cruiser
Toyota Highlander
Volvo XC90
Ford Escape
Honda CR-V
Honda Element
Mazda Tribute
Mercury Mariner
Mitsubishi Outlander
Nissan Rogue
Subaru Forester
Toyota RAV4
Volkswagen Tiguan
Ford F-150
Honda Ridgeline
Toyota Tundra