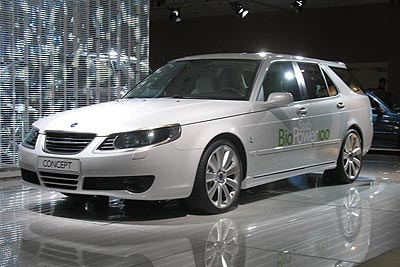 Saab BioPower 100 Concept Preview – New York Auto Show: Consistently and methodically, Saab engineers have been working this BioPower angle. They've gone from ideas to actual cars on sale, mostly in Europe, and have done so without compromise to power. This latest version of their BioPower efforts, the Saab BioPower 100, actually boosts performance, and was originally debuted at the 2007 Geneva Auto Show. Based on the Saab 9-5 SportCombi, it boasts the first-ever application of E100 fuel with a production turbo engine, and continues Saab's work in developing BioPower as a viable method of power. Here's hoping we get more of this kind of Saab in the States.
Why it Matters
Imagine the possibilities of a clean-burning performance powertrain, one that delivers the power and thrust required by enthusiasts, the lower emissions we all, at some level, desire to see. With the Saab BioPower 100 Concept, the technology that's needed on four wheels is ready. Now it's up to the rest of the world to catch up, from fuel stations to government support and public consumption.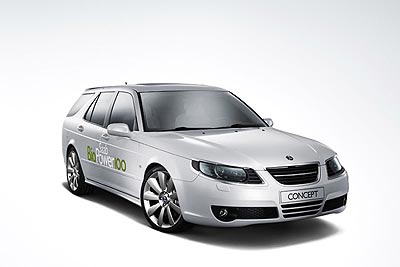 What's Under the Hood
Powered by a modification of its 2.0-liter engine, this is one Saab that can sure fly. With higher octane fuel combined with greatly improved compression and software changes, the Saab Biopower 100 can deliver up to 300 horsepower at 5,800 rpm and 295 lb.-ft. of torque at between 3,000 and 5,100 rpm. That converts into a 0-62 time of 6.6 seconds (says Saab). Engineers claim that a key was the ability to keep the potent E100 (106 octane) fuel from self-igniting. In order to make the engine compatible, engineers had to develop durable valves along with bioethanol-compatible materials throughout the fuel system. Put it together and what you get is a fuel that creates more efficient combustion, thus a cleaner burn, and a more powerful experience.
Photos courtesy of General Motors