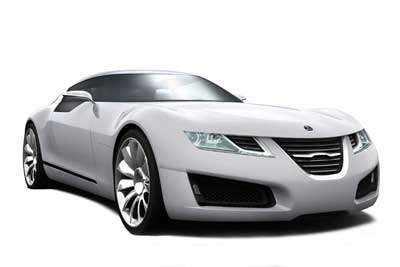 You will never be able to buy one of these beauties, but if Saab introduces the design flair of the Aero X Concept into the next Saab 9-3 or 9-5, well, there will be no more talk of GM cutting Saab out of the action. Debuted at the 2006 Geneva Motor Show, the Saab Aero X Concept is a two-seat, all-wheel-drive concept featuring a carbon fiber body and a 400-horsepower, twin-turbocharged V6 engine. It's set up to burn ethanol, which is GM's latest kick, to be sure. Look for traces of the Aero X Concept in the next 9-3, slated for introduction in 2008.
Why it matters
The Saab Aero X Concept could very well be the most important vehicle ever produced by Saab. Seriously – with its stunning look and innovative approach to the future of powertrain design, the Aero X Concept, and through it, the 9-3 to follow, could be the car on which Saab's fortunes change. Here, before our eyes, is a new-look Saab, a new image beyond the quirky features that gloss over a GM re-badge job. The Aero X Concept is exciting to look at, pays homage to Saab's aviation history and, with its low profile, long nose and sexy curves, is a pleasure to behold. This is what Saab needs, to stand out and take back some of its lost customers with something that is exciting and different – and not just for the sake of being different. If, perhaps, you think the power of a stunning design and a unique philosophy is somewhat less notable – if you think we're overstating it a bit – you're entitled. But consider what the 350Z did for Nissan, and then consider the power of a simple, stunning design and an innovation idea.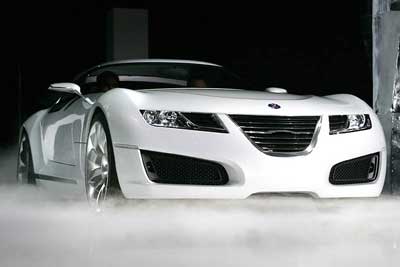 What's under the hood
It's all show and no go, but if it could, boy the Saab Aero X Concept sure would fly. The carbon fiber body sits atop an all-wheel-drive setup and is built for speed. The two-seater has a 2.8-liter, 400-horsepower, twin-turbo V6 engine designed to burn ethanol, mated to a seven-speed manual transmission. Considering the work done on ethanol engines, and the recent trend toward turbocharged and direct injection engines (BMW and Mercedes brought out new engines at the Geneva Auto Show), some of the powertrain details could be brought forward and applied to the upcoming 2008 Saab 9-3. We'll have to wait and see. But for now, according to Saab, a computer simulation had the Aero X Concept going 0-60 in 4.9 seconds, and reaching a top speed of 155 mph. Torque registers at 369 lb.-ft between 2,000 and 5,000 rpm.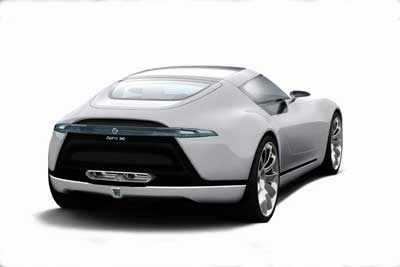 What's inside
Cockpit doors open up and out on a light carbon-fiber body to reveal the Aero X's sci-fi interior, one that seems more fantasy than function. For example, the instrument panel is made up of three-dimensional graphics on plastic, with light-emitting diodes inspired by Swedish glass innovation and precision instrumentation design. There's no A-pillar, so visibility is vastly improved; indeed, the design from inside out is intended to tip a hat to Saab's aviation heritage, with 180-degree visibility, those fighter-jet cockpit doors, and no standard buttons and knobs. Everything is smooth, clean, and aerodynamically designed.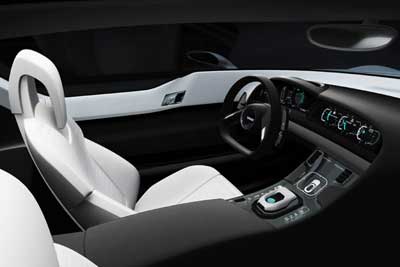 What we think
And all this time we were wondering what happened to Brian Nesbitt, designer of the PT Cruiser and the Chevy HHR. He seemed to disappear in the huge place that is GM, only to reappear as Executive Director of GM Design Europe. He's the guy responsible for the Aero X, and boy, this sure ain't no retro design. Should GM use this as inspiration for the upcoming 9-3, all that talk about the General dumping Saab into the Detroit River is washed away. The next thing you know, people will be wondering why Chevy can't build a nice looking car – like a Saab, you know – and they'll be talking about how, gee, maybe GM doesn't really need Pontiac now that they have a near-luxury performance division in Saab, one with a pedigree and on the rebound.
Photos courtesy of Saab