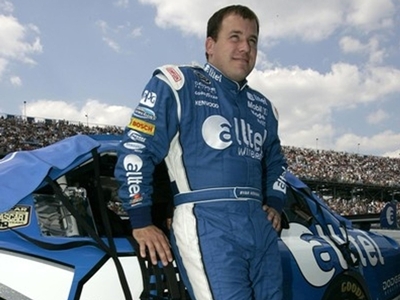 NASCAR driver Ryan Newman kicked off his Sprint Cup career the right way by taking home its 2002 Rookie of the Year Award. In 2003, he was given the SPEED Channel Driver of the Year award...sophomore slump? We think not. In 2005 Ryan Newman achieved the athlete's dream and appeared on the cover of an EA Sports video game. Then, in 2008, driving the No. 12 Alltel Dodge for Penske Racing, Ryan became one of only 32 human beings ever to win the Daytona 500 (a first for Penske Racing). When Ryan Newman isn't stocking his trophy room on a monthly basis, Ryan and his wife, Krissie, pour their time into the Ryan Newman Foundation which has three primary focuses: Supporting no-kill animal shelters and low-cost spay/neuter clinics, raising awareness of environmental conservation, and contributing to a scholarship which helps students in racing attend college. Check out more at http://ryannewmanfoundation.org. In 2009 you'll be able to find Ryan driving for Stewart-Haas Racing. With that, another Autobytel With.
What was your very first car?
A 1974 Triumph TR-6. I drove it back and forth from home and college. There are a lot of memories in that car, so it means a lot to me. It had been my grandfather's car, and he gave it to me. I still have it today.
When asked about his current car situation Ryan replied that he has about 14 cars in his classic car collection. He owns several vintage cars including: a 1928 Ford Roadster with flathead, 1936 Ford 3-window Coupe, 1939 Hudson 2-door Sedan, 1957 Dodge Super D-500, and the 1974 Triumph TR-6. He also got a 1948 Buick Roadmaster convertible for his birthday this year (which was his dream car). Ryan takes turns driving those during the week. He drives his Ford Fairlane most often – he calls it his "old beater car."
Of your athlete peers, who has the tightest car?
The best car is probably Tony Stewart's hearse. We don't see each other's personal cars a lot because we are always at the track and we don't have our personal cars there.
What car do you have your eye on next? What do you like about it?
The General Lee [1969 Dodge Charger]. I think every kid thought that was the coolest car when they were growing up watching the "Dukes of Hazard." The song the horn played, the Duke Brothers climbing in and out through the windows. To us kids, it was a race car that was street legal. I just think it would be a cool car to have – it's a piece of cultural history.
What's your dream car, and if you could road trip it with anyone who would it be and where would you go?
I got my dream car for my 30th birthday last year from Krissie (my wife). It was a huge surprise. She got me a 1948 Buick Roadmaster convertible. (It was one of the cars used in "Rain Man" which is one of my all-time favorite movies. The car was used on the soundstage for the movie). So, I would take my wife Krissie in my Roadmaster to go get ice cream in Wyoming. That would be my ideal road trip, and we would have so much fun.
If you look closely at Ryan's shirt in the photo above, you'll realize it says "I Love My Wife", and for good reason: With birthday gifts like a '48 Buick Roadmaster, how could you not? Our guess is that the car came with the shirt in the trunk. In case you were interested in learning more about Tony Stewart's hearse, it's a beauty created by Unique Autosports (of Unique Whips fame), and you can check out photos of it on Car Audio Magazine's website. Finally, The General Lee is a fine choice, and we're pretty sure if Ryan brought it out, it would be a huge hit in the driver's lot. Best of luck and keep it locked on Autobytel.
By Elliot Darvick Photos courtesy of Steve Rose/Penske Racing, Krissie Newman