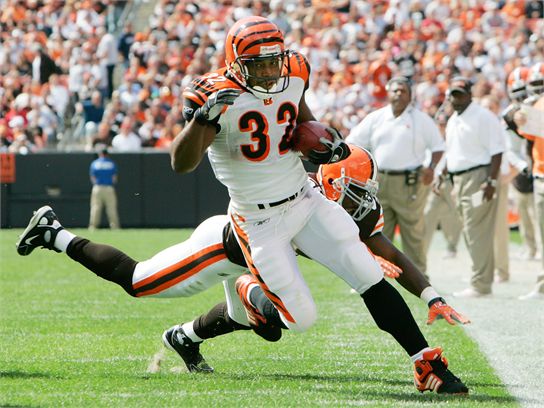 You've seen NFL All-Pro running back Rudi Johnson on MTV Cribs, you've seen him in DUB Magazine, and now add to that list Autobytel.com too. Rudi Johnson has been tearing up the NFL as one of the league's premiere running backs for the Cincinnati Bengals, and before that he was a top college prospect playing for the Auburn Tigers. When Rudi isn't breaking records, he's building communities through the Rudi Johnson Foundation which works to provide funding for youth programs and facilities, mentoring and tutorial services, scholarship opportunities, affordable housing, as well as economic development in low income areas. Check it out at rudijohnsonfoundation.org. Throw on your helmet for another Autobytel With.
What was your very first car? My first car I purchased? It was a 2001 white Lincoln Navigator.
What was a favorite memory of that Navigator? I bought it [laughs]. I purchased it with no help…It was my first major purchase.
Tell us about your current cars, what you did to them, what you like about them, etc. I have a Mercedes-Benz G5 G-Wagen [G5 = G500]. I have a Range Rover Sport special edition [it's a Kahn Design…dope!]. It's the only one in the country built up from the ground up to my specifications. I have a Mercedes S550, I have a Bentley, that's my normally gameday car, a Bentley Arnage…I [also] keep a Maserati [Quattroporte] in Miami for the warm weather.
The Range Rover, that's just my fun car as far as if I want to get in there and listen to some music real loud or just get in there and go real fast. [Even though] it's a truck, it's still fast…it has a supercharged engine, so it's a real fast truck. I've had a lot of fun in that truck. 
[talking about what was customized on the Range Rover] From the inside out everything from all the attention to detail inside the car, the two-tone leather seats, the black piano wood all throughout the car, stereo system, the entertainment system -- as far as the TVs, PlayStation, everything. Everything outside the car, everything is built the way I wanted it to be built so once the final product was done it was exactly how I liked it.
The Mercedes-Benz G5, the G-Wagen, that's my mainly everyday, when I'm going to practice, car. Especially when I'm going to training camp, it'll get me into that training camp mentality. I normally drive that to training camp from Cincinnati [to Georgetown, Ky.]. As far as getting my stuff packed up for camp, you know, put my TV in there, all the stuff I need in there. It's just that rough, rugged ride and I need that for that rough, rugged training camp schedule we deal with. So that's like my everyday, as far as going to practice everyday, car.
The S550, there's plenty of room in there. It's like everything is one touch of a button, so everything is right there for you. So anything you want to do inside that car is just one touch of a button away. Anything you can think of, you know what I mean? And there's plenty of room inside of it, and it's just a luxury car. When you're looking for a luxury sedan you can't beat the S550.
And then the Bentley, you know I like to be driven in that [where] I can just sit back and just relax. You know, just let my driver drive us in the backseat and just chill. You know, I've got a refrigerator, everything in there. I can just chill out and just relax, man.
And then the Maserati, it's white, with white rims on it. It's just a real cool car for Miami. You know, in Miami, you gotta have a sports car, so that's my sports car, the Maserati. I keep that in Miami whenever I go to my place and just have fun with it there.
Do you have your eye on anything else right now? Not really. I think I've got a good collection now. Right now there's really no cars out there that are catching my eye. Right now I'm pretty much content and have everything I need; so I'm good. Maybe I might get the itch and change or whatever, but right now I'm pretty content. The latest addition was the Maserati, and that's a great car. I love that car. It's fast. It's a four-door Maserati, so it has a little room in it and it gets the job done, and it looks good.
If you could road trip it with a fellow athlete, who would it be? Probably my boy, Bo Jackson [the legendary two-sport star who, like Johnson, played college football for Auburn]…because it's the Auburn connection, so we could talk about everything that he's done in the past. We could talk about [experiences] in college, which he would identify [with me] because he went to the same school as me, talk about stuff as far as the league [because] he played in it. [We could talk about] the stuff he did off the field and then talk about the stuff he's doing now since he's been retired. I think talking to him I can cover all bases.
What's your dream car? Let me see here. That's funny 'cuz I got everything. That's a tough question, I don't know. Probably a spaceship, f**k it [laughs]. I'll wait for the spaceships to come out. Or a car that doesn't take any gas; it just runs.
Rudi on the price of high gas and fueling his fleet The main thing when you do have a lot of cars, the thing that always gets me, is when you're in and out of each and every one of 'em, it seems that every time I get ready to drive this particular car this day, that's the car with no gas in it. I always find myself getting caught up like that. Like if I want to drive the Range Rover today and I haven't driven it in 'X' amount of days; OK I want to drive it today [and] I get in there, pull out of the garage, come to find out…no gas in there. Gotta go to the gas station. This is funny, like vice versa I want to drive the Mercedes it's like every time I get in the car that I haven't driven in a while, when I switch back and forth, it seems like I always get in there…no gas in there. It's always something, like, every time.
We equate Rudi's collection of cars to a well-balanced meal that would satisfy pretty much anyone; the only thing missing is a coupe; might we suggest trying the Nissan GT-R? It's not high on flash, but it's probably the closest thing out there to a spaceship (it actually has a G-meter