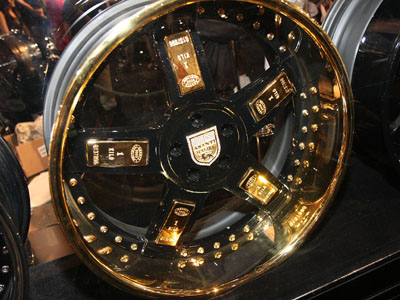 Let's do some math. Gold closed today at about $740 an ounce. There are roughly 35 ounces in a kilo. There are 5 kilos on this rim. There are four rims on a car. That means a set of these Asanti rims we spotted at the Lexani booth will run you back roughly $518,000...for the gold bar insets. That doesn't include labor, gold-plating of the rest of the wheel components, tires, or the cost of replacing your car when you get carjacked -- and you will get carjacked. Add it all up and you have some expensive rims. Oh, that is cubic-zirconium on the center cap. Why not diamonds you ask? Too gaudy!
Photo Credit: MyRide Staff
Page 2
Here is a new technology we saw on these Symbolic wheels. Using water immersion and ink film, the lip of any set of Symbolic rims can be coated with a unique design for an extra $300 a wheel. The above pattern is called "Ben Franklin would be embarrassed." We asked a Symbolic rep if one could use personal photos for the process, say family portraits. First we got a dirty look, and then we got a grudging, "Yes, in theory you will soon be able to do that." Guess you can fit the entire family in the Bentley coupe after all!
Photo Credit: MyRide Staff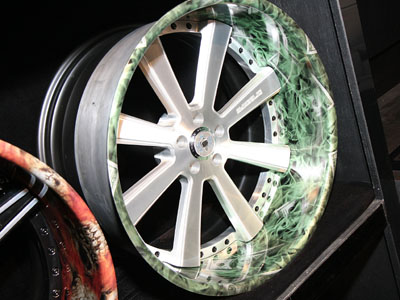 Page 3
We're not sure if this 42-inch rim is a tribute to the days of Conestoga Wagons or a tribute to American excess and wealth of yesteryear (like 2005), but this rim can be fitted on to your seven-story-tall earth-mover dump truck so you can be the flashiest driver at the coal mine. How much you ask? House, as in down-payment on a house (and I'm talking old-school down payment, like 20%) or roughly $80,000 for a set of four according to an Asanti representative. I'm 6'0" by the way, for reference.
Photo Credit: MyRide Staff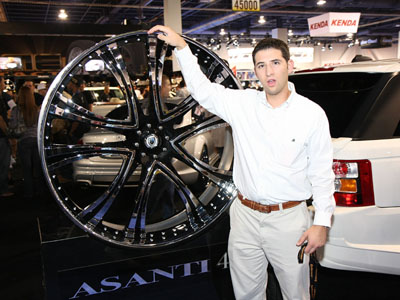 Page 4
Want a fat lip? No, we're not going to Mike Tyson your pretty face. We're talking about the distance from the outer edge of a wheel to the inner edge. Look how this Asanti rim absolutely dwarfs our Treo 700p brick of a phone. Lip size is the new wheel diameter (because aside from the 43-inch monstrosity we showed you, wheel diameter has been pretty much taken to its practical limits as far as competition goes). A deep wheel lip is actually a cool look, and these particular rims look sharp with yellow accenting.
Photo Credit: MyRide Staff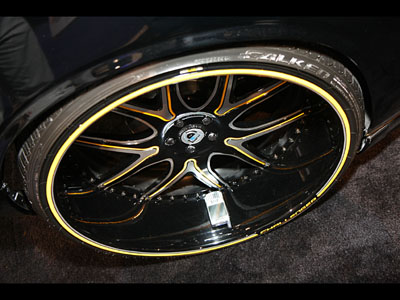 Page 5
Okay, technically these are treads, not wheels, but we had to share them with you. Produced by a company called Mattracks, they can be fitted onto pretty much any SUV or truck, such as this half black/half lime-green (some parents!) Hummer H2. We hear if you rock these treads on your car in Fargo, North Dakota, you are instantly cooler than your neighbor. Big ups to this owner for doing something different, even if it is ridiculous looking. Ridiculously cool.
Photo Credit: MyRide Staff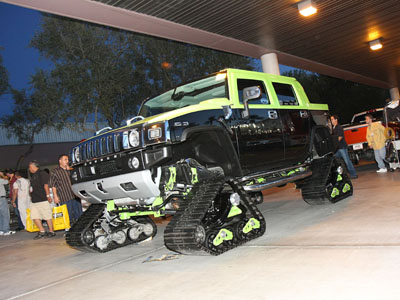 Page 6
Check out the best accessories, wheels, audio systems, custom cars and even green technology at the 2008 SEMA show!
Photo Credit: MyRide Staff