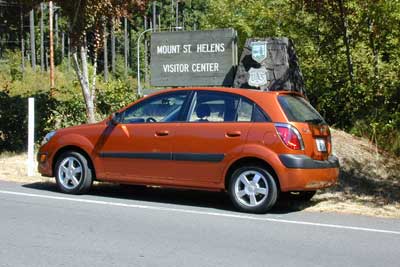 From seeing bison in Custer State Park, to listening to a Cornhuskers game across the entire state of Nebraska, to drinking rum runners in Key West, road trips always provide for memorable experiences and stories to tell. Over the past ten years I've had the opportunity to be my own tour guide on trips to nearly all of the lower 48 states in rides including a bad-ass Ford F-350 U-Haul, a "freighted" Mitsubishi Galant, a Honda Civic without air conditioning, and most recently, a 2006 Kia Rio5. That last vehicle was part of a work assignment, one that included flying to Seattle, attending a Kia press launch in nearby Kirkland, and then driving a 2006 Kia Rio5 back to our offices in Irvine, California. Why this opportunity hadn't been made available with the $115,000 Jaguar I'd driven just a day before in Las Vegas, I don't know. But, those were the cards dealt –a Sunset Orange Kia Rio5 and I, together for as long as it took to travel most of the left coast. And, besides, it made for a timely experiment – seeing just what it was like to make a mad dash from Canada to Mexico (almost) in one of the cheapest cars in America, one that promises fuel economy in the mid-30s.
The Trip
After arriving in Kirkland on Wednesday, I spent two days learning about the newest Kia and driving both it and the recently reintroduced Sportage SUV. With that "work" taken care of by Friday morning, I was free to head for home in a 2006 Kia Rio5, with Kia's blessing. Not one keen on travel details, I'd guess-timated that the trip home would fall somewhere between 1,000 and 1,500 miles, leaving me plenty of time to do some socializing while still putting me back in SoCal by Monday morning. After tossing my luggage into the Rio5's hatch and adjusting the seats and mirrors, I beat tracks north to Bellingham, Wash., to meet up with some friends who promised to show me around the area. Initially, they were excited about having a new ride in their driveway, but upon hearing that it was a Kia, suggestions of seeing the sites in their old Subaru soon followed. It seemed that Kia still had some work to do on its reputation. After assurances were made that the Rio5 wouldn't leave us stranded, we ditched the Subaru and headed out for the local tour in the Kia, traversing back roads and highways to scout out some remote oceanfront and to find the best view of the mountains surrounding Vancouver, which was situated about 60 miles to the north. Part of the day's agenda called for a barbecue, so we filled the Rio5 with a portable grill, a cooler, a big bag of food, and a duffle of warm clothes. All of our gear easily fit below the cargo cover, so there was no worry about any sticky-fingered passersby getting site of that rusty but prized cooking machine or bag of Cheetos. Eventually, we found our way to a quiet spot on the water, chowed down some lunch, and meandered back into town for some more sites, cuisine, and for those not driving, a splash of local spirits. Soon it was Saturday morning, and the Rio5 and I, both rested and well-fed, hit the southbound lanes of Interstate 5. That first traveling day covered the beautiful, forested Pacific North west, and ended just south of the Mount Shasta Region in northern California. For you city dwellers, passing through these mountains at night is a sight to behold – without the aura of city lights, the stars shine especially bright up there. Several times I pulled over, turned off the lights, and stared upward, pleasantly surprised by how the Rio5's idling engine didn't intrude on my moment of solitude. After a quick night's rest at my favorite road trip resting spot, Motel 6, and sliding some Denny's vittles down my gullet, it was back onto I-5 and through the barren valley that is central California. To this point, the Rio5 had been returning about 34 mpg, and with an 11.9-gallon fuel tank, fill-ups were relatively easy on the wallet. The day was rather uneventful, aside from the radio's horrible reception and the slingshot, two-lane traffic. Moments of joy included doing a 95-mph pass-by in my orange Kia, serving to shock and disgruntle well-to-do Mercedes-Benz and BMW drivers. Fast driving not withstanding, the Rio5 and I made it back to Orange County in record time, with a little money left in my wallet and a surprising new perspective on Kia's econocar.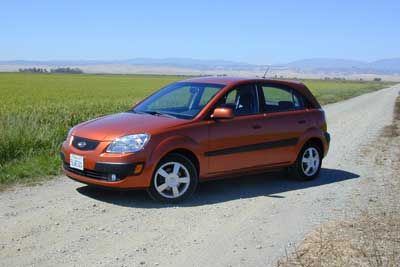 Impressions
Automotive journalists are allowed, even asked, to drive some stellar rides. In just the past year, I've had the opportunity to drive cars ranging from Chevys to Mercedes, Hyundais to Land Rovers. I've tested and used the navigation systems, sat on the finest leather, felt the rush of insane horsepower, and generally experienced a taste of what life is like many leagues beyond my means. And, yet, after two days and 1,400 miles in the 2006 Kia Rio5, I had only this response when my boss asked what I thought of the car: "What more do you need?" Bear in mind that this particular Kia lacked power windows and power door locks, and offered a radio that was reluctant to pull any solid signal. Yes, it had a CD player, but not being a big fan of travel details, I'd neglected to bring along any discs. Even so, I found myself without any real complaints. The Rio5 had offered me plenty of room for my large suitcase; hung with the best of 'em at excessive speeds under the hot California sun; returned between 29 and 34 mpg, with the lowest rating a result of significant bending of the speed limit; offered a five-speed manual transmission that added some fun to the task of rowing gears; and what surprised me most of all – it was comfortable during the entire trip. The seats that I'd initially thought might be too soft for long distance support proved to be the perfect fit, at least for me. At only $14,500, the Rio5 had provided a comfortable, quick, efficient, and somewhat entertaining ride home. Admittedly, walking around the car each night to make sure all of the doors were locked and reaching over to the passenger's door to roll down the window got old pretty quick, but an available Power Package addresses both of those concerns for $600. No, the Rio5 doesn't offer the exhilarating acceleration of a 400-horsepower Corvette or the luxury of a $115,000 Jaguar, but it does offer decent cargo room, good fuel economy, and a warranty that's got you covered for more of those transcontinental trips than you'll ever make. Really, what more you need?
Photos courtesy of Thom Blackett