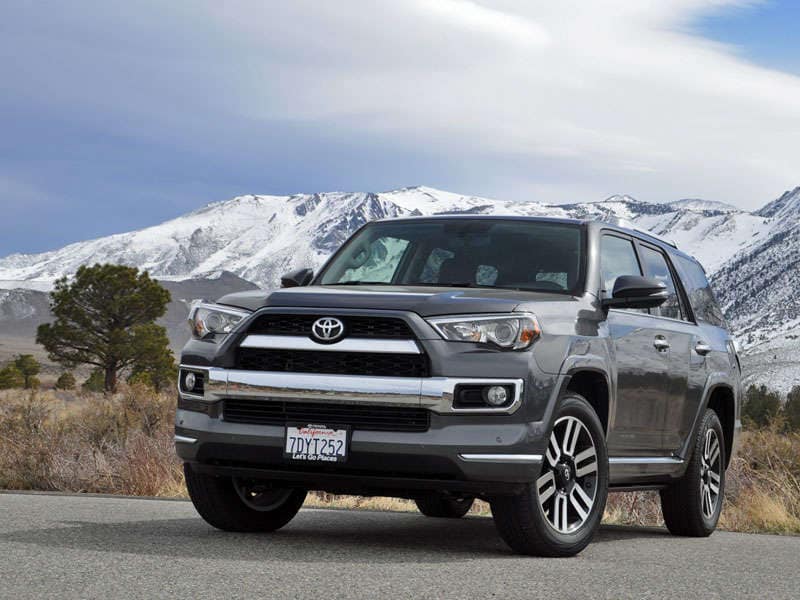 Given the brutality of the winter of 2014, it is almost incomprehensible that anyone who is not an avid skier, snowboarder, skater, or snowmobiler might purposely pack up a vehicle, load up the kids, and drive away from sun-drenched beaches lined with palm trees toward a region draped in frozen precipitation, but that's exactly what I did this year with my family, using a 2014 Toyota 4Runner Limited for the trip.
Yeah, I'm with you on that incredulity. After all, as a native Michigander who left the Midwest largely due to the cold, gray, dark, and damp winters, I could easily live the rest of my life without ever touching snow again. Trouble is, I married a woman from Southern California, and both she and my children love going to see the snow each winter. Therefore, we embarked upon our annual ritual in a vehicle perfect for such an endeavor, a 4Runner with 4-wheel drive.
Rather than head to the Big Bear area just north of Los Angeles, a day trip that usually feeds their need for snow, we needed to venture farther away from home this year. Weather patterns have left our local mountains free of snow, but the Sierra Nevadas up near Lake Tahoe have received enough to make for a fun weekend. We chose Mammoth Lakes and the Mammoth Mountain ski resort area as our destination, and hit the road.
How to Get to Mammoth Mountain
There are lots of ways to get to Mammoth Lakes, California and the Mammoth Mountain ski resort, and because the town has a robust public transit system, you don't need to have a car. That makes a flight to the local airport more appealing, and several airlines offer non-stop service from the Los Angeles, San Diego, San Francisco, and San Jose areas.
Lots of people prefer to drive to the Mammoth area, as we did, but getting there isn't easy, especially in the winter when many of the roads over the Sierras are closed for the season. No matter which way you choose to travel, the scenery is absolutely breathtaking, especially if you opt to cross the Sierras in the summer via Route 120 from Yosemite National Park. Just make sure that you're carrying tire chains if you're traveling in the winter, because they might be required at any point along the route.
From the Bay Area
In the winter, take I-80 east to Truckee and then come down Route 89 south to Route 395 south. Alternatively, exit the freeway in Sacramento and take Route 50 east to South Lake Tahoe, jump on Route 89 south, and connect to Route 395 south.
From Southern California
There are two routes leading to Mammoth Lakes from the Los Angeles and San Diego areas. Follow I-5 north to Route 14 north, connecting to Route 395 north. An alternate route is I-15 north to where the freeway meets Route 395 north near Victorville, Calif.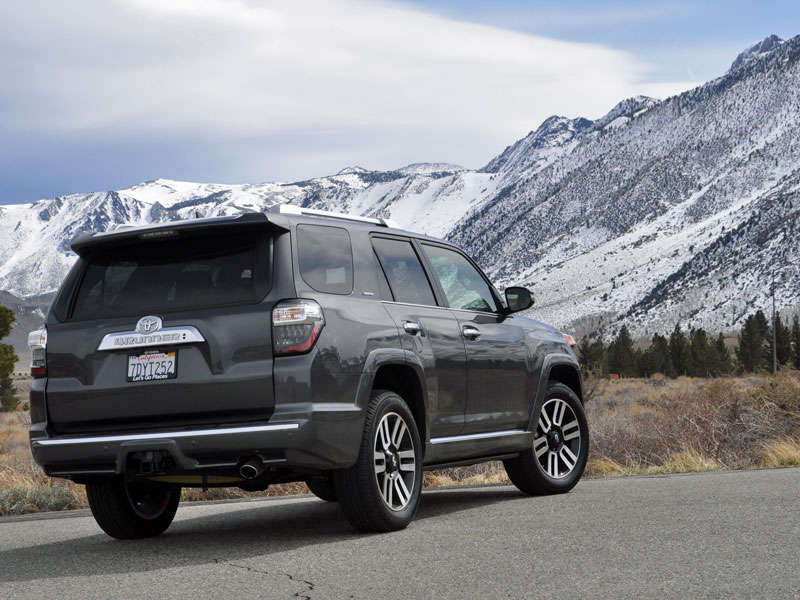 Make the Stop at Manzanar
My family headed north from the L.A. area, making two stops. The first was at the Manzanar National Historic Site, where the U.S. interred thousands of Japanese Americans during World War II.
Today, it is incomprehensible how fear drove a country priding itself on the concepts of freedom and liberty to round up people of Japanese origin and descent, strip them of both, and imprison them in such a stark, desolate place. Anyone traveling this stretch of Route 395 should stop at Manzanar for a reminder of how societal dread and collective prejudice can ultimately stain a nation's history.
Ironically, Manzanar is located just a few miles south of a town called Independence.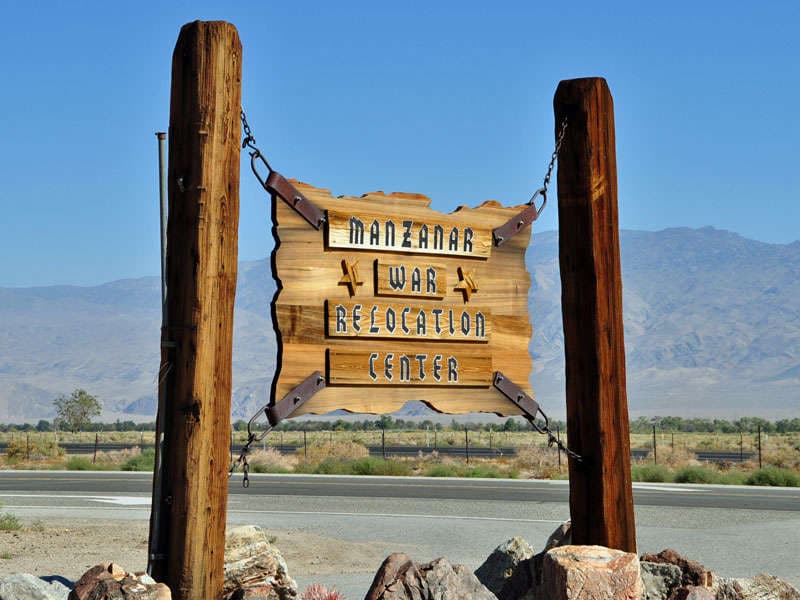 Lunch at the Totem Café
We grabbed a late lunch at the Totem Café ($) in Lone Pine, California, the town serving as the gateway to Mt. Whitney. At 14,505 feet, Mt. Whitney is the tallest peak in the contiguous United States.
My family was starving, and when you're starving, the food is almost always good. The affordable Totem Café serves traditional diner staples like salads, sandwiches, burgers, and fries during lunchtime. I selected a burger with a side salad, and it was absolutely delicious.
Apparently, the Totem Café has a wall with a bunch of celebrity autographs on it. I completely missed this during the visit.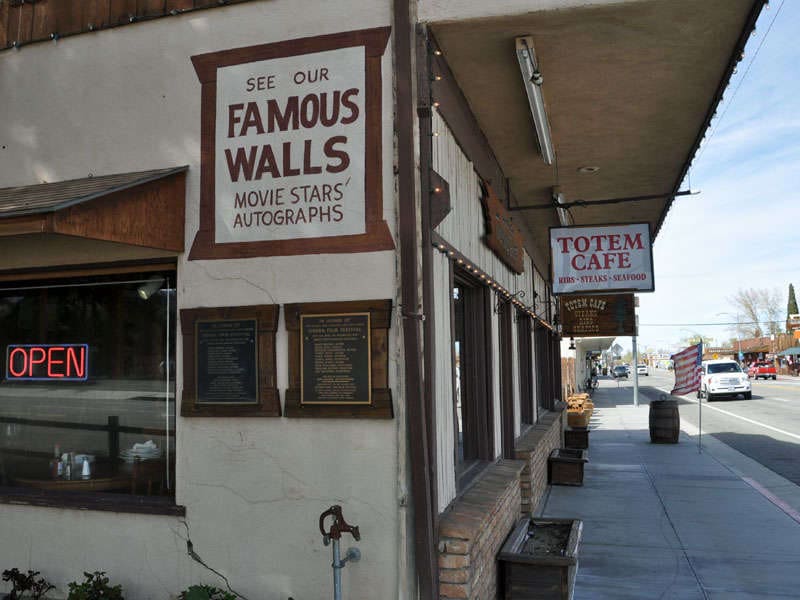 Finding a Place to Stay at Mammoth
My wife is the family's travel agent, and she used Hotwire to book a room for a Friday and Saturday night in Mammoth Lakes. Hotwire is a discount travel website that doesn't provide exact details regarding the name or location of a hotel, but does limit the search to specific geographic regions while providing basic information about amenities. The idea here is that in exchange for a little bit of risk, such as not knowing every detail, you enjoy a little bit of reward in terms of getting a better room at a lower price than the other guys.
I'd say she was successful. Hotwire put us into the Juniper Springs Resort, ski-in and ski-out condos located right on one of Mammoth's multiple ski lifts. We booked before a big snowstorm, and got a rate of $160 per night (plus tax and a $20 daily resort fee). After the snowstorm, the advertised rate for our one-bedroom condo had jumped to $299 nightly.
How does this compare to other lodging in the area? Based on a search on Expedia, the local Motel 6 was going for $116 per night during our visit, while the Tamarack Lodge Resort was running $399 per night. Needless to say, I'm now a big fan of Hotwire.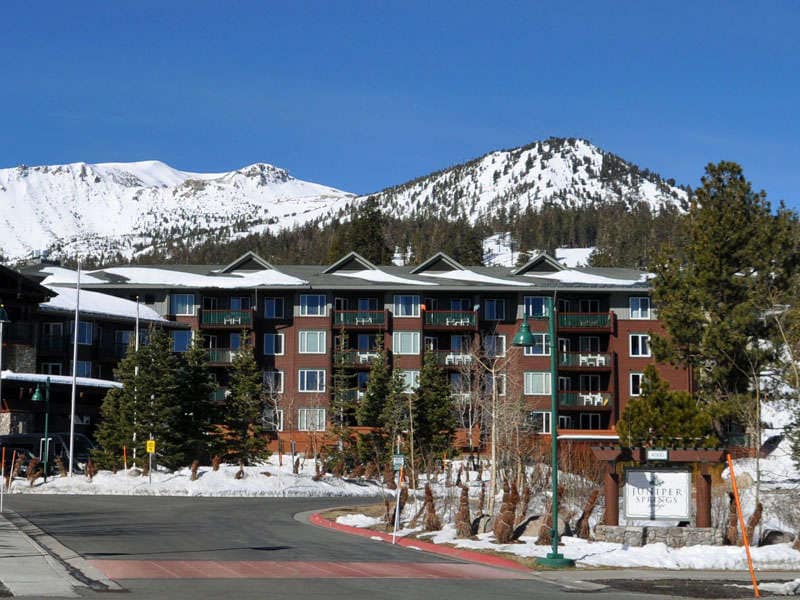 Juniper Springs Resort
Like any hotel serving a ski town, the Juniper Springs Resort gets hard miles put on it by people tromping around in ski boots and wet gear while carrying unwieldy sticks, poles, and boards. Nevertheless, our one-bedroom condo was quite nice, equipped with a full kitchen, a sleeper sofa, a gas fireplace, and a deck. In case you're wondering, the bathroom is stocked with Aveda products.
Guests can purchase lift tickets at the front desk, and amenities on the property include a snack shop, ski and snowboard rentals, a heated outdoor pool that's open in the winter, several hot tubs, and fire pits. The adjacent Eagle Lodge offers a restaurant, a ski shop, and a beginner's ski school.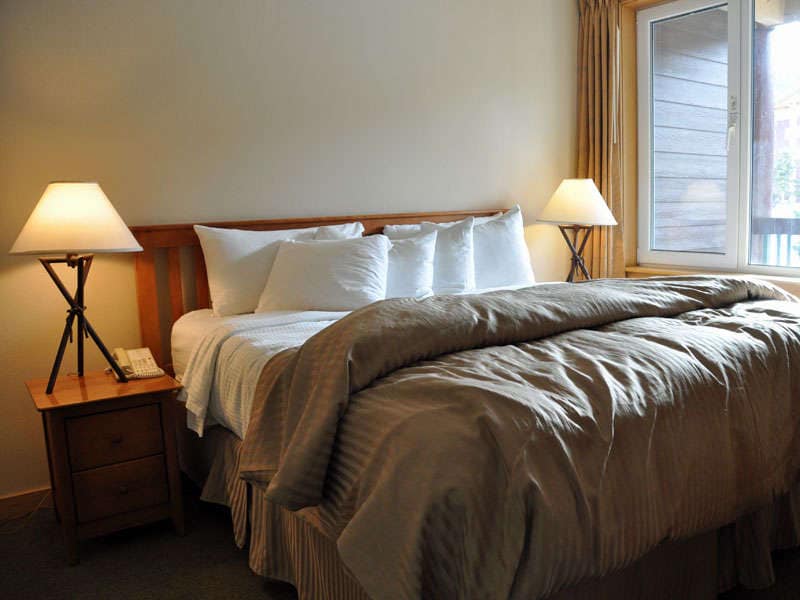 What to Do at Mammoth: Skiing and Snowboarding
Most people making the trek to Mammoth Mountain are there to ski and snowboard, and the best-of-the-best can launch themselves from the 11,053-foot summit using a number of intermediate and expert runs, including the appropriately named Huevos Grande. Mammoth boasts 3,500 skiable acres, multiple terrain parks, and a total of 150 runs ranging from bunny hills for beginners to Hangman's Hollow, acknowledged as one of the most difficult.
What to Do at Mammoth: Sledding
Since my family doesn't ski, and it's been decades since I donned a pair, we stuck to some of the less challenging activities offered in the area. Here, I'm sliding down a perfect sledding hill located on Mammoth Scenic Loop Road. To get to this location, take Minaret Road out of Mammoth Lakes toward the Main Lodge for the mountain, and hang a right onto Mammoth Scenic Loop Road. Exactly one mile up and on the right-hand side, you'll find convenient parking on the shoulder and lots of space to play.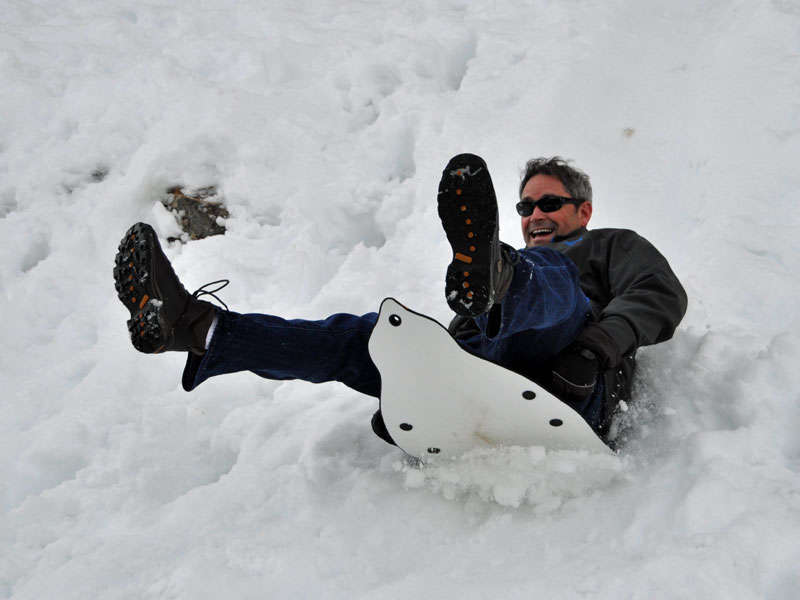 What to Do at Mammoth: Build a Snowman
Because of a weather cycle causing several days of daytime melt and nighttime freezes, the snow along the shore of Twin Lakes at the Tamarack Lodge and Resort was the consistency of heavily granulated cement with an icy top layer. But when you've got kids, you're gonna build snowmen. Or, in this case, thanks to my children's vivid imaginations, likenesses of Elsa and Anna from the Disney flick "Frozen."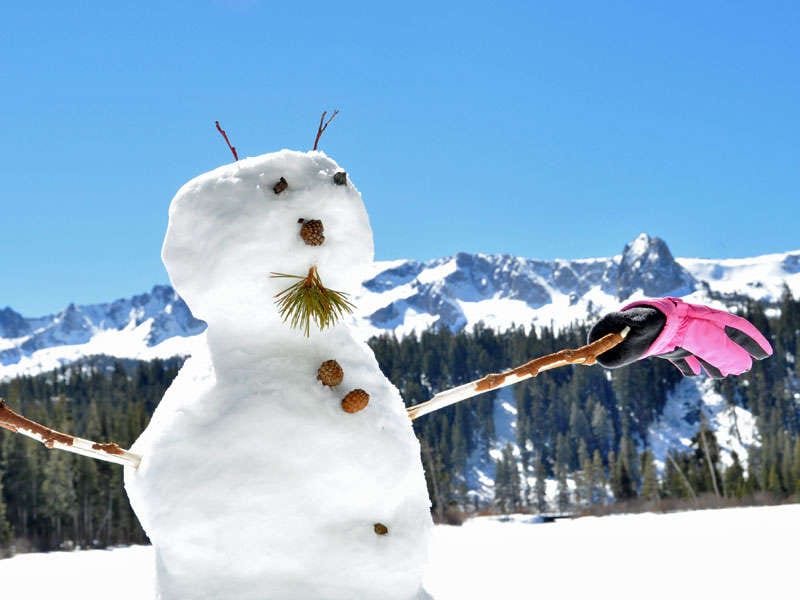 What to Do at Mammoth: Ride the Gondola
For terrific views of Mammoth and the surrounding area, be sure to ride the gondola from the Main Lodge to the summit. While the weather was utterly stunning on the day of our visit, it's not too hard to appreciate how the gondola reduces the effects of cold, wind, and snow when Mother Nature is in a different mood. Kids under the age of 7 ride free. Adults pay $25 for the round-trip.
What to Do At Mammoth: Other Winter Activities
Admittedly, our list of activities during our 36 hours at the mountain was a short one. Stay longer, and you can explore local roads and scenic vistas, attend skiing and snowboarding schools, take advanced lessons, or hit the cross-country trails. The area also offers a tubing park, snowmobiling, ice-skating, and Snowcat tours of the backcountry. Visitors can combine a Snowcat tour with dinner at Mammoth's Parallax restaurant, located halfway up the mountain at McCoy Station.