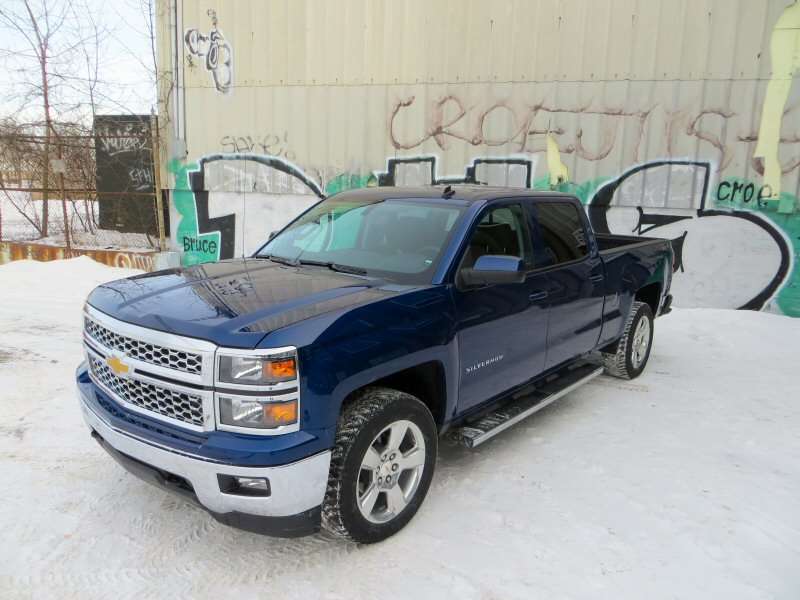 The 2014 Chevrolet Silverado starts a new chapter in the story of one America's most popular vehicles.  Few models offer the kind of profits associated with full-size trucks, and the Chevrolet Silverado's wide range of configurations and capabilities make it a viable option for a broad demographic of drivers.
For the current model year, the Chevrolet Silverado (and its GMC twin, the Sierra) has been completely redesigned in order to go head to head with stalwarts like the Ford F-150 and the Ram 1500 - trucks that have pushed technology forward in the segment via the inclusion of turbocharged gas engines, diesel power plants, and eight-speed automatic transmissions.  The Silverado doesn't go to quite the same extreme in its pursuit of pickup customers, but it would be a mistake to think that General Motors hasn't made its own significant investment in truck tech - or that this vehicle doesn't have what it takes to meet the needs of the majority of buyers.
2014 Chevrolet Silverado LT Review: Models and Prices
There are a seemingly endless number of ways to configure the 2014 Chevrolet Silverado, what with its three body styles (regular, extended, and crew cab), multiple bed lengths, and trim levels that range from barebones utility (WT, starting MSRP $23,599) to full-fledged luxury (High Country, starting MSRP $47,000).
I'm going to focus on the details of the truck I drove for a week - a 2014 Chevrolet Silverado Crew Cab LT, a four-door, five-passenger edition of the truck with a six-and-a-half foot box and optional four-wheel drive.  Standard features for the LT include a leather-wrapped steering wheel, a CD player, Bluetooth connectivity, HD radio, USB inputs, power windows and door locks, air conditioning, cruise control, carpeted floors, cloth seats, and a different tailgate than is found on the entry-level Silverado.  The base price for this vehicle is $38,245, but mine also came with 20-inch rims, the Convenience package (10-way power adjustments for the driver's seat, dual automatic climate control, remote start, eight-inch MyLink touchscreen, rearview camera), the LT Plus package (Bose audio system, power adjustable pedals, parking sonar, power rear sliding window), heated front seats, running boards, and a 5.3-liter V-8.  This brought the total window sticker to just over $45,000.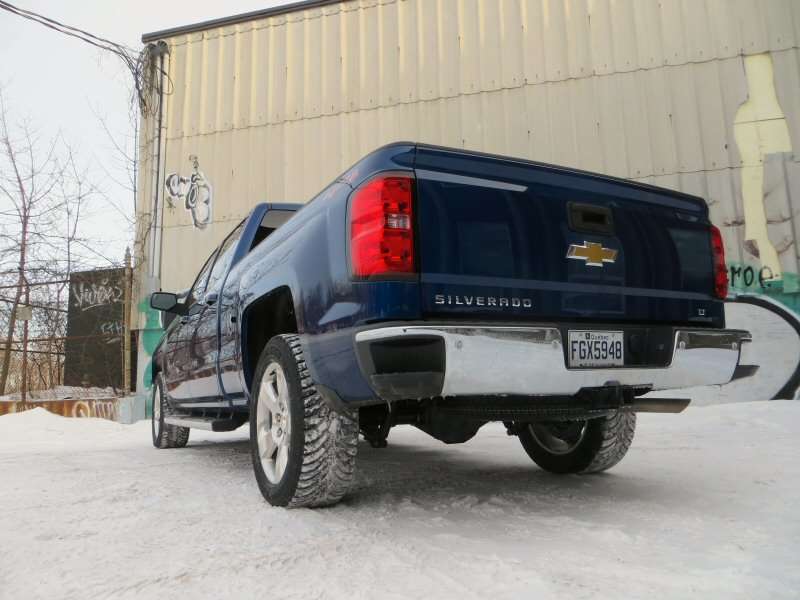 2014 Chevrolet Silverado LT Review: Design
The 2014 Chevrolet Silverado is an all-new design.
The 2014 Chevrolet Silverado presents the very definition of visual evolution.  While there's a clear-cut difference between today's Silverado and the Silverado of old - crisper lines, a blockier language up front, and more detail in the lights, grille, and bumpers - one doesn't have to squint all that hard to see the previous model sitting underneath.  In a way, it's a nice change from the modern truck design playbook, with only the broad grille giving in to the temptation to ape the big rigs in the same way as pickups from Ram, Toyota, and now Ford (for 2015).  It's a little conservative for its class, but overall the Silverado is handsome enough to look at, and provides strong road presence without overpowering its immediate surroundings.
A more obvious change has been made to the 2014 Chevrolet Silverado's passenger compartment, which grows by leaps and bounds in terms of both functionality and style.  A pleasant mix of fabric and plastic greeted me inside my tester, and most importantly for a truck, everything I touched felt like it was built solidly enough to withstand a thousand tugs, pulls, pushes, or accidental impacts.  A pickup often doubles as a place of business, and the Silverado's cabin is one I wouldn't be ashamed to show off to any client.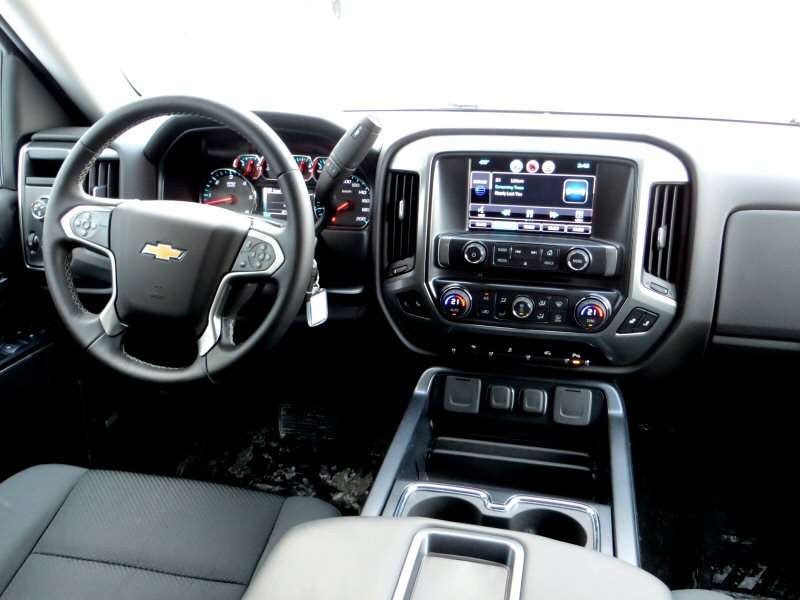 2014 Chevrolet Silverado LT Review: Comfort and Cargo
The 2014 Chevrolet Silverado is an all-new design.
The Silverado now comes with a soft-opening tailgate and rear bumper steps.
The 2014 Chevrolet Silverado LT isn't really any bigger inside than it was the year before, but that's not a problem given the fact that the four-door crew cab edition I drove offers acres of interior room.  Up front, the Chevrolet's thrones are supportive and adjustable to the point where you can sit as tall or as low in the truck as you want and still reach the pedals and the steering wheel (which also come with their own individual adjustments).  It's also unlikely that even plus-sized adults will have anything to complain about when spending time in the back of the Silverado, as legroom and headroom are expensive  To top it all off the seats fold up easily to help haul cargo that you don't want staining the upholstery.  If you want more storage space, you can take advantage of the center console's canyon-like maw, which looks large enough to house the entire contents of your briefcase.
The Silverado's cargo bed is now complimented by a set of corner steps set into the truck's back bumper, which do a good job of helping you get up into the truck (but don't really address how you're going to get down again).  The soft-opening tailgate is also nice, as you don't have to worry about that big piece of metal slamming down and causing a ruckus when unloading in your driveway at night after all of your neighbors have gone to sleep.  That attention to sound design can also be experience inside the passenger compartment, which on crew and extended cab models benefits from special body mounts that reduce noise compared to the outgoing truck.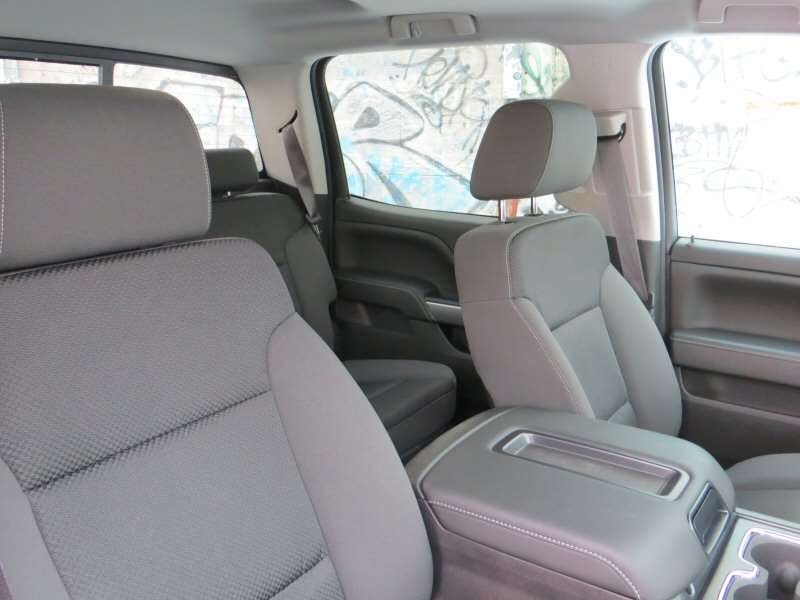 2014 Chevrolet Silverado LT Review: Features and Controls
The 2014 Chevrolet Silverado is an all-new design.
The Silverado can be ordered with the MyLink vehicle interface.
The 2014 Chevrolet Silverado LT's most intriguing new feature is Chevrolet MyLink, which connects a mobile device such as a cell phone to the truck's communications and entertainment systems.  Accessible via an eight-inch touchscreen, MyLink has made a virtue of its lack of complication: the feature is straightforward to use and to configure, which is an improvement over more high end offerings from GM like Cadillac CUE.  MyLink is available across a wide range of Chevrolet products, including entry-level models like the Spark, but I found that its graphics and functionality held up well in a more expensive vehicle like the Silverado LT, and I never felt like I was dealing with a homogenized, one-size-fits-all design.
Other highlights from the Silverado LT's feature set included big buttons for the heated seats that I could use without having to take off my mittens, as well as knobs and dials to interact with basic stereo and climate control functionality instead of relying entirely on MyLink.  I also liked the five USB ports, AC outlet, and 12-volt outlets located on the console, each of which was protected by either the console's lid or by small flip-up panels designed to keep out dirt and dust.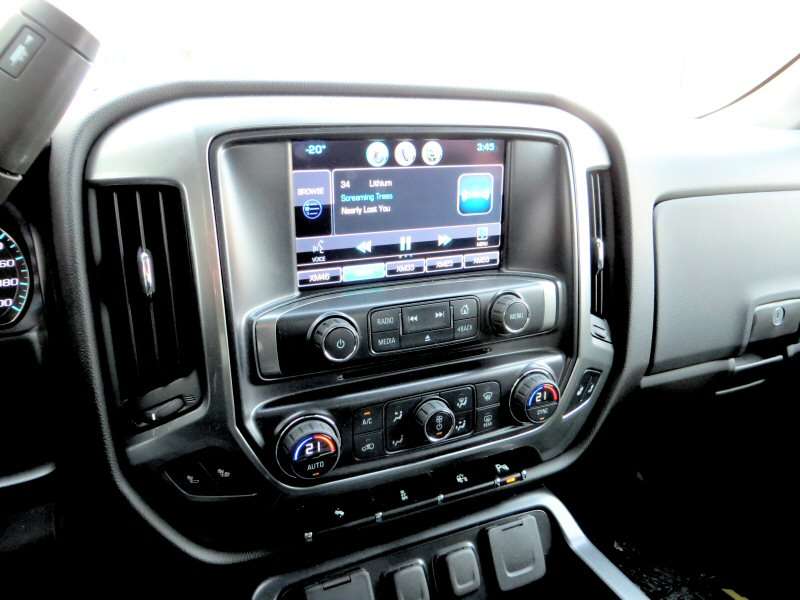 2014 Chevrolet Silverado LT Review: Safety and Ratings
The 2014 Chevrolet Silverado debuts the Safety Alert Seat.
The 2014 Chevrolet Silverado LT comes with side curtain airbags, side impact airbags front and rear, and dual forward airbags as standard equipment.  It also includes electronic traction control and stability control, and the OnStar telematics system, which can automatically notify rescue crews in the event of a serious accident.
Optional safety gear for the Chevrolet Silverado includes a lane departure warning system and a blind spot warning system, as well as a forward collision alert feature.  My truck didn't have any of this gear, nor did it feature the available Safety Alert Seat, which vibrates the seat on either side to indicate potential danger, but I have tested it in the past on other versions of the truck and highly recommend it as an intuitive warning method.
2014 Chevrolet Silverado LT Crash-Test Ratings: The Chevrolet Silverado earned a five-star safety rating in crash testing performed by the NHTSA.  It has yet to be completely crash tested by the IIHS.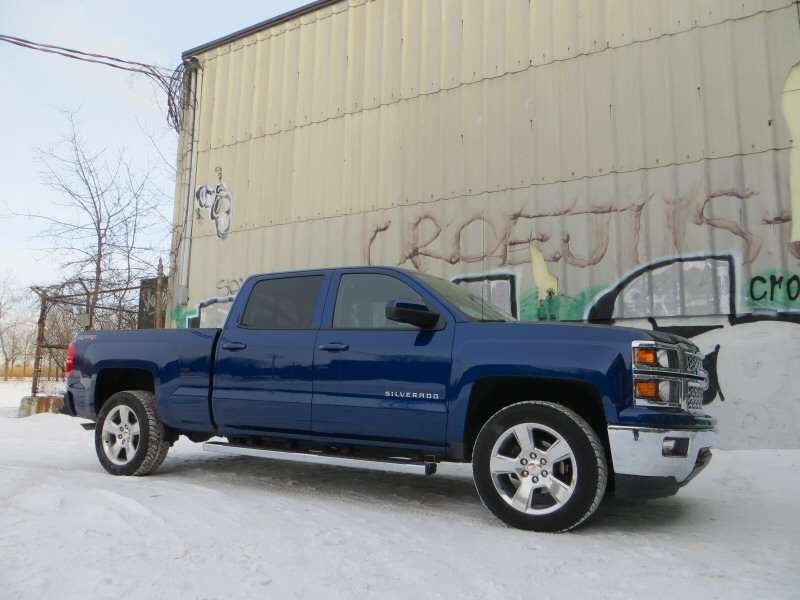 2014 Chevrolet Silverado LT Review: Engines and Fuel Economy
The 2014 Chevrolet Silverado features three all-new engine options.
The 2014 Chevrolet Silverado's three available engines might sound familiar, but they have each been given a thorough makeover to produce more power and use less fuel than their earlier incarnations.  The Silverado's base 4.3-liter V-6 churns out 285 horses and 305 lb-ft of torque, while the 5.3-liter V-8 found under the hood of my test truck produces 355 horsepower and 385 lb-ft of torque.  If you need more grunt, then look to the vehicle's 420 horsepower, 6.2-liter V-8 (that is also good for 460 lb-ft of twist).
The secret to the success of the Silverado's three new engine options is direct fuel injection - not to mention cylinder deactivation that can see each of the units running on as few as four cylinders while under light load.  This allows the 5.3-liter motor to turn in 16-mpg in city driving and 23-mpg on the highway in two wheel drive configuration (four-wheel drive models are slightly thirstier).  These numbers that aren't great when compared against the more powerful EcoBoost V-6 offered by Ford, but they are solid for an eight-cylinder pickup.  A six-speed automatic transmission is included with each version of the Chevrolet.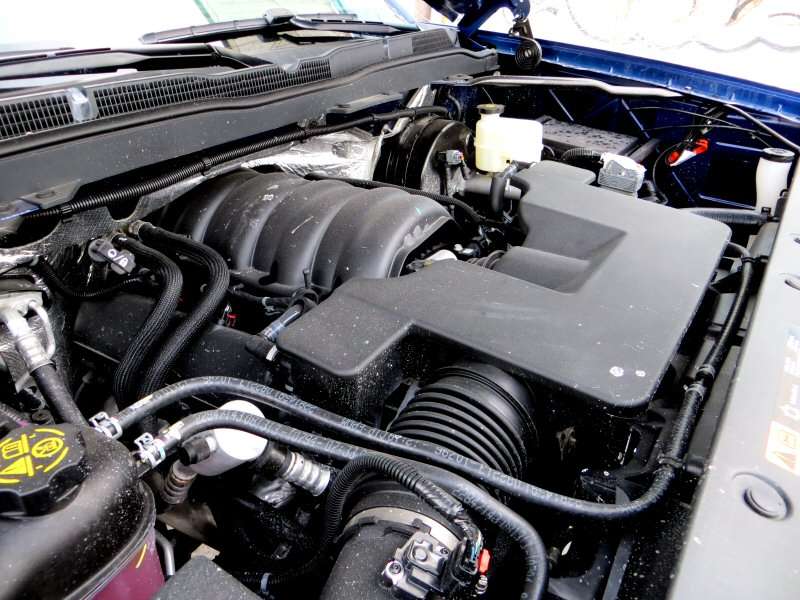 2014 Chevrolet Silverado LT Review: Driving Impressions
The 2014 Chevrolet Silverado LT's calm and composed character out on the road indicates just how practiced GM's chassis engineers have become at balancing a full-size pickup's dual roles of daily driver and task-focused workhorse.  Piloting the Silverado, even through a city environment laden with potholes and irate drivers cutting you off at every corner, was a breeze: the truck steers smaller than it looks, and it is surprisingly easy to park thanks to the included backup camera and the need for only basic Tetris skills when fitting a rectangular box into a similarly-shaped roadside space.  If you want to be an urban cowboy, the Silverado will happily accommodate your bravado while its suspension cancels out a great deal of the vibration and road harshness that used to be part of the compromise associated with owning a large truck.  It's not as smooth as the Ram 1500's rear coil springs, but it's certainly a step up from the occasionally-uncertain Tundra's geometry.
I didn't get a chance to tow with the Chevrolet Silverado LT during my week with the truck, but I have done it in the past, with a variety of trailer weights, and the 5.3-liter V-8 has no issues holding its own while working for a living.  On the street and when passing on the highway there's enough acceleration available to keep the driver out of trouble - or get them into it, depending on your perspective - and there's no question that the new motor is an improvement over the outgoing mid-tier eight-cylinder mill.  The six-speed gearbox might seem a bit dated in the face of the eight-speed units that are starting to trickle into the pickup segment, yet it gets the job done in a seamless manner and comes with a tow/haul function for more serious workouts.
The four-wheel drive system installed on the 2014 Chevrolet Silverado features a part-time, 'auto' setting as well as the ability to lock it into high and low-range gear.  On icy January roads only rarely did I need to engage the truck's auto feature, choosing instead to keep the truck in two-wheel mode as often as possible to maximize fuel savings.  Chevrolet's traction control program for the Silverado was remarkably adept at ensuring my safety and keeping the rear end of the pickup from swapping with the front, even when driving on packed snow or wet slush.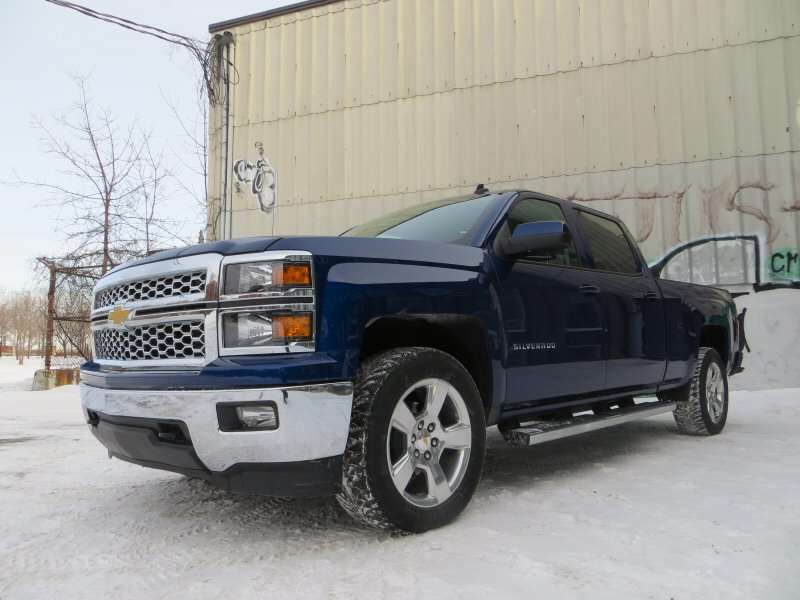 2014 Chevrolet Silverado LT Review: Final Thoughts
The 2014 Chevrolet Silverado LT is a good full-size truck that pushes all of the right buttons when it comes to style, power, affordability, and utility.  The Silverado isn't a game-changer - there's no whiz-bang, segment-exclusive features (aside from the Safety Alert Seat) to be found on its options sheet - but it's a strong continuation of what was already a strong-selling vehicle.  It's unlikely that Chevrolet will be able to convince throngs of Ram or Ford owners to swap loyalties and park a Silverado in the driveway, but there's more than enough drivetrain innovation, chassis development, and interior improvement here to keep existing Silverado owners in the fold, as well as snatch up a sizable number of Tundra fans frustrated by that particular truck's lack of forward progress for 2014.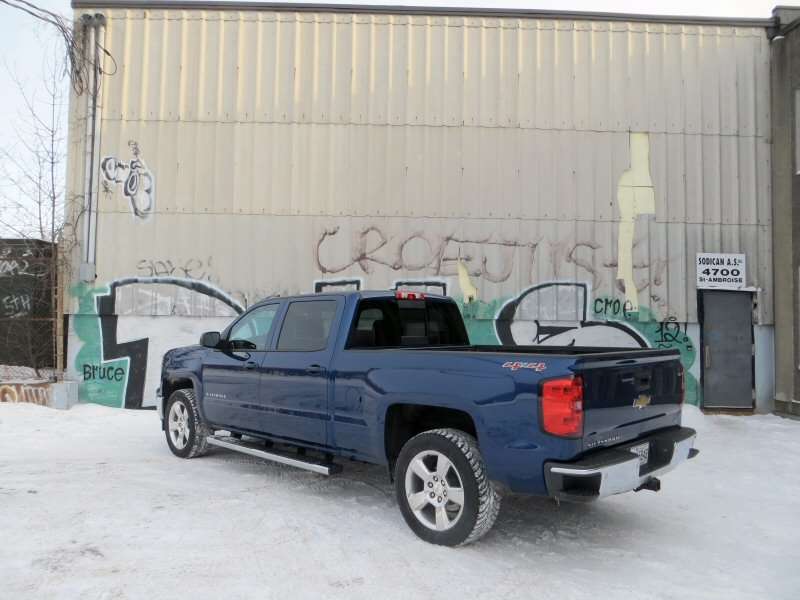 2014 Chevrolet Silverado LT Review: Pros and Cons
Pros:
Expansive passenger compartment
Strong and relatively frugal direct-injected engine options
Dramatically upgraded V-6
Smooth chassis, comfortable ride
Good towing and cargo capacity
Improved interior materials and design
Safety Alert Seat is a welcome innovation
Cons:
Not a dramatic departure, style-wise, compared to previous model
Middle-of-the-pack performance when looking at mid-tier engine option
No diesel or turbocharged variant to maximize fuel economy
High Country is a start, but the Silverado lacks the depth of available luxury models as compared to its rivals
GM Canada supplied the vehicle for this review.