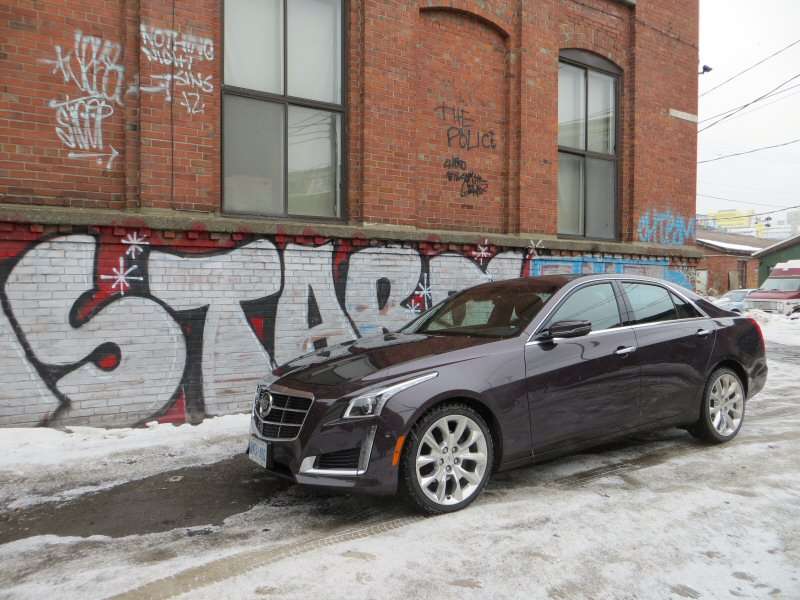 Sometimes, a car company chooses to lead from the middle of its line-up, eschewing flashy halo models in favor of an all-around contender that serves as the standard-bearer for the brand.  A vehicle like the 2014 Cadillac CTS is a perfect example: this mid-size sedan serves as a luxury linchpin, and a complete redesign for the current model year has only strengthened its critical position for the automaker.  Nowhere can one find a purer expression of Cadillac's Art & Science evolution, both in terms of styling as well as in the details that have consistently elevated the CTS above previous generations of the car since it first hit the scene at the beginning of the last decade.
What makes the 2014 Cadillac CTS an even more impressive accomplishment is the fact that it faces off against some of the steeliest-eyed competitors you could possibly imagine.  The CTS isn't just a great car in a vacuum - it's one that's shines just as brightly when placed alongside luminaries like the BMW 5 Series, the Audi A6, and the Mercedes-Benz E-Class, each of which have also enjoyed recent attention from their respective design studios.  The mid-size sedan stands proudly with the company's new ATS compact four-door as part of Cadillac's two-prong strategy to reclaim the dusty title of 'The Standard Of The World.'
2014 Cadillac CTS 3.6 Premium AWD Review: Models and Prices
The 2014 Cadillac CTS is split across three engine choices that can then each be matched with one of several trim levels.  The base Cadillac CTS starts at an MSRP of $46,025, while the top-tier model begins at an MSRP of $59,995.
I drove the 3.6-liter edition of the car, which offers the Luxury trim at the entry-level for $54,625.  Included with the CTS 3.6 Luxury are heated and cooled leather seats, adaptive HID headlights, automatic high beam control, a rearview camera, a blind spot monitoring system, a lane departure warning system, collision alert, the Safety Alert Seat, and a heated steering wheel.  This is on top of a 5.7-inch LCD screen, the Cadillac CUE vehicle interface, dual automatic climate control, 17-inch rims, remote ignition with keyless entry, parking assistance, power adjustments for the front seats, Bluetooth connectivity, and a surround sound audio system.
Stepping up to the 3.6 Performance maintains all of the above gear but also adds a head-up display, 18-inch rims, an adaptive suspension system, an automated parallel parking feature, three zones of automatic climate control, additional interior illumination, an AC power outlet, and heated rear seats.  The 3.6 Premium includes additional safety gear (including an adaptive cruise control system with automatic braking capability) along with leather trim throughout the cabin, a navigation system, a panoramic moonroof, 20-way adjustable sport seats, and a special dashboard LCD display.
The version of the 2014 Cadillac CTS 3.6 that I drove for a week featured not just the Premium trim level, but also the option of all-wheel drive, bringing the total price to $67,425.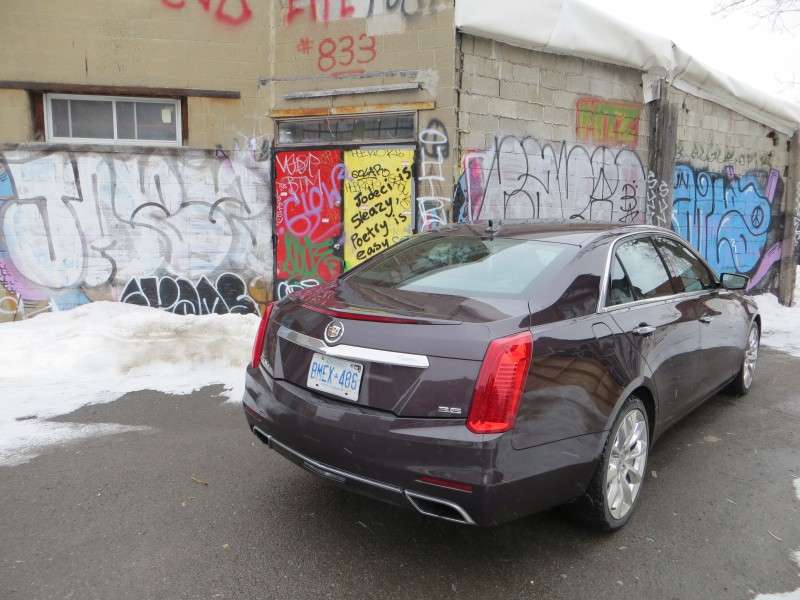 2014 Cadillac CTS 3.6 Premium AWD Review: Design
The 2014 Cadillac CTS 3.6 Premium AWD is a brand new design.
The first thing you notice about the 2014 Cadillac CTS 3.6 Premium AWD is its size.  Specifically, the sedan has now grown fully into the mid-size segment and no longer represents a 'tweener' lodged betwixt stalwarts like the BMW 3 Series and the BMW 5 Series.  This additional visual heft is particularly perceptible when it comes to the Cadillac's length, as the sedan stretches for an additional 4.2 inches compared to its predecessor.  The CTS' transition to large car status has certainly not been at the expense of elegance, as the vehicle's exterior details shine in drawing attention to its resculpted front fascia, the carved inset that houses its twin tailpipes belong the back bumper, and its stronger, more sharply-angled hood.  In particular, I was enamored of the Cadillac's line of LED lights that ascended up from beside the front air intake to outline the car's headlights, an arrangement that cut a particularly imposing figure at night.
I'm saving my most effusive praise for the 2014 Cadillac CTS' passenger compartment.  The living space inside the sedan has been polished, massaged, and manicured to the point where it shames several of its European rivals.  The extended leather treatment afforded the Premium trim level is outstanding, with almost every surface that might come into contact with fingers, hands, or arms having been wrapped in a soft, high end animal hide.  The rest of the car's contact points are finished in either obsidian-like plastic or genuine wood, with metal accents doing their best to add bright spots to my test vehicle's black interior.  It's an extremely classy arrangement that stands in stark contrast to the original CTS' far more pedestrian accommodations.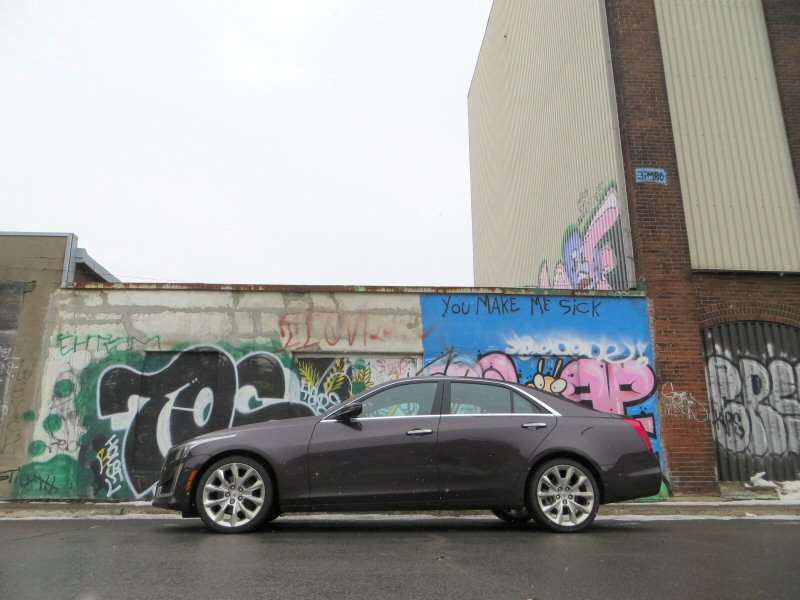 2014 Cadillac CTS 3.6 Premium AWD Review: Comfort and Cargo
The 2014 Cadillac CTS 3.6 Premium AWD is an all-new model.
The 2014 Cadillac CTS pulls an interesting trick once you've closed the door to its passenger compartment: it somehow convinces you that its larger inside than its on-paper dimensions would suggest.  Cadillac hasn't actually physically expanded the CTS' cabin for 2014, but clever packaging means that there is definitely more room available at all four positions, especially in the rear of the car where I had enough space to transport two or three full-size adults in complete comfort. 
My time with the CTS coincided with a trip from Montreal to the Detroit auto show, a 1,300 mile journey that gave me plenty of time to assess the ergonomic aspects of the sedan's interior.  After a period of adjustment wherein I fiddled with the car's 20-way adjustable front buckets, I found myself extremely well supported and not quite as wiped out as I thought I would be after all of that driving.  The car's multi-stage seat heaters did a good job of keeping the January cold at bay, and I also appreciated the car's large trunk, which, while not as big as some competitors, was perfectly suited to hauling all of my luggage across the border.  It's worth mentioning that the CTS' cabin achieves Buick-levels of quiet, even at highway speeds, a testament to the laminated glass and other sound-deadening tweaks that accompany its redesign.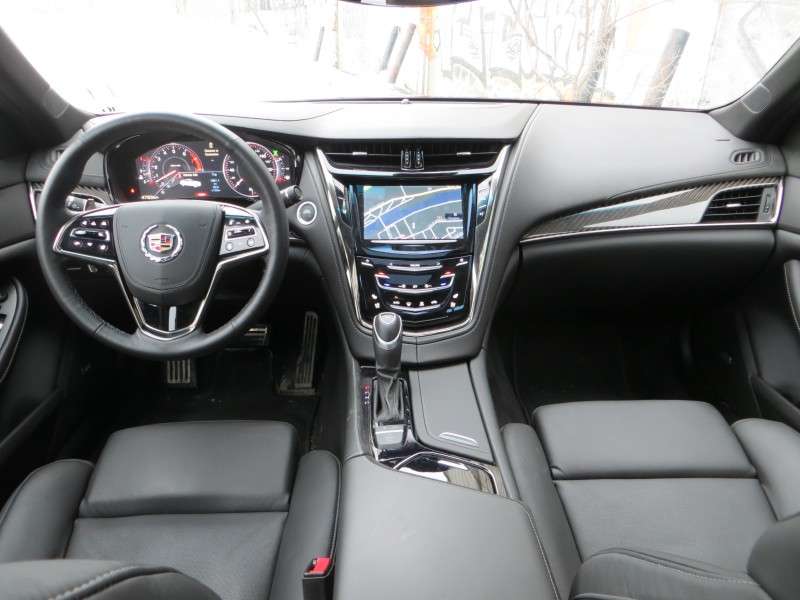 2014 Cadillac CTS 3.6 Premium AWD Review: Features and Controls
The 2014 Cadillac CTS 3.6 Premium AWD offers the extended CUE interface
A new HUD is available
Adaptive high beam headlights are now an option
Full-speed adaptive cruise control can be added to the car
Much has been made of the Cadillac CUE interface installed in the 2014 Cadillac CTS (and indeed, in many other Cadillac models).  The system makes use of a touchscreen mounted on the center stack matched with a set of capacitive touch 'buttons' just below, and it also features a driver-configurable LCD gauge cluster and a pair of steering wheel joysticks.
Some aspects of CUE work quite well.  I enjoyed being able to move data displays around the LCD cluster's digital real estate and arrange the dash to show me exactly what readouts I needed during my extended road trip.  It was also quite easy to move from vehicle info, to entertainment features, to Bluetooth controls using the steering wheel buttons, and although not quite as user-friendly, the car's touchscreen was also similarly practical (I personally never got tired of the unit's ability to detect the presence of my hand before I even made contact with the screen).
The CUE system's weak points include typical frustration with the touch controls set into the black panel on the center stack, which are not as responsive as they need to be when adjusting the volume or climate controls (although if you push hard enough, you can get them to register even when wearing gloves).  This is something I have complained about in the past with the ATS.  A new issue appeared for me, however, during my time with the CTS sedan, and that had to do with CUE's satellite radio controls regularly freezing up. 
There were times when I could change channels but the display on the dash and in the gauge cluster would remain locked to whatever I had just been listening to, and there were other instances where the radio stations would all be blanked out (or on one memorable occasion, randomly populated with non-western characters).  I was only able to return CUE to fully-functional status by implementing a reset procedure I discovered online, albeit one that required the car to cycle off for 60 seconds, making it impossible to use during longer legs of my road trip.
A software bug?  No doubt.  Excusable on a new car that has only recently hit dealer lots?  Definitely.  I am willing to cut Cadillac some slack with the CTS' CUE system, despite not having encountered these problems with either the ATS or the XTS implementation of the same feature.  Still, this was a frustrating fault that occurred almost every time I put miles on the car.
A couple of other notes regarding the 2014 Cadillac CTS' feature set.  I would have liked larger side mirrors, as there were times when I felt style intruded on safety in terms of how much of the lane I could see on either side of the car.  I was also unable to get the automated parallel parking system to engage, an issue I have encountered with this type of system from other brands as well.  Other new gear, however, such as the head-up display, worked quite well.  Particularly exceptional was the adaptive cruise control, which automatically brought the car to a halt and then accelerated back up to highway speeds as I slogged my way through Toronto's rush hour traffic.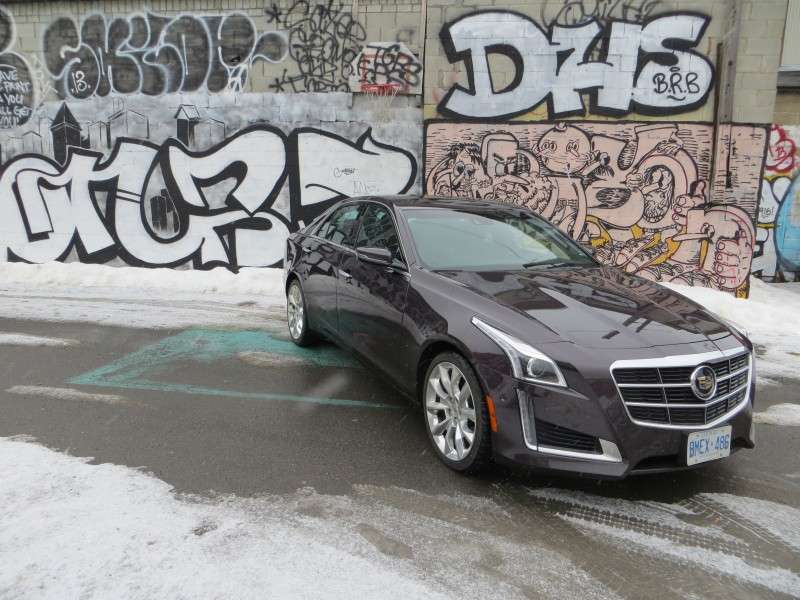 2014 Cadillac CTS 3.6 Premium AWD Review: Safety and Ratings
The 2014 Cadillac CTS 3.6 Premium AWD adds advanced collision mitigation.
The Safety Alert Seat is now offered with the sedan.
I can't say enough good things about the 2014 Cadillac CTS' safety alert seat.  This feature is designed to replace the chimes and lights associated with the car's lane departure and blind spot warning systems by instead vibrating the side of the driver's seat where a potential hazard has been identified.
This is useful for a number of reasons.  First of all, an electronic ding doesn't tell you anything about where you might be about to get into trouble - it's just another sound inside the car's cabin that you might not even hear over the radio.  Vibrating the seat, however, on the specific side where you've left your lane, or where a pedestrian has decided to walk up to your car while reversing (something that happened to me while driving the CTS) instantly alerts you to the 'danger vector' and instinctively draws your attention to the right spot.  It's such a good idea that I am surprised it's taken this long to implement in the automotive industry, and it was my favorite part of Cadillac's range of safety features
Another good thing about the safety alert seat is that it's discrete.  If you've ever ridden with the kind of passenger who loves to be critical of your driving decisions, then you will instantly appreciate a system that doesn't let everyone in the car know that you almost took out the minivan beside you with an ill-advised lane change.  The driver is the only one who feels the vibrating alert, and therefore no one has to know about your little faux-pas behind the wheel unless you feel like sharing.
Cadillac's collision avoidance system is designed to work at both high and low speeds, and fortunately, I only experienced its intervention during the latter.  While reversing into a parking spot, the car determined that I was accelerating too quickly towards the vehicle behind me and slammed on the brakes to arrest its motion.  This surprised me - I didn't think I was that close - but I've always known that my senses weren't nearly as accurate as radar.
In addition to all of these doodads and gadgets, the CTS also offers side curtain airbags, seat-mounted side impact airbags up front, dual forward airbags, active seatbelt tightening, electronic traction control, and stability control.  It also comes standard with the OnStar telematics system.
2014 Cadillac CTS 3.6 Premium AWD Crash-Test Ratings: The Cadillac CTS features a five-star crash test safety rating from the NHTSA.  It has yet to be crash tested by the IIHS.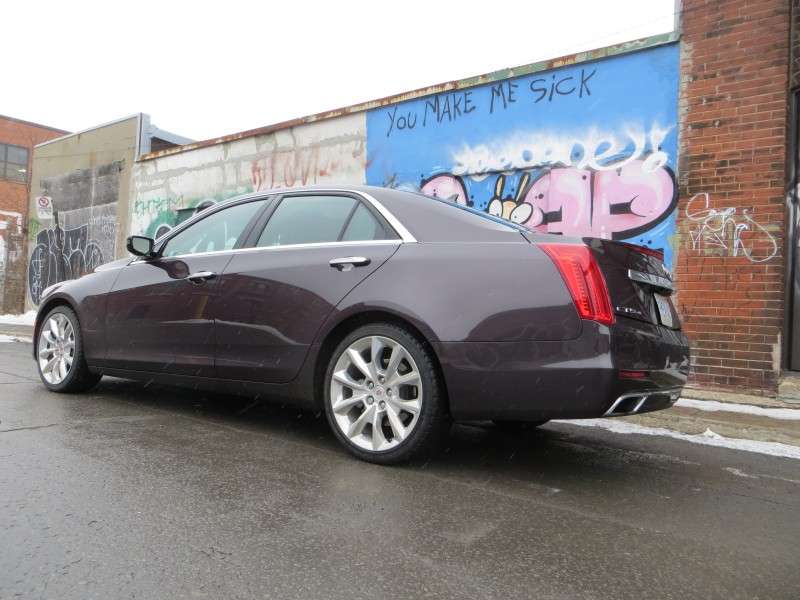 2014 Cadillac CTS 3.6 Premium AWD Review: Engines and Fuel Economy
What's New:
The 2014 Cadillac CTS gains a turbocharged four-cylinder engine.
A new twin-turbo V-6 also makes its debut with the sedan.
An eight-speed automatic transmission is now available with some versions of the car.
The 2014 Cadillac CTS gains a new entry-level engine, a 2.0-liter, turbocharged four-cylinder borrowed from the ATS sedan that generates 272 horsepower and 295 lb-ft of torque.  The car I drove featured the mid-tier 3.6-liter V-6, a carry-over from the year before that delivers 321 horsepower and 275 lb-ft of torque (a bit of a boost compared to the year before), while Vsport models benefit from a twin-turbo version of this same engine that grinds out 420 horses and 430 lb-ft of twist.  Transmission choices for the CTS range from a six-speed automatic for the four-cylinder car and all-wheel drive versions of the naturally-aspirated V-6, to a new eight-speed autobox outfitted to the rear-wheel drive 3.6-liter V-6 and the twin-turbo Vsport (which is all-wheel drive only).
Fuel mileage for the Cadillac CTS 3.6 Premium AWD is listed at 18-mpg in city driving and 26-mpg on the highway.  During my trip to Detroit, I saw 23-mpg during weather that hovered right around the freezing mark.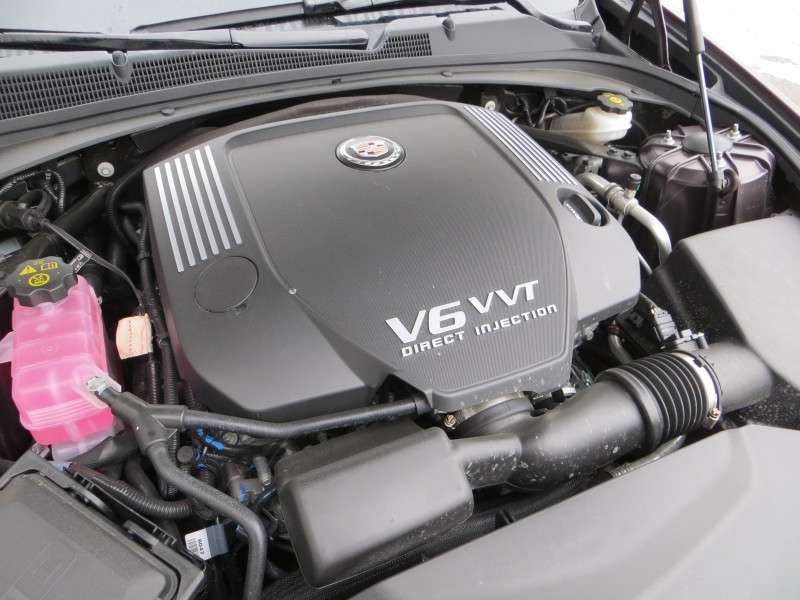 2014 Cadillac CTS 3.6 Premium AWD Review: Driving Impressions
The 2014 Cadillac CTS 3.6 Premium AWD provides exactly the kind of ride coveted by mid-size luxury sedan buyers.  Almost all road harshness is dialed out by the CTS's magnetically-adjustable suspension, yet the car never feels disconnected from the pavement (an impressive achievement given its reliance on an electric power steering system).  Even when dodging potholes in both Montreal and Detroit, two cities with equally appalling infrastructures, only deep-space craters were able to jolt the car's passenger compartment.
Bigger doesn't mean heavier for the CTS, as the base model actually checks in with a curb weight below that of the car it replaces (not to mention one that undercuts each of its European classmates).  The all-wheel drive Premium model I drove, however, was a bit more portly, and the extra pounds could be felt in the corners.  In all but the most demanding of driving situations the CTS handles like a champ, but I wouldn't want to take anything other than the potent Vsport model to my local road course for the weekend.  This isn't a knock against the CTS' chassis - no other luxury sedan in its segment feels track-worthy, either, which is fine because Cadillac has finally determined that they day-to-day CTS should feel special for reasons of comfort and competence, not because you can brag about lap times around the water cooler on Monday.
Acceleration from the car's V-6 was strong, and smooth to the point where sometimes only the sweep of the speedometer needle and the soothing sounds of the car's exhaust system indicated that I was inviting attention from the local constabulary.  All-wheel drive was welcome in the icy alley behind my home, but the extra traction was transparent on the highway, imparting a sensation of rear-wheel drive propulsion that was absent of understeer in all but the pushiest of corners.  The Cadillac CTS was a joy to drive over such an extended period of time, and I couldn't help but marvel at how far the car has come in terms of its dynamics since it was initially conceived as a Euro-fighter a decade ago.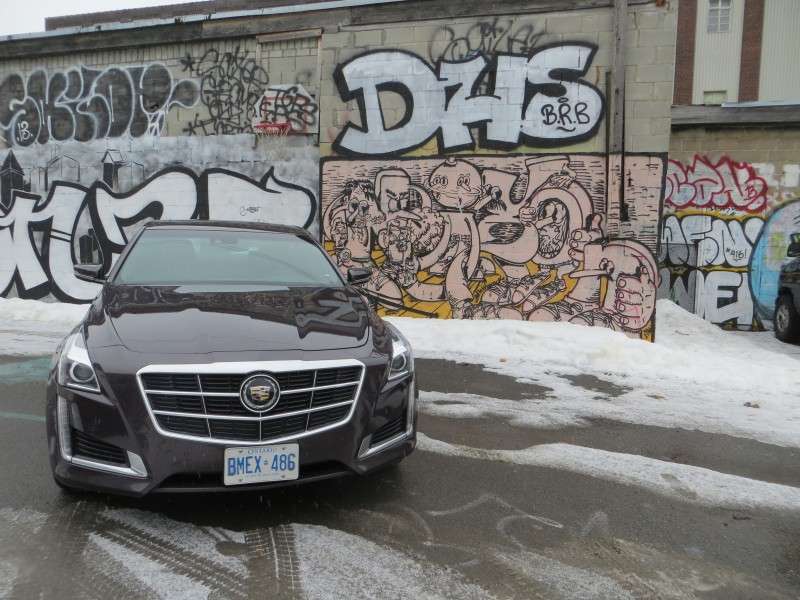 2014 Cadillac CTS 3.6 Premium AWD Review: Final Thoughts
The 2014 Cadillac CTS 3.6 Premium AWD is a car deserving of every column inch of attention and praise it has received since it first debuted on-stage in Detroit last year.  This is a world-class vehicle competing on a global stage without any caveats, an automobile that Cadillac can be proud of and one that stands as the jewel in the luxury brand's crown.  This best-ever version of the CTS can be rightfully labeled the most appealing vehicle in Cadillac's lineup, which bodes well for the future of an automaker that seems to be just hitting its stride.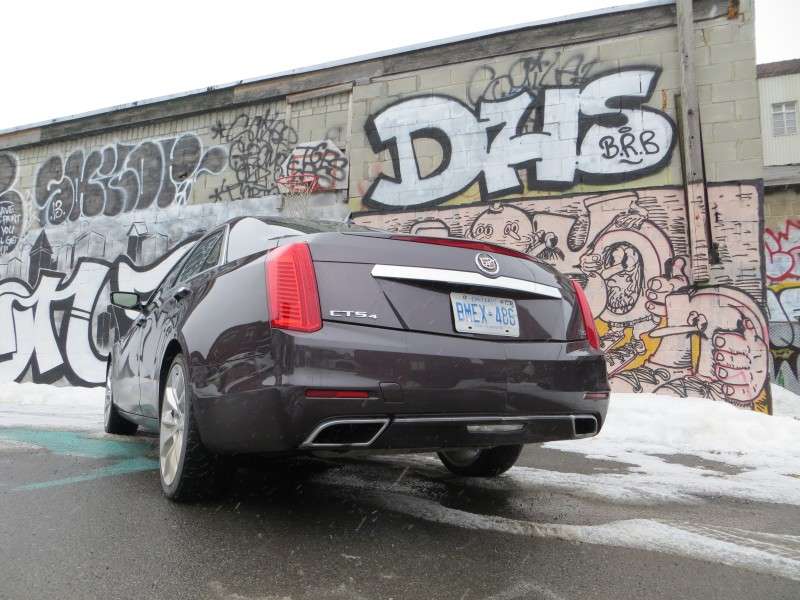 2014 Cadillac CTS 3.6 Premium AWD Review: Pros and Cons
Pros:
Elegant styling
Excellent interior room and finish
Range of powerful and efficient engines
Smooth, comfortable ride
Competitive pricing
Excellent active safety gear
Cons:
CUE system still needs refinement
Eight-speed automatic not available across the board
General Motors Canada supplied the vehicle for this review.