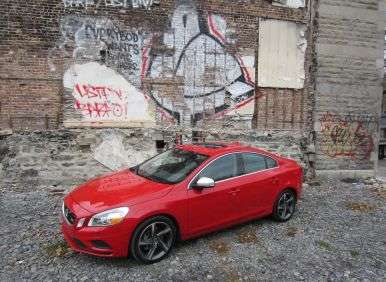 What would you do if the progress of time had gradually eroded your status as a leader in the one area of the market that you could call your own?  Once known for its focus on safety and its commitment to advanced passenger protection technologies, Volvo has found itself increasingly crowded out of the high tech driver assistance and safety systems spotlight by a horde of premium brands doing their best to use these features to differentiate themselves against strikingly homogenous competition.
How has Volvo attempted to cope with its sudden loss of identity as the world's safety leader?  There hasn't been one specific answer, as the company has withdrawn its once-vaunted wagons from North America, pushed development of its crossovers, and made a play for the near-luxury crowd with automobiles like the 2013 Volvo S60 T6 AWD R-Design.  The latter has been hailed as the best sedan ever built by the Swedish automaker, but is it enough to turn the tide of apathy that has struck the once-proud marque and sway a new generation of buyers away from the likes of Audi and Acura?
2013 Volvo S60 T6 AWD R-Design: Competition
The 2013 Volvo S60 T6 AWD R-Design occupies a precarious position amongst premium European cars.  Volvo would like for the S60 to be in the same conversation as the Audi A4 and the Mercedes-Benz C-Class, but it has taken a many-model-year push to get the Swedish brand in the same conversation as these more established entry-level luxury cars.  Its elegant looks help to get its foot in the door for buyers considering vehicles like the Lincoln MKZ and the Acura TL, although the T6 R-Design's pricing forces one to consider only high spec editions of the latter two vehicles.  With Saab out of the picture, Volvo stands alone in bringing Scandinavian philosophy and style to buyers who want to step out of the ordinary and drive something different than their friends, neighbors, and co-workers.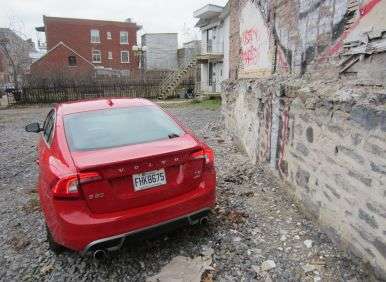 2013 Volvo S60 T6 AWD R-Design: Pricing and Trim Levels
The 2013 Volvo S60 starts out at an MSRP of $31,900 for the T5 FWD model.  On top of that are three additional trim levels - in reality, options packages - that can increase the price of the mid-size sedan by as much as $6,050.  Stepping up to the T60 AWD edition of the car bumps the MRSP by a considerable $8,750, and the S60 T6 AWD R-Design edition that was parked in our driveway for a week featured an initial MSRP of $44,100. 
The T6 AWD can be had with two additional trims, while the S60 can only be upgraded to the Platinum trim.  Our test vehicle had almost all of the bells and whistles available with the R-Design model, and it stickered-out at an MSRP of $51,695.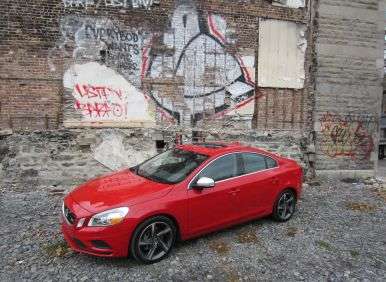 2013 Volvo S60 T6 AWD R-Design: Exterior
The 2013 Volvo S60 T6 AWD R-Design stands as the automaker's most successful effort at projecting its strikingly unique styling language without completely alienating buyers who are more used to the conservative cues commonly found in this area of the market.  The S60 T6 AWD R-Design builds on the gorgeous lines of the smaller C30 hatchback, creating a strong, bullet-nosed, aero-influenced shape that projects strength and enjoys serious road presence. 
The Volvo S60 looks fast, and grabs attention, but it doesn't do so at the expense of dignity - a long-time Volvo trademark.  We were especially enamored of the sedan's swept-spoke rims, jeweled taillights, and rear rollpan framed by dual exhaust tips.  The bright red paint worn by our test vehicle was also an excellent hue for the four-door automobile.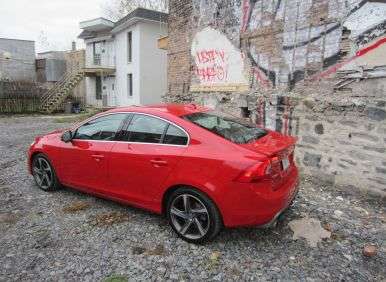 2013 Volvo S60 T6 AWD R-Design: Interior
While the 2013 Volvo S60 T6 AWD R-Design's sheet metal might do a great job of showcasing Volvo's traditional styling cues seen through a modern lens, its interior is not quite as successful.  To be sure, there's nothing 'wrong' with how the passenger compartment of the S60 has been laid out, but there are definitely aspects of its design that seem as though they have been held over from a previous era.  This makes an uncomfortable juxtaposition against other, updated elements of the sedan's cabin.
A prime example can be found on the Volvo S60's center stack, which features a prominent telephone number pad, complete with letters in case you need to access a phone directory of names while driving the sedan.  In the age of hands-free phones and voice dialing, the rectangular pad seems like an anachronism at best, and it takes up a considerable amount of real estate.  It also contrasts poorly against the four round knobs used to interact with the centrally-mounted LCD navigation screen and the heating and cooling system.  We liked the interactive vent controls in the shape of a seated passenger, but the dial pad mounted just above it needs to go.
The same could be said for the blue tachometer and speedometer that sit directly in front of the driver, which are dwarfed by the overlarge binnacle that houses them.  They simply look retro in comparison to the rest of the interior.  We were also surprised at the amount of blank space found on the Volvo's dashboard, which seemed much bigger than it actually was due to its curving design.
The Volvo S60 T6 R-Design's passenger compartment did have some sweet spots.  In particular, the vehicle's front seats are extremely comfortable, and the sedan's headrests are perhaps the most supportive we have ever encountered.  Rear passengers have a good amount of room as long as one does not try to sit three across, and the cabin actually feels bigger than those that are found in a few of its German rivals.  The black-on-black trim and leather treatment was an excellent choice for our bright red test car, and we also appreciated being able to slide the cup holder cover forward to help cover up any mobile devices we risked leaving in the car while it was parked.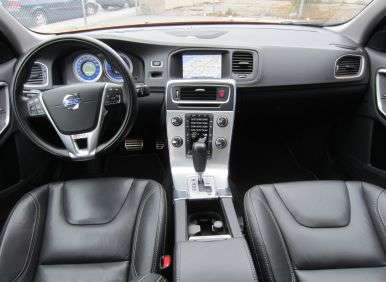 2013 Volvo S60 T6 AWD R-Design: Powertrain and Fuel Economy
The 2013 Volvo S60 60 AWD R-Design is outfitted with a 3.0-liter, six-cylinder engine that makes use of a turbocharged to provide 325 horsepower and 354 lb-ft of torque.  All-wheel drive is standard with the R-Design model, and so is a six-speed automatic transmission.  Fuel mileage for the Volvo sedan shows as 18-mpg in stop and go driving and 25-mpg on the highway.
For those who are looking for a less powerful version of the car, the non R-Design T6 AWD offers identical fuel economy from a detuned version of the same engine that puts out 300 horsepower and 325 lb-ft of torque.  The S60 T5 (found in front-wheel and all-wheel drive editions) offers up 250 horses and 266 lb-ft of torque from 2.5-liter, five-cylinder turbocharged mill (and six-speed automatic transmission).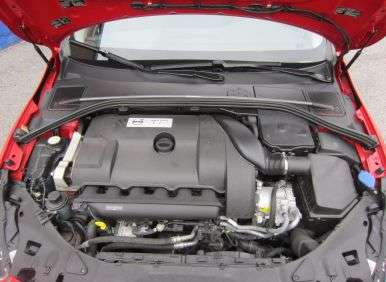 2013 Volvo S60 T6 AWD R-Design: Driving Impressions
The 2013 Volvo S60 T6 AWD R-Design might look very much like a sport sedan - and it may be marketed as one - but at its heart, it's far more comfortable in the role of comfortable cruiser.  Let's get one thing straight, however: the S60 T6 AWD R-Design is one fast hunk of Swedish steel.  The turbocharged six-cylinder engine is more than willing to flex its muscle at the slightest provocation, and while it might run out of breath at higher rpm's, the low-end torque produced by the motor is impressive.  With the transmission in Drive, the S60 is perfectly willing to surge forward and put several car lengths between you and the tailgater behind you, demonstrating a rapidity that belies its weight and staid Scandinavian reputation.  60 miles per hour arrives in just five-and-a-half seconds from a standing start, which makes this the quickest Volvo to have reached American shores.
Shift the six-speed automatic into Sport mode, however, and the S60 becomes far more difficult to pilot in a smooth manner.  Sport made the sedan's throttle extremely sensitive - so much so that achieving tip-in without lurching ahead like a roller coaster cresting the top of a three-story drop was exceedingly difficult.  While we liked the more aggressive gear-shift algorithm employed by Sport mode, for the most part we avoided this particular setting and simply tooled around with the car in Drive.
The S60 R-Design's all-wheel drive system plays a significant role in helping the sedan deliver such impressive acceleration with nary a hint of wheel spin.  When it comes time to corner with the same level of aggression, however, we were somewhat let down by the vehicle's handling dynamics.  The all-wheel drive system's torque vectoring was largely transparent, but despite riding on lower and stiffer springs than the standard S60, the R-Design doesn't deign to change direction in a fashion that could be described as 'sporty.'  We had no complaints about its around-town demeanor, and on the highway the car feels exceptionally planted, but it should be clear that while the S60 T6 AWD R-Design is a very quick car - and satisfying to drive - it's one that can't quite shake its near-4,000 lbs curb weight in the corners.  In addition, more than once a sharp, speedy turn was vetoed by the Volvo's electronic stability control system, leaving us limping around a 180-degree corner until the car had decided that the wheel was straight enough to allow for throttle application. 
It would be impossible to review a Volvo sedan without discussing the impact of its myriad safety systems on the overall experience delivered by the vehicle.  The blind spot monitoring system did its job quite well, flashing an orange light at us when a car or truck was sidling alongside the S60, and adaptive cruise control also worked flawlessly at maintaining the specified separation between us and the vehicle ahead.  The rearview camera and parking assistance features were also helpful, although the latter was quite sensitive and often saw us parked about 10 inches farther away from the front of a parking spot than we had intended.  It also had a disconcerting habit of cutting out the stereo system yet not beeping a warning at us when parallel parking took us close too another automobile, which had us primed for a scolding that never came at least two or three times during each parking maneuver.
Collision Warning with Auto Brake was somewhat less useful than the above-listed safety items.  The feature illuminated a series of LEDs on the dash ahead of us - reflected up into the windshield - whenever the car was detected to be accelerating towards a vehicle that was either stationary or in the process of slowing down.  Naturally, when navigating city traffic there were times when Collision Warning would activate during the most innocuous of driving situations, such as pulling up behind a car that was making a 90-degree turn into a driveway.  The end result was a scary moment when drivers would wonder what, exactly the S60 had seen that we hadn't.  The answer was almost always 'nothing,' which is not the best way to get owners to pay attention to a safety warning.
We didn't have occasion to sample the Pedestrian Detection system (part of Volvo's City Safety suite), but we did discover that unlike say, the lane departure warning feature found on vehicles from Lincoln, the Volvo version only sounded an alarm and didn't automatically steer us back on course.  Although we are not proponents of cars that do the driving for us, it seems as though adding yet another beep to a chorus of lights and sounds that already included collision warning and blind spot detection wasn't nearly as helpful as gentle tug on the steering wheel would have been.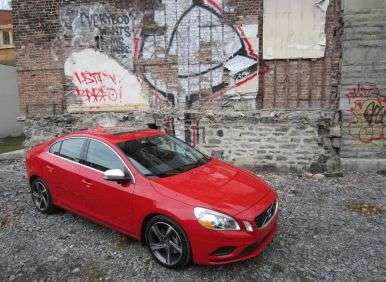 2013 Volvo S60 T6 AWD R-Design: Safety
Many of the 2013 Volvo S60 T6 AWD R-Design's safety features have been described in detail above, but it is worth enumerating the full list of what, exactly, came with our sedan in order to demonstrate just how serious Volvo is about keeping pilot, passengers, pedestrians, and even other drivers protected from harm.  The R-Design offers adaptive cruise control with Queue Assist and Distance Alert, brake assistance, the City Safety system (automatic braking at low speeds), Collision Warning with full auto brake and Pedestrian Detection, Road Sign Information (camera that detects and interprets road signs), an Intelligent Driver Information System, a rear fog light, HID headlights, and flashing adaptive brake lights.  Inside, the car features anti-submarining protecting, dual-stage forward airbags, side-impact airbags up front, side curtain airbags for the entire cabin, and a whiplash protection system.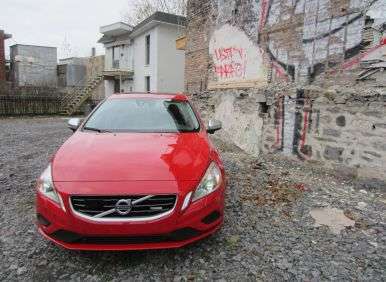 2013 Volvo S60 T6 AWD R-Design: Final Thoughts
2013 Volvo S60 T6 AWD R-Design: Final Thoughts
The 2013 Volvo S60 T6 AWD R-Design is a fine entry-level premium sedan that is quick enough to be interesting, but not dynamically engaging enough to tackle its BMW equivalent on twisty roads.  Most who are attracted by the Volvo's exciting styling won't have any problem with the S60 R-Design's concession to comfort over handling, particularly those who live in areas that see significant snowfall during the winter months and who will value the sedan's all-wheel drive system and balanced nature.  The Volvo's safety features are a mixed bag of annoying beeps and flashing lights balanced by quite useful electronic nannies, and while most of the rest of the industry has caught up to the Scandinavian innovator the S60 still has somewhat of a 'gee-whiz' factor when it comes to passenger protection.
Would we like the S60 T6 AWD R-Design to offer updated switchgear to go with its spectacular seats and quiet passenger compartment?  Almost certainly.  It's not a deal-breaker, however - merely another reminder that Volvo designed this car from its own unique point of view, and that sometimes its perspective is out of step with the rest of the market.  If being out of step means having the capacity to build one of the sharpest-looking, and quickest sedans in its class, we're perfectly willing to overlook a few missteps here and there.
What We Like About The 2013 Volvo S60 T6 AWD R-Design
Cutting-edge exterior styling
Amongst the most comfortable thrones in the industry
Very fast with the pedal down
All-wheel drive system is excellent at distributing power and maintaining traction
Comfortable even on rough roads
We Aren't So Hot On
Safety systems can on occasion be distracting and confusing
Sport mode's 'skittish deer syndrome' when it comes to throttle sensitivity
Unwilling to corner as quickly as its R-Design moniker would suggest
Dated dashboard