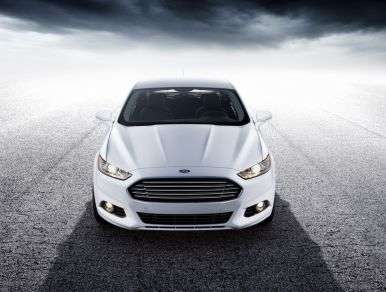 The 2013 Ford Fusion represents perhaps the greatest technological and styling leap between one model year and the next at the Blue Oval since the introduction of the original Taurus in 1986. Back then the Taurus was Ford's affordable mid-size entry, a role that the sedan has now ceded to the Fusion, and both cars can be seen as making distinct breaks with their respective eras in order to open new chapters for the automaker.
What is it, exactly, that makes the 2013 Ford Fusion so revolutionary? For starters, it's the acknowledgement from Ford that it can build a family car that looks like a million bucks - inside and out - without having to raise the price tag past what most people are willing to pay. More importantly, however, it's the investment in under-hood and chassis technologies, along with next-generation driver interfaces, that further set the Fusion apart from rivals that have gone in the opposite direction by offering a blander experience that aims to satisfy the widest number of customers without offending anyone's delicate sensibilities.
A critical part of pushing forward in any segment is the taking of risks, and in reaching to provide a better mid-size sedan with 2013 Ford Fusion there have been some missteps made along the way. The Fusion isn't perfect, but an excellent car with a few flaws is almost always preferable to a middle-of-the-road option that doesn't stir one's soul one way or the other.
2013 Ford Fusion SE 1.6 EcoBoost Review: Models and Prices
The 2013 Ford Fusion SE is offered no less than five trim levels, and when combined with the available options packages and engine choices that can be distributed throughout the model range it's easy to get mired down in details. I'm going to focus on the SE trim that my tester came in (MSRP $23,830), a vehicle one step up from the base S edition (MSRP $21,900) and several rungs below the range-topping Titanium (MSRP $30,200) Sandwiched in between the SE and the Titanium is also the Hybrid SE version of the Fusion (MSRP $27,200).
Although the starting price of the Fusion SE is quite reasonable, my particular chariot came with a decent level of optional equipment that served to inflate its window sticker. On top of its standard gear, such as power windows and door locks, keyless entry, cruise control, the SYNC vehicle interface, heated mirrors, a power driver's seat, and that famous Ford keypad on the door jamb, the 2013 Ford Fusion SE that I drove also came with the 205B Luxury Package (heated leather upholstery, power passenger seat, leather wrapping for the shifter and steering wheel, auto-dimming side mirrors and rearview mirror, fog lights), the Driver Assist package (blind spot monitoring system, cross-traffic alert, lane departure warning and assistance, rain-sensitive windshield wipers, automatic high beam headlights), and the SE MyFord Touch Package (dual automatic climate control, the MyFord Touch interface, rearview camera). All told, this brought the total cost of the Fusion SE I was driving to $27,905.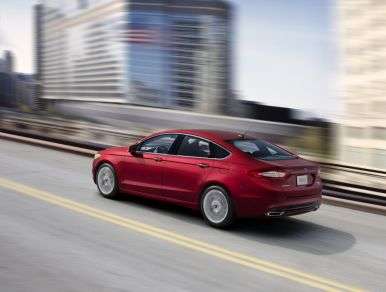 2013 Ford Fusion SE 1.6 EcoBoost Review: Design
The 2013 Ford Fusion is an entirely new design inside and out.
There is very little familial resemblance between the 2013 Ford Fusion and the 2012 model that came before it. By now, you have most likely heard or read more than one opinion regarding the design similarities between the Fusion and any one of a number of Aston Martin automobiles. These upscale cues are definitely present and accounted for, most noticeably in the Ford's gaping oval maw of a grille but also in the muscular hood and bumper at the front of the car and the flowing lines that define the side and roofline of the sedan. The Fusion has been given a full aero treatment in order to eke out additional miles per gallon at highway speeds - which contributes greatly to its styling - but more important is that the car avoids the 'bigness' of its full-size Taurus cousin. This helps the sedan carve out its own unique niche in the Ford stable, despite being taller, longer, and wider than the model that precedes it. To put an even finer point on it, the Fusion is gorgeous, and perhaps the best-looking family car under $30,000.
Ford's stylists didn't phone-in the 2013 Fusion SE's passenger compartment after expending so much effort on its sheet metal shape, either. While the driver's gauge pod and the steering wheel will be familiar to anyone who has previously piloted a MyFord Touch-equipped car, the rest of the Fusion's interior manages to maintain the classy looks of the sedan's exterior package. Of particular interest are the soft plastics that dominate the door panels and the center console, as well as the classy metallic trim, the sunken cup holders, and restrained dash treatment. The flatness of the dash's touch controls actually takes a bit of getting used to, but more on that later.
One thing I wasn't so enamored of was the rattle that seemed to come from the top of the passenger door at the front of the car, an irritating sound that I was unable to track down over the course of the week. This was a very low-mileage car, and that kind of sonic disturbance makes a poor impression when it comes to evaluating build quality.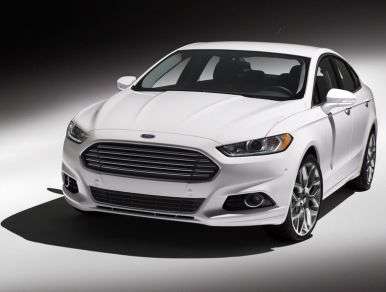 2013 Ford Fusion SE 1.6 EcoBoost Review: Comfort and Cargo
The 2013 Ford Fusion features close to five inches of additional wheelbase, which translates into more passenger room.
The 2013 Ford Fusion SE's leather front seats put in a strong performance in terms of wrapping around my frame and keeping me planted and comfortable at the same time. Rear seat room is not quite as generous but still quite good, and while it comes up slightly short when compared against a few of the Fusion's mid-size sedan competitors it's definitely more than acceptable for full-size adults. A useful under-dash storage cubby provides space for gloves and mobile phones in the sedan, and a slightly smaller trunk (compared to the 2012 model) checks in at 16 cubic feet. This is still competitive in its class, and it comes with a thicker-than-expected rear panel that undoubtedly cuts down on road noise.
Speaking of unwanted sounds, the Fusion's passenger compartment was remarkably quiet even when traveling at highway speeds. Only the sound of the engine at higher revolutions penetrated the vehicle's cabin, and its insulation held strong despite being pelted with rain and slush on more than one occasion.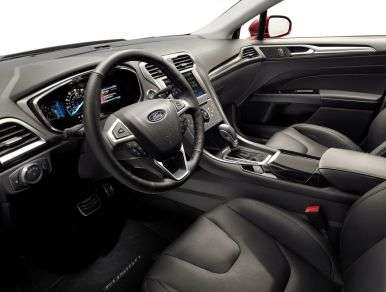 2013 Ford Fusion SE 1.6 EcoBoost Review: Features and Controls
The 2013 Ford Fusion gains the MyFord Touch system for the first time.
The 2013 Ford Fusion SE that I drove came with the optional MyFord Touch vehicle interface, and it's impossible to review this car without discussion how much this feature impacts the driving experience. MyFord Touch replaces most of the center stack's buttons and dials with a flat, black plastic panel that houses touch controls that do things like turn on the heated seats and adjust the climate control system's fan speed. Sitting directly on top of this arrangement is an LCD touchscreen that is split into four main sections (including Entertainment, redundant Climate settings, and Phone).
The problem with using touch controls for certain vehicle functions is that they don't offer any tactile feedback to let you know if you have pressed hard enough to actually activate the feature you are trying to use. Ford has gotten around this somewhat through the use of indicator lights, but another issue presented itself to me during my time behind the wheel of the Fusion. The cold temperatures had me wearing gloves while driving, which made it impossible to activate the seat heaters (or any other touch control on the stack). The buttons simply would not respond to my covered fingers. Conversely, the touchscreen worked fine with my gloved hands, which allowed me to take advantage of its well-designed menus and interface for using the vehicle's satellite radio and Bluetooth features.
MyFord Touch also installs a pair of smaller LCD screens on either side of the analog speedometer directly in front of the driver. These can be configured to call up fuel consumption data, interact with the climate controls or the stereo system, or make adjustments to several of the vehicle's systems such as the MyKey speed limiter and various other safety features. Unfortunately, to do this you are required to make use of the awkward plastic buttons on either side of the Fusion's steering wheel. I found it difficult - as usual - to navigate the menus using these angled arrow keys, and as someone who spent more than what would be considered a 'healthy' amount of time at video arcades growing up, I don't think I'm the problem.
I would like to give Ford a very specific pat-on-the-back for allowing me to disable its rain-sensing windshield wipers and make use of a simple timed delay while driving in the wet. I was unable to reduce the sensitivity of the system to the point where it wasn't constantly wiping away the drops, so being able to turn that off and set the wipers to my own pace using an analog dial on the activation stalk was a special treat not offered by a number of other car companies with similar systems.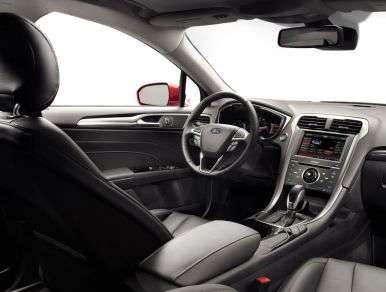 2013 Ford Fusion SE 1.6 EcoBoost Review: Safety and Ratings
The 2013 Ford Fusion features an entirely new safety structure.
The 2013 Ford Fusion offers seat-mounted side airbags up front, a pair of front knee airbags, dual forward airbags, as well as side curtain airbags that deploy front and rear. Electronic traction control and stability control are also part and parcel of the standard Ford Fusion safety experience.
My particular Fusion SE test vehicle came with a list of optional safety gear that included a blind spot monitoring system that also serves as part of Ford's cross-traffic alert feature. The latter notifies drivers of automobiles crossing the path of the sedan while it is reversing, and while it performed as advertised I found that its warnings came too late to be useful as I had almost always already visually picked up on the approaching vehicle by the time the alarm sounded. When backing into a tight garage the cross-traffic / parking assistance feature can also get a little bit crazy due to the tight proximity of nearby walls. In addition, the blind spot monitoring system deactivated itself at one point while driving in the rain, telling me that the sensors were blocked and then illuminating the yellow warning lights mounted in each of the sedan's side mirrors and keeping them on for the duration of my trip.
The Fusion SE that I drove also came with a lane departure warning and lane keeping feature that had a roughly 50 percent success rate at picking up the markings on the pavement when driving at night or in wet weather.
2013 Ford Fusion SE 1.6 EcoBoost Crash-Test Ratings: The 2013 Ford Fusion has been rated a Top Safety Pick+ by the Insurance Institute for Highway Safety in independent crash testing. No crash safety data is currently available from the National Highway Traffic Safety Administration for the Fusion.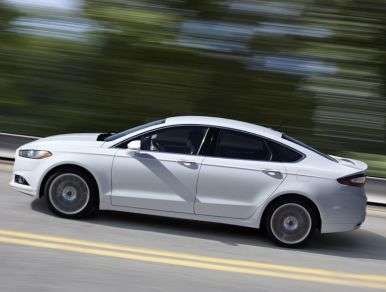 2013 Ford Fusion SE 1.6 EcoBoost Review: Engines and Fuel Economy
The 2013 Ford Fusion offers two new engine options to complement last year's base motor.
Excluding the Hybrid model, the 2013 Ford Fusion can be had with any one of a trio of four-cylinder engines. Its base 2.5-liter - essentially unchanged compared to 2012 - offers up 175 horsepower and fuel mileage of 22-mpg city and 34-mpg highway, while its fresh 2.0-liter, turbocharged EcoBoost mill provides 240 horses and fuel economy of 22-mpg in stop and go driving and 33-mpg during highway cruising. Each of these are matched with a six-speed automatic transmission, and all-wheel drive is optional with the EcoBoost edition.
The Ford Fusion SE that I drove came with the middle child of the drivetrain lineup, a 1.6-liter EcoBoost motor that also makes use of a turbocharger to churn out 178 ponies and 184 lb-ft of twist. Although a six-speed manual transmission is available with this option, my Fusion featured a six-speed automatic. Ford rates the 1.6-liter's fuel economy at 23-mpg around town and 36-mpg on the highway (for a combined a 28-mpg), but try as I might I was unable to beat 20-mpg in a steady mix of both highway and city. I'm not the only one, either, as Ford has come under fire from a growing number of journalists and owners who can't match up their four-cylinder EcoBoost fuel bills with EPA predictions.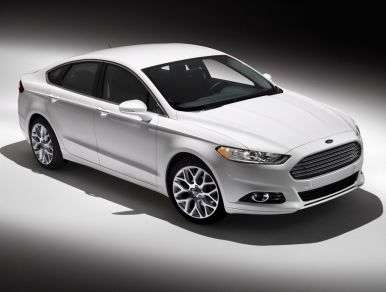 2013 Ford Fusion SE 1.6 EcoBoost Review: Driving Impressions
The 2013 Ford Fusion SE isn't a sports sedan but it delivers the kind of entertaining ride that mid-size family cars seem to be increasingly unwilling to provide. The Fusion rides on a fresh platform that has been tagged for use across the globe without the forced separation of the company's European and American sedan products as had been seen in year's past. This is a definite boon for drivers in the U.S. as they get to sample a suspension system that accurately balances handling with comfort, dialing out rough roads without inviting in too much wallow in the corners. The Fusion is extremely nice to drive, with only the occasional intrusion of its electric power steering system interrupting what is a very smooth experience behind the wheel.
A 1.6-liter four-cylinder engine might seem like a very small motor indeed to be pulling duty in a car that weighs close to 3,400 lbs, but the vehicle's EcoBoost turbocharger does an admirable job of disguising the motor's modest displacement and urging it onward when the gas pedal is floored. Acceleration isn't overwhelming but it's certainly within the parameters of a family sedan, and at lower engine speeds only the faintest sounds of the turbo can be detected through an open window. Shifting the transmission into Sport mode seemed to allow the EcoBoost unit to rev closer to its redline during downshifts, but I mostly kept the car in Drive and had no issues navigating traffic.
Four-cylinder engines are proliferating across almost every automotive segment as car companies chase efficiency, and turbochargers are increasingly present in order to preserve V-6 levels of power in the process. I wouldn't go so far as to call the 1.6-liter EcoBoost motor a replacement for a naturally-aspirated six in the performance department, but it's certainly no slouch and will be perfectly acceptable for the vast majority of drivers.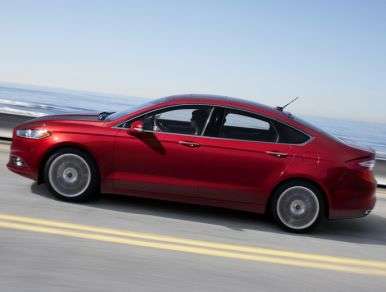 2013 Ford Fusion SE 1.6 EcoBoost Review: Final Thoughts
The 2013 Ford Fusion is an accomplishment to be proud of. The SE edition with the 1.6-liter engine - providing one lays off of the somewhat expensive luxury options - provides good value for a mid-size, four-door car, with plenty of interior room, knock-out styling, and performance that is in line with most comparable models. Better-than-average handling is merely a bonus for family car buyers, as the Fusion is engaging enough to stave off boredom while commuting between all of life's little errands.
The question of fuel economy looms large over the Fusion, as its EcoBoost engine is advertised heavily as the answer to lower gas bills. That wasn't my particular experience with the 1.6-liter motor, although I was happy enough with all other aspects of the car to be forgiving in this respect. Although not significantly more expensive than the base 2.5-liter motor, if you are looking for a simpler mid-size sedan I would not be hesitant to recommend a test drive of the non-turbo car, which could offer nearly-equivalent real-world mileage.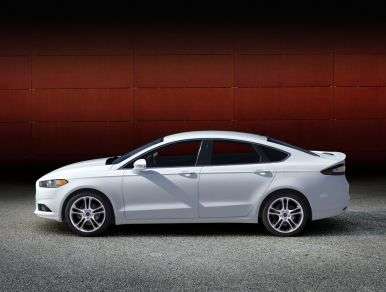 2013 Ford Fusion SE 1.6 EcoBoost Review: Pros and Cons
Pros:
Beautifully designed outside, attractively styled inside
Good power from a very small, turbocharged engine
Better handling than most of its competitors
Roomy and comfortable
Extensive list of optional equipment
Cons:
Piling on the options can drive up the price
MyFord Touch still in its teething stages
Real-world fuel mileage doesn't match EPA rating
Ford Canada supplied the vehicle for this review