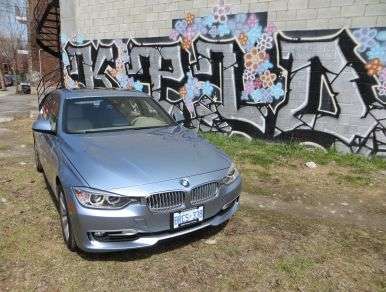 Do you want a hybrid car?  Do you want a high performance car?  Chances are, you answered 'yes' to either one or the other of those two question, as rarely does someone desire both.  There is, however, a very narrow cross-section of the luxury market where buyers seeking speed and the image of environmental consciousness have sought out battery-assisted vehicles that are focused on speed rather than efficiency.
The 2013 BMW ActiveHybrid 3 has been positioned in this niche, and it doesn't just represent the 'greenest' of the German brand's compact sedan offerings but it has been given flagship pricing at the very top of the 3 Series ladder.  It also stands alone in its segment, as it is not currently possible to order a hybrid version of either the Mercedes-Benz C-Class or the Audi A4.  Who, then is the BMW ActiveHybrid 3 targeted at?  Outside of a very modest increase in fuel mileage over the next-closest performer in the 3 Series family, what charms does it possess to convince premium car shoppers to fork over so much cash?  Read on to discover my take on the BMW hybrid's chances at broad appeal.
2013 BMW ActiveHybrid 3 Review: Models and Prices
The 2013 BMW ActiveHybrid 3 starts at an MSRP of $49,650, and right out of the box it offers features such as HID headlights, a sunroof, 18-inch rims, dual automatic climate control, a leather-wrapped steering wheel, and Bluetooth connectivity.  Like most BMW models, piling on additional gear is a matter of selecting options packages, which can quickly add to the final sticker price of the vehicle. 
The model I drove for a week came with the Cold Weather package (heated seats, steering wheel, headlight washers), the Driver Assistance Package (rearview camera, blind spot detection, park distance control), the Driver Assistance Plus package (lane departure and forward collision warning), the Premium package (keyless entry, satellite radio, genuine leather upholstery), a navigation system, 'enhanced' Bluetooth (more on that later), and a Harman Kardon surround sound audio system.  All told, the BMW ActiveHybrid 3 that I tested stickered for $59,870, including a $550 charge for its Liquid Blue Metallic paint.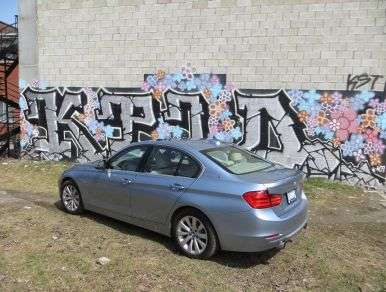 2013 BMW ActiveHybrid 3 Review: Design
The 2013 BMW ActiveHybrid 3 is new for the current model year, but closely resembles the standard 3 Series sedan.
The 2013 BMW ActiveHybrid 3 is in many ways identical in design to the 3 Series sedan on which it is based, which means that buyers enjoy the same sleek looks of America's class-leading entry-level premium four-door car.  A little bit busy from the rear due to a trunk that invokes a few too many curves, the ActiveHybrid 3 is still quite handsome from most other angles.  Unlike other hybrid editions of traditionally gas-powered cars, BMW has made no concessions to aerodynamics with the ActiveHybrid 3's shape, which means grille louvers and special rims are absent from its portfolio.
Inside, the ActiveHybrid 3 displays the kind of attention to detail one would expect from a luxury sedan that is going up against competitors from Audi and Lexus.  Every surface is wrapped in leather (or at least a leather-like substance) or finished in an attractive wood-look material.  The latter in particular adds a touch of class to the center console.  The driver is ensconced in a cockpit that wraps around in a non-claustrophobic way, and the forward viewing angle is excellent.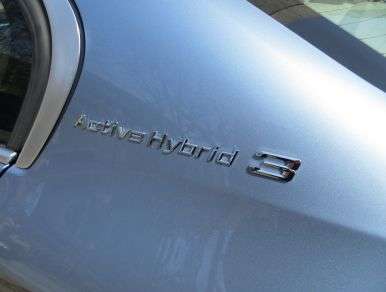 2013 BMW ActiveHybrid 3 Review: Comfort and Cargo
The 2013 BMW ActiveHybrid 3 loses a bit of trunk space compared to the gas-only 3 Series due to its battery placement.
The 2013 BMW ActiveHybrid 3 provides better-than-average accommodations for up to four passengers, with a fifth able to squeeze into the tight space between the rearmost riders.  Sitting up front, the sedan coddles occupants with grippy buckets that feature the ability to extend the lower portion for enhanced thigh support.  Legroom in the back is better than what one would expect for a car that is marketed as a compact, showing as slightly less than rivals like the Cadillac ATS on paper but feeling more generous in the real world.  Ingress and egress could be improved for rear passengers, however, especially when entering the car from a higher curb.
The BMW ActiveHybrid 3 is a dimensional match for the gas-only 3 Series sedan in all areas but the trunk, where it gives up just over three cubic feet of space due to the fact that the battery sits between the back wheels.  Given that the 3 Series cargo area is already a bit shallow, this could be an issue for those who plan to load up the hybrid and take it on a road trip.  I had no problems using the trunk on a daily basis.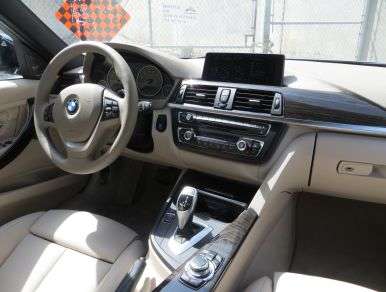 2013 BMW ActiveHybrid 3 Review: Features and Controls
The 2013 BMW ActiveHybrid 3 offers additional power management and display features compared to the gas-powered 3 Series.
The 2013 BMW ActiveHybrid 3 that I drove came with a full load of luxury gear, which meant I had a lot of features to play with during my time with the car.  In terms of what was unique to the hybrid model, I played around with the various iDrive menus (BMW's vehicle interface system, which is composed of an LCD screen and a rotary controller backed by a set of console-mounted buttons) in order to interact with the fuel efficiency and power distribution displays that came with the car.  Drivers are presented with a graph displaying the car's settings and mileage over a certain period of time, as well as a relatively bare wireframe outline of the car's hybrid system as it engages and disengages during normal driving. 
There's not a lot of eye-candy associated with the ActiveHybrid 3's systems, which is in contrast to most other hybrids that do their utmost to remind owners of the presence of a battery pack, although it's possible to set the vehicle's climate control system to a special Eco mode to lessen its drain on system resources.  I did enjoy the Sport Display, which presents a pair of digital Horsepower and Torque dials on the LCD screen and tracks the power production of the vehicle's drivetrain.
In a car loaded with so much technology it's only natural that there be a few bugs, and the biggest one that I encountered was the Bluetooth audio system.  Almost every time my very mainstream Android smart phone was connected to the audio system it would eventually garble the music so badly that I had to turn it off and continue my drive in silence.  Once or twice the car even sped up the tunes I was listening to by about 10 percent, pitching them into another key and giving me a fresh perspective on some very familiar tracks.  The other problem I had involved the vehicle's voice commands for the navigation system, which refused to consider that that when I spelled out the town 'Montreal' that perhaps I didn't actually mean 'Montreal-Nord,' an error that it made consistently but never allowed me to correct without parking and using the rotary dial instead.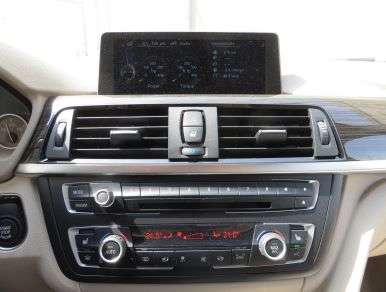 2013 BMW ActiveHybrid 3 Review: Safety and Ratings
The 2013 BMW ActiveHybrid 3 doesn't introduce any new safety features for the current model year.
All versions of the 2013 BMW ActiveHybrid 3 come with dual forward airbags, side impact and knee airbags for those riding up front, and side curtain airbags that deploy in the front and the rear of the sedan's passenger compartment.  Electronic stability control, traction control, a brake wiping feature, and advanced anti-lock brakes are also included free of charge.  The ActiveHybrid 3 that I drove additionally came with active safety features such as blind spot and lane departure warning, which worked quite well (vibrating the steering wheel when I strayed over the painted lines, for example).  The vehicle's forward collision warning system was somewhat less useful, as it consisted solely of a warning icon on the dash in front of me that appeared when I accelerated to aggressively towards a slower car, or when an automobile in front of me braked rapidly.
2013 BMW ActiveHybrid 3 Crash-Test Ratings: The BMW ActiveHybrid 3 scored 'Good' in all but the IIHS' small overlap front test, while it received a five-star rating for crash protection from the NHTSA.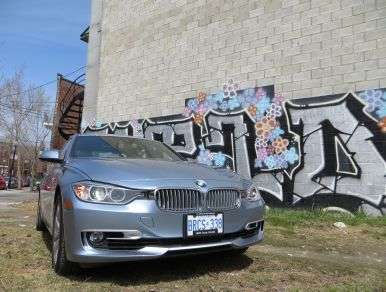 2013 BMW ActiveHybrid 3 Review: Engines and Fuel Economy
The 2013 BMW ActiveHybrid 3's drivetrain is borrowed from the ActiveHybrid 5.
The 2013 BMW ActiveHybrid 3 is motivated by a hybrid system that consists of a turbocharged, 3.0-liter six-cylinder engine that works together with a battery-powered electric motor to produce 335 horsepower and 332 lb-ft of torque.  This makes it one of the most powerful members of the 3 Series family.  An eight-speed automatic transmission (which also houses the electric motor) is standard with the sedan, and fuel mileage for the ActiveHybrid 3 is listed at 25-mpg in city driving and 33-mpg on the highway, which represents a very slight improvement over the 300 horsepower BMW 335i. I saw roughly 23-mpg in combined driving during my time with the vehicle.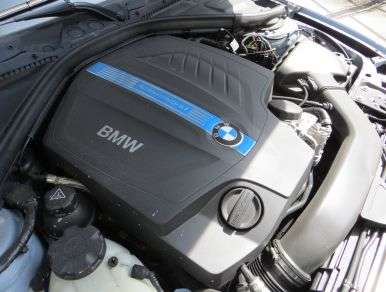 2013 BMW ActiveHybrid 3 Review: Driving Impressions
The 2013 BMW ActiveHybrid 3 is a hard car to peg when it comes to describing what it feels like to drive on a daily basis.  It's important to understand that the electric motor that assists the sedan's well-endowed turbocharged gas engine is there not to provide all-electric motivation (although that can occur during very specific driving conditions where almost no load is placed on the engine).  Instead, it is designed to offer a boost in acceleration and performance while maintaining a slight edge in fuel economy over the BMW 335i.
When examined from this perspective, the car is a success.  I took the BMW ActiveHybrid 3 to my local drag strip, where I received more than one look of derision due to the word 'Hybrid' emblazoned on the car's sail panel.  Those sneers soon evaporated when I posted a 13.5 second quarter mile run with a trap speed of 106 miles per hour.  In fact, I didn't lose a single match-up that evening, as the ActiveHybrid 3 consistently performed above expectations and defied every single electrically-assisted automotive stereotype that one might find in such a den of performance.
The secret to the BMW's 1,320 foot success has to do with the more than 150 lb-ft of instant torque available from its electric motor as soon as one even breathes on the accelerator.  With the vehicle's Driving Experience Control set to Sport+, the vehicle's eight-speed automatic transmission bangs off exceptionally quick shifts and backs down the electronic nannies so that power was never reduced even on launch.  Even more impressive is the fact that during my quarter mile session the car was riding on winter tires that squirmed all the way down the track, which leads me to believe that even faster times would have been possible on warmer pavement with better rubber.
Translating this performance to the street, however, is more of a mixed bag.  The BMW ActiveHybrid 3 is not nearly as adept at managing its electric and gas engines when commuting at more responsible speeds, as the automatic engine start/stop system provides a jarring shake under the right foot every single time the car is brought to, or crawls away from a halt.  The overall lack of smoothness inherent in the ActiveHybrid 3's drivetrain is particularly exposed when the car is set to Eco Pro mode, which dials back throttle response to a lethargic level and makes it difficult to accelerate without lurching the car forward when accelerating off of the line.  Sport and Sport+ are a bit too abrupt to use on the street, with power coming in a sudden surge, while Comfort mode presents a somewhat happy medium that does its best to mask the uneven distribution of electric and gas power while navigating normal traffic.
This is really too bad, because the impressive power offered by the ActiveHybrid 3's drivetrain gives it an extra step on the highway, as well as the ability to scorch sports sedans from a stop (as demonstrated at the strip).  Handling for the car isn't quite as sparkling as one would like, due to the 300 or so pounds added by the hybrid system and its battery, and the regenerative brakes are also not grabby enough to inspire confidence when hauling the car down from more enthusiastic speeds.  Still, I am not wanting to paint a gloomy picture of the ActiveHybrid 3's on-road demeanor: this is a very competent luxury sedan that just happens to be rougher around the edges than gas-only versions of the excellent 3 Series, a benchmark that is a tough one to live up even if the cars share the same badge on the hood.
My biggest complaint about driving the ActiveHybrid 3 actually has to do with a 'safety' feature that caught me by surprise one evening while attempting to reverse down my short driveway.  As I crested the hill and began my descent, I had the door open so that I could see the concrete abutment to my left that disappears from view as the angle of the car changes.  All of a sudden, the car lurched to a sickening halt, and for a brief moment I was convinced I had collided with some unseen obstacle - but no.  Flashing on the vehicle's screen was a message chiding me that reversing with the door open was an 'unsafe' activity, and that the car had slammed itself into Park to protect me from myself.  More unsafe than backing up blind?  The jury is out on that one.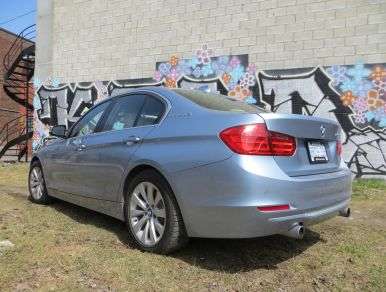 2013 BMW ActiveHybrid 3 Review: Final Thoughts
The 2013 BMW ActiveHybrid 3 is an excellent small luxury sedan, one that cruises well on a comfortable suspension system, offers great interior room and comfort, and comes in a sleek package that should appeal to the vast majority of premium car shoppers.  It also offers an impressive amount of power from its gasoline / electric drivetrain, and embarrasses a wide swathe of the competition when it comes to its ability to accelerate out of the hole.
There are a couple of asterisks associated with the above paragraph that need to be taken into account when fully evaluating the ActiveHybrid 3.  The first is the car's frustrating lack of smoothness in almost every driving situation.  BMW hasn't been able to tune its hybrid system so that it offers a pleasing mix between efficiency and power, and the grumbling and harshness of the auto start/stop feature is distracting and unbefitting of a luxury model. 
Perhaps more jarring is the car's price.  At almost $7,500 more than a base 335i (a price gap that buys only a very small amount of extra performance and efficiency), there is no economic argument to be made for purchasing the battery-powered 3, which glides primarily on the perceived environmental cachet of its hybrid badging.  Of course, rarely has there had to be a solid value argument to be made for purchasing a high end automobile, and in this respect, the ActiveHybrid 3 fits in with much of the rest of the luxury hybrid crowd.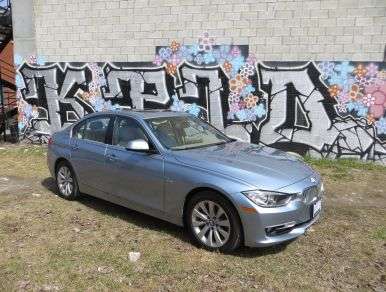 2013 BMW ActiveHybrid 3 Review: Pros and Cons
Pros:
Excellent power and acceleration for a heavy hybrid.
Very comfortable interior.
Excellent materials use throughout the entire cabin.
Good handling despite its weight handicap.
Cons:
Abrupt power delivery makes it hard to drive the car smoothly.
Fuel efficiency only a smidgen better than the non-hybrid 3 Series.
Brakes don't stop as well as the standard 3 Series.
Very expensive considering what the ActiveHybrid brings to the table.
BMW Group Canada supplied the vehicle for this review.