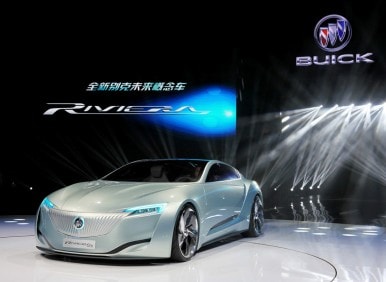 Harking back to one of the most respected names in the brand's 110-year history, the 2013 Buick Riviera Concept was introduced to the world recently at this year's Shanghai Auto Show in China. But this isn't your father's Buick: Despite its historically appropriate name, the new Riveria is positioned right on the cutting edge of today's design and technology trends, with incredibly dramatic style and GM's new dual-mode, wireless plug-in hybrid propulsion system.
The technology provides both all-electric and hybrid driving modes, but the game changer is its ability to power-up its battery pack using a "sensory recharge panel" that eliminates the need for a physical connection to a charging unit. Of course, the Buick Riviera Concept can still be charged with a plug when necessary, with designers cleverly integrating the charge port with the car's latest evolution of Buick's signature porthole styling cues.
Similarly, the exterior of the reborn Riviera also updates other classic Buick design elements, including a the brand's waterfall grille, the "sweep spear" character lines that flow back along its flanks to emphasize the rear wheel arches, and the wing-shaped LED running lights that angle around its headlamps—a cue first introduced in the 2013 Buick Enclave. But there's plenty that's all-new, too, and much of it will be seen in coming products from the brand.
"Riviera is a design study of the future expression of Buick design with its elegant athletic shape, sculptural beauty, and precision execution," said Ed Welburn, GM vice president of global design. "It is a great opportunity to share Buick's future design language and technology strategy."
2013 Buick Riviera Concept Continued
Along with its nifty wireless-charging system, the Buick Riviera Concept also shows off notable advanced technologies like a 4G LTE mobile Internet setup for connectivity and infotainment, as well as a suite of intelligent driver-assist features that are integrated into a comprehensive, forward-looking active-safety system. It leverages 10 high-res cameras and 18 high-precision micro sensors to create a holographic heads-up image displayed on the Riv's inner windshield. System functionalities include night vision, side blind-zone alert, lane-departure warning and lane-keeping capability, full-speed/range-adaptive cruise control, rear cross-traffic alert, and more.
The sophisticated cabin is further set off by the use of exotic materials such as sand-blasted aluminum alloy, lava-colored suede and ebony wood for accents, with ingress/egress coming through massive gullwing doors that provide room to easily access the vehicle's rear seats.
Other highlights of the Buick Riveria Concept include:
An iced celadon finish that provides a jade-like appearance
"Floating" front seats with an adaptive adjustment system and noise-absorbing head restraints
Ride-and-handling enhancers such as intelligent four-wheel steering, an electromagnetically controlled suspension, and air springs
Particularly slippery aerodynamics, courtesy of active grille shutters, air diffusers, and a metallic-fiber rear spoiler
"By seamlessly integrating advanced technologies, flexible functions and contemporary aesthetics, the new Riviera heralds the start of a new chapter for the 110-year-old Buick brand," added Ye Yongming, president of Shanghai GM—which collaborated with both GM and its Pan Asia Technical Automotive Center to develop the Buick Riviera Concept.
Now, to be clear here, neither Buick nor GM has confirmed that a new Riveria would go into production for either of the brand's two leading markets—China and the United States—but a halo-type luxury coupe is conspicuously absent from Buick's current lineup, while GM will no doubt be looking to defray development costs of the Cadillac ELR extended-range EV by using its electric-hybrid powertrain technology in other products.
Stay tuned!