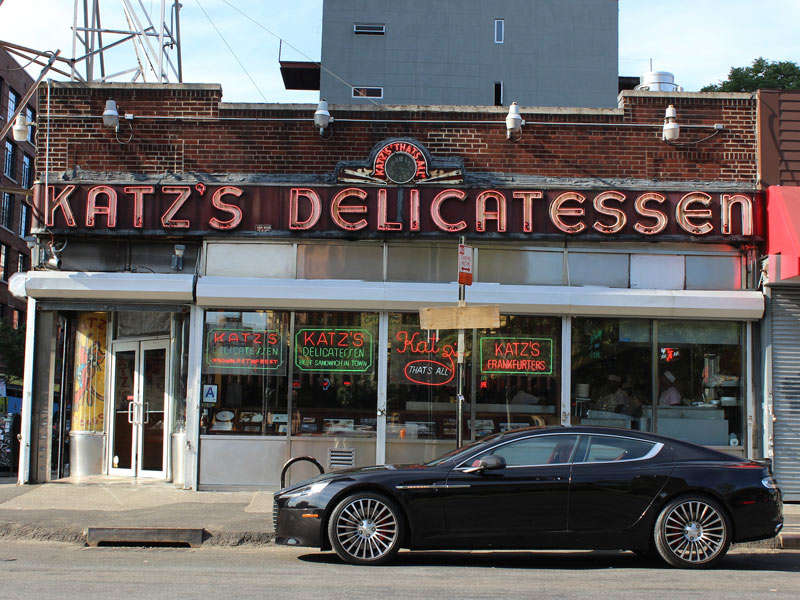 Few luxury items are as sought-after as exotic sports cars. They make a statement that few other automobiles can match. As the average new car transaction price creeps toward mid-figures, it takes automakers an extra step to truly make a car unique and special.
Enter the 2014 Aston Martin Rapide S, a luxury sports car without peer. Seriously: Try to find another four-door coupe/sedan that is as capable, as bespoke, and as understatedly gorgeous. Herein, we have the privilege of describing the experience of living with a Rapide S for nearly 350 miles spent very quickly.
SPOILER ALERT: It's unabashedly the coolest car we've driven in a long, long time.
2014 Aston Martin Rapide S Review: Models and Prices
The 2014 Aston Martin Rapide S is available in one trim level, although it has quite an extensive list of options and bespoke accessories. 
The Rapide S has a base price of $202,775, inclusive of destination and gas guzzler fees. Remarkably, this price reflects a year-over-year decrease versus the 2013 Rapide. Consider that a win for enthusiasts.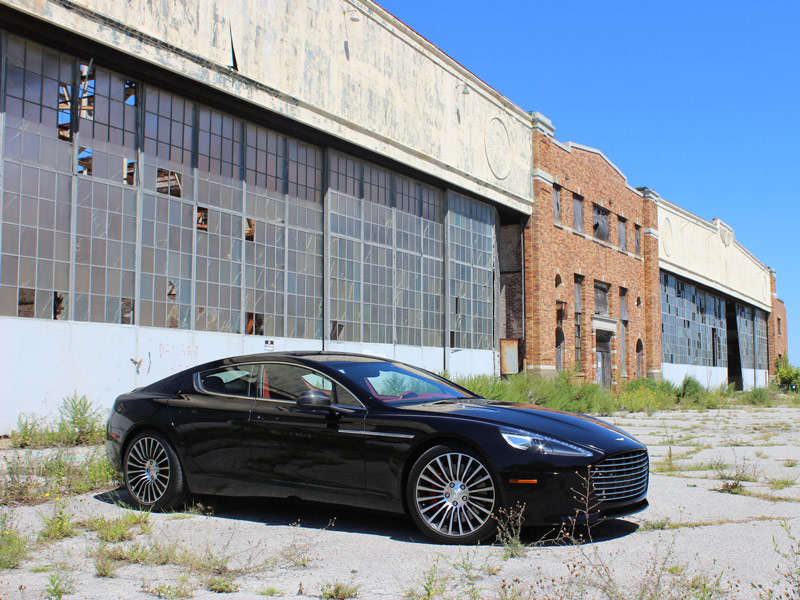 2014 Aston Martin Rapide S Review: Design
The realm of four-door coupes seems to be expanding by the day, from entry-level variants of economy cars to variants of luxury sedans with lowered roofs. The Aston Martin Rapide S is neither of those.
It's a DB9 coupe that was stretched to accommodate a pair of rear-seat passengers, retaining all of the coupe's proportions and elegance in the process. Each sculpted element, inside and out, is designed to purposefully enhance the Rapide S. Light bounces off every surface in exactly the perfect manner.
And the Rapide S is just as beautiful to admire moving as it is parked. We fell in love with the wheels that were fitted to our test example. Because the Rapide S is a bespoke model, you can order it in nearly any configuration, from exterior paint color and finish to interior materials. LEDs abound in this round of styling.
Inside, there are no significant changes over the 2013 Rapide S, but that's perfectly fine: The almost entirely handcrafted cabin benefits from layers of supple leather, aluminum, and more (contrasting) leather. Sitting inside the Rapide S is more luxurious than reserving a swanky suite a luxe hotel. Admire all of the hand-sewn finishes and trim pieces assembled just so; it's a level of craftsmanship you won't experience in a mass-market luxury sedan.
For 2014, the most noticeable change to the Aston Martin Rapide S is its grille and hood, which were made flatter and more friendly to pedestrians in the event of a crash. We like the revised grille because it commands presence from the rear-view mirror.
A Carbon Exterior Pack, with carbon-fiber exterior trim pieces, is newly available.
Interior trim now includes black leather specked with red.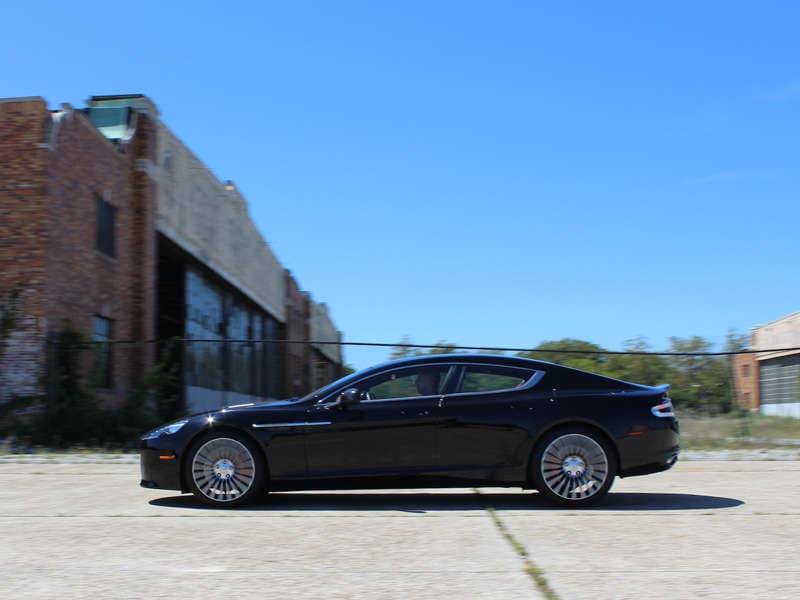 2014 Aston Martin Rapide S Review: Comfort and Cargo
The Aston Martin Rapide S looks and behaves like a super-exotic sports car, but that doesn't mean that it has to sacrifice versatility for capability. Thanks to a relatively spacious interior that features four bucket seats, as long as you don't mind ducking to enter the car, you won't find the Rapide S' interior uncomfortable.
The seats are the best units you can find, short of the ones in the new midsize Volvo sedan and wagon, and those cars can't run around the track at triple-digit speeds. All of the primary and secondary controls are within an arm's reach of the driver, despite a sunk-in feeling.
Ride isn't as harsh as you might expect. Passengers can ride in 100% comfort all the time. As was explained during track time earlier this year, the Rapide S was meant to carry four passengers from the start, and no compromises were made for ride comfort. Unless you're driving over cobblestones all day, you won't be discomfited by the Rapide S.
Cargo capacity is hindered by the sloping rear roofline and an interior crosshatch, but the Rapide S still has more stowage room than most supercars do. The rear seats fold flat. Don't anticipate carrying a bicycle, however, unless you lay down a protective cover first.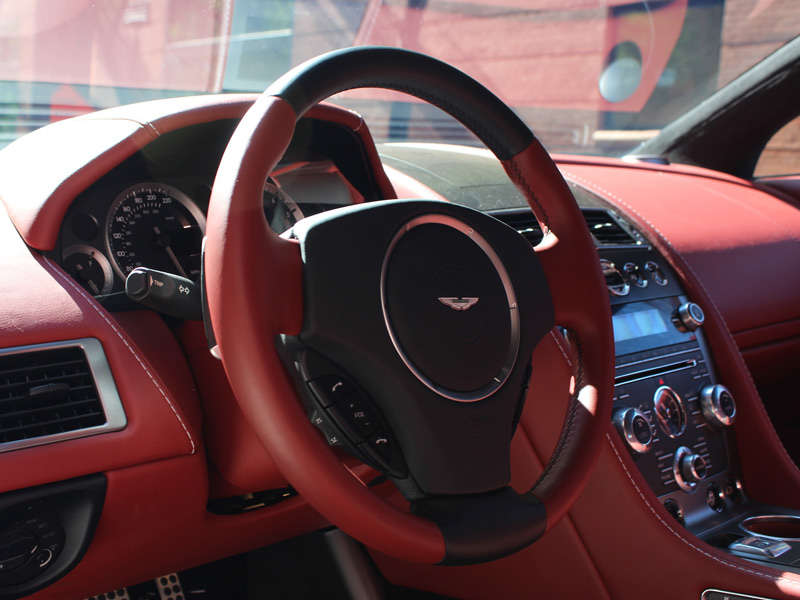 2014 Aston Martin Rapide S Review: Features and Controls
The best way to describe the feature content available on the Aston Martin Rapide S is to link you directly to the extensive options list on the manufacturer's website. Seriously. From a Bang & Olufsen sound system to carbon-ceramic brakes, the Rapide S, the feature list on the Rapide S is about enhancing comfort, performance, and style.
Most notable about the cabin is the waterfall-style central control layout, which we found very attractive. Inserting the crystal emotion control unit – erm, key – is a memorable experience every time. And, if that's not enough, there are dual DVD entertainment screens and separate climate control settings for the rear-seat passengers. 
What's New:
An updated navigation system brings the Rapide S' offering into the 21st century.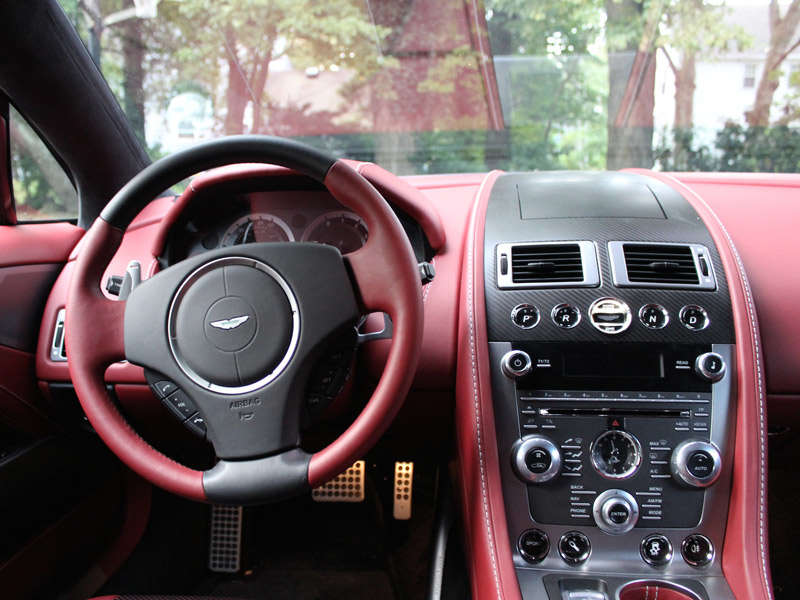 2014 Aston Martin Rapide S Review: Safety and Ratings
The Aston Martin Rapide S is not rated by the Insurance Institute for Highway Safety. Occupants can take comfort in the Rapide S' heavily reinforced frame, airbags, and superstrong brakes. The revised nose and grille are a direct result of changing European safety standards that favor pedestrian safety in the event of a crash.
Of note, the Rapide S features a lightweight, reinforced aluminum frame, that looks as good unpainted as it does in sexy black paint, as our tester arrived.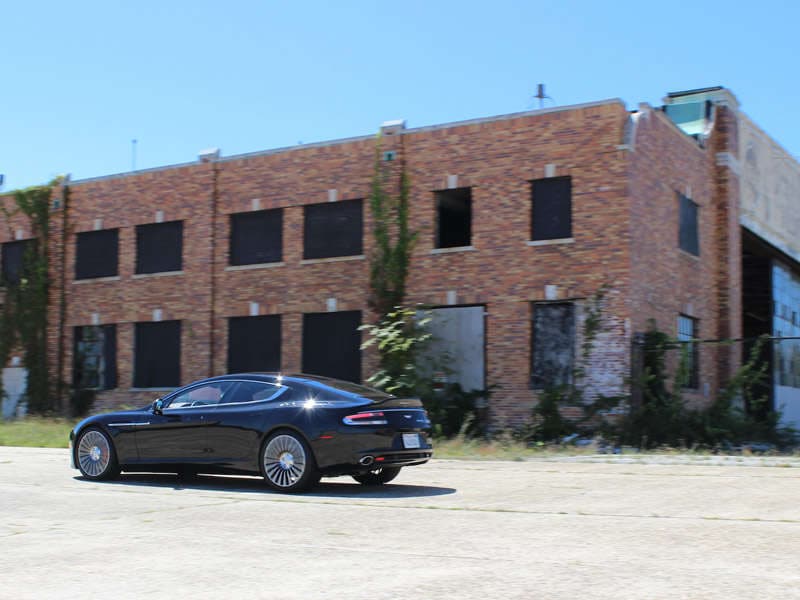 2014 Aston Martin Rapide S Review: Engines and Fuel Economy
Beyond its sinister good looks, the most impressive thing about the Aston Martin Rapide S is its engine: a 550-horsepower 5.9-liter V-12. That makes the RapideS' output on par with the Porsche Panamera Turbo's, despite the Aston Martin's lack of a turbocharger. The engine is paired with a 6-speed pushbutton automatic transmission with steering wheel-mounted shift paddles that feel industrial-strength.
It's one of few new vehicles on the road with a 12-cylinder engine, helping it earn exotic car status, as well as a thirst for premium unleaded. The Rapide S receives an EPA fuel economy rating of 13 mpg city / 19 mpg highway. As of now, this is the sole engine choice for the Rapide S, even as its competitors are downsizing to turbocharged V-8 and V-6 engines.
A special treat for enthusiast drivers, passengers, and onlookers is a crackling, tearing exhaust note that practically begs to be engaged. Lucky for them, all it takes is a light touch of the accelerator pedal. Read on for our description of the driving experience.
What's New:
The big news for the V-12 engine in the Aston Martin Rapide S is more power for 2014. The previous iteration of the V-12 produced "only" 470 horsepower.
The engine is mounted slightly lower this year, due to evolving European safety standards.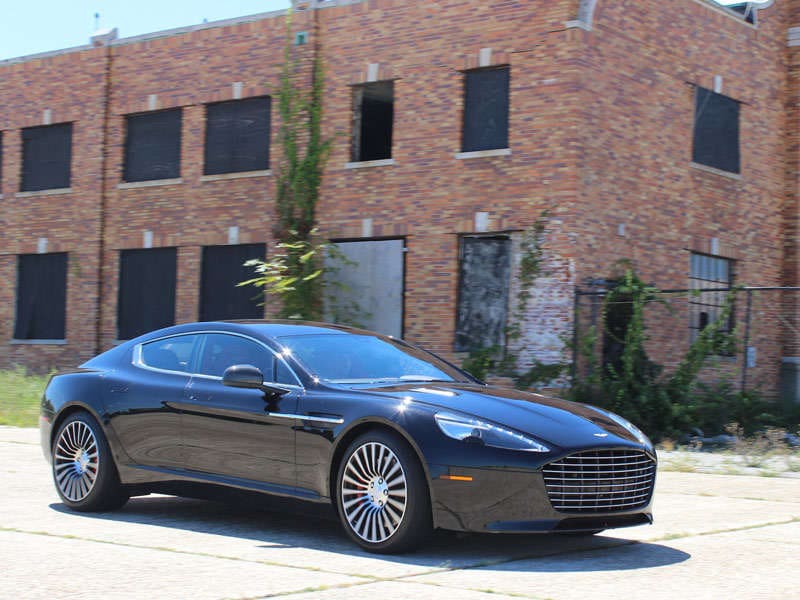 2014 Aston Martin Rapide S Review: Driving Impressions
Driving the Aston Martin Rapide S is like nothing else. Add it to your bucket list. Then scratch off everything else.
A favorite writer of ours once said that every serious driver ought to own a 12-cylinder car in his lifetime. After 100 feet in the Rapide, you can feel why. Despite its long wheelbase and wide track, the Rapide S feels no larger than the DB9 upon which it's based. From the detent of the controls, to the feeling of the steering wheel leather, to the sound of the engine firing up, there are constant reminders that this is Aston Martin is a bespoke piece to be admired.
From the moment you sit down in the low-mounted driver's seat, it becomes clear that this is a track-ready contender that doubles smartly as a track-day superstar. Earlier in the year, we had the opportunity to spend a day on the track with the Rapide S, and found that it's as light on its feet as any two-door supercar. Around the city streets of New York, where we tested the Rapide S, it was clear that the car was begging for roads without restrictions.
What you're probably hoping to understand is how it feels to pilot a six-figure British icon through the same byways and traffic jams shared with mere plebeians. In one word: awe-inspiring. We've tested plenty of cars in New York before, but no other inspired the same number of thumbs-up, phone numbers offered, and smartphone camera shots. Optional carbon-ceramic brakes are worth the significant option pricetag; consider them an active and passive investment in the future of your Rapide S.
In a unique twist on this section of Autobytel reviews, the best Driving Impression that the Rapide S makes is the one on the people who see it. The Rapide S is the British ambassador of record, and is a much quicker mender of relationships than any mere mortal could aspire to be.
In short, it's wonderful, and we struggle to wonder why anyone would want or need more from a vehicle.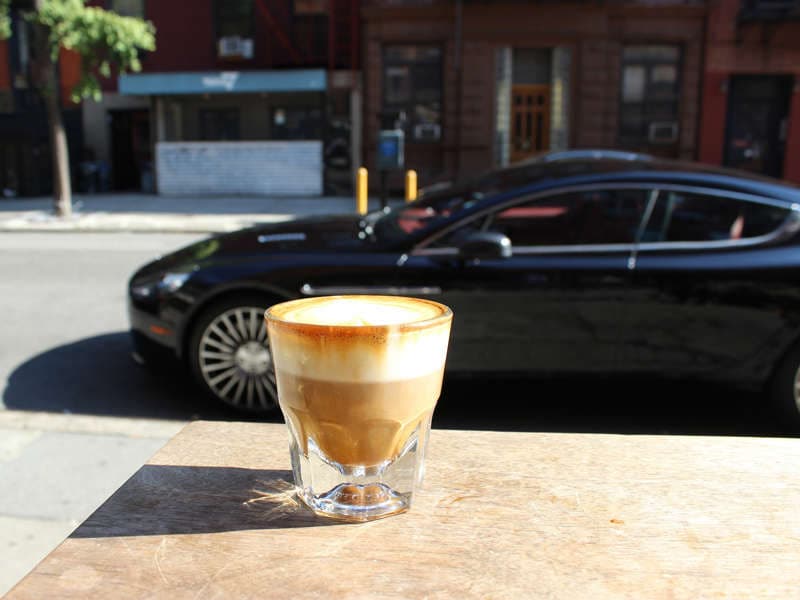 2014 Aston Martin Rapide S Review: Final Thoughts
The Aston Martin Rapide S is, quite possibly, the coolest car you can purchase new today. It combines the best aspects of a supercar with the versatility of a hatchback in what can only be described as the best hybrid ever.
If you're looking for a way to drop 200 big ones on personal transportation, the Rapide S is your machine.
2014 Aston Martin Rapide S Review: Pros and Cons
Pros:
Outstanding performance and chassis dynamics
Ability to carry four people to unforetold velocities
Exclusive availability
YOLO
Cons:
Confusing ergonomics
Limited availability
Unimpressive fuel economy
Aston Martin supplied the vehicle for this review.