Mercedes-Benz adds a 50-state diesel to its R-Class lineup.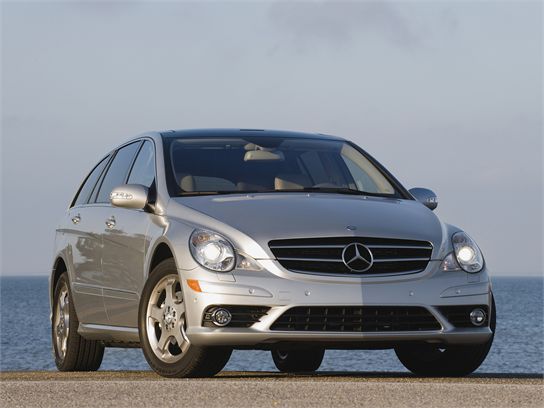 Available in all 50 states, the 2009 Mercedes-Benz R320 BlueTec diesel model replaces the R320 TDI. Pre-Safe, a safety system that can actually prepare for an impending crash, is now standard, as is a sunroof. HD Radio, Sirius Real-Time Traffic, and a new Class II trailer hitch (diesels are good for towing) are now available.
The R-Class has always felt like a heavy vehicle. Not just substantial, heavy. The 398 lb.-ft. of torque that the 3.0-liter BlueTec turbodiesel V-6 summons the strength necessary to get the old gal moving smartly away from a standstill. Best of all, the engine has a strong environmental tale to tell as well.
A diesel-powered Mercedes-Benz R-Class in the U.S.? File this one under "Tough Sell." With one vehicle, the 2009 R320 BlueTec, Mercedes-Benz is trying to kindle American love for the R-Class, and trying to rekindle America's love affair with luxury diesels.
Admittedly, Mercedes has a strong candidate in the diesel-powered R320 BlueTec. It does, after all, feature one of the cleanest diesel engines ever built – the turbocharged 3.0-liter BlueTec clean-diesel boasts emissions that are on par with comparable gasoline engines. In fact, the exhaust is clean enough to earn the R320 BlueTec and its Mercedes-Benz BlueTec SUV stable mates, the ML320 BlueTec and the GL320 BlueTec, 50-state-legal status, a first for diesel SUVs.
At 18 mpg, city/24 mpg, highway, the R-Class diesel's fuel economy stands 20 percent better than much of its competition. That's important if you fear diesel because of the current price for a gallon of diesel is only seven percent more expensive than a gallon of premium gas. Trust us: 20 percent better fuel economy saves you money.
How does the R320 BlueTec do it? A number of clean-diesel breakthroughs allow the BlueTec V-6 to virtually eliminate diesel particulates, cut nitrous oxide output by 80 percent, and significantly reduce carbon monoxide and CO2.
A 3.0-liter V-6 producing 210 horsepower is nothing to brag about. On the other hand, the BlueTec diesel's torque is definitely worth some chest thumps. For a six-cylinder engine, 398 lb.-ft. of torque matters, and the sooner you can get to it, the better for acceleration. The R320 BlueTec gets to it as soon as you put your foot in the throttle, and stays at it all the way up to 2,400 rpm. Although the R320 BlueTec weighs more than an M-Class SUV, the diesel's low-rev torque gets the R-Class' weight under control and actually makes around-town driving mostly effortless. Once you cross the 2,400-rev mark, however, the torque begins to taper off and the Cinderella dream of sporty acceleration all the way up to the R320 BlueTec's 4,400-rpm redline disappears. Not even the superb response of the seven-speed automatic transmission can save you.
Still more of a "tourer" than a "sports tourer," the 2009 R320 BlueTec comes with a standard sunroof and 19-inch, five-spoke wheels shod with 255/50HR19 tires. Also in that character, we recommend opting for the Airmatic air suspension – it works especially well with the standard 4Matic all-wheel-drive setup – and leaving it in Sport mode to keep the wallow to a minimum around corners. On the other side of that coin, the pure ride comfort is sublime. The big disc brakes don't mind the R-Class heft at all, stopping the Mercedes with no fade and no fuss.
Whether you like the way the R-Class looks from the outside or not, it's a beauty from within. All three rows have respectable head and leg room for adult occupants, and if cargo carrying takes precedence, the 2nd and 3rd rows fold flat to put 85 cubic feet of space at your disposal.
Full leather upholstery is an option, but everything else you need and then some comes standard. The driver and front passenger get to play with eight-way power front seats and dual-zone climate control, while the driver's back benefits from four-way pneumatic lumbar support.
Standard technology provisions include the COMAND in-car media control system with a 6.5-inch high-definition color screen, Bluetooth, a DVD video/audio player, and a six-disc CD/DVD changer.
Anything that doesn't come standard you'll find on the options page, including a rear-seat entertainment system, heated front seats, a wide-view Panorama sunroof, and premium packages that bundle high-tech wanna-haves like rear-views cameras, navigation with voice control, and HD radio.
The R-Class safety highlight for 2009 is Pre-Safe, which uses throttle, braking and steering input sensors to detect when a crash may be imminent. If such a determination is made, the seatbelts are firmed up, the front passenger seat moves into a better position for effective airbag deployment, and the side windows close. If a rollover is detected, the sunroof will close as well to help protect occupants from flying debris.
The 2009 Mercedes-Benz R320 BlueTec will make its showroom debut in October. Expect it to start at around $47,000 without any sort of new-car price bump.