Mercedes-Benz adds a 50-state diesel to its M-Class lineup.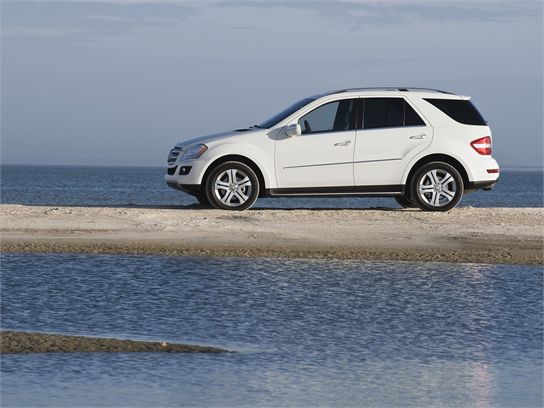 In a "good diesel" for "great diesel" swap, the 2009 Mercedes-Benz ML320 BlueTec replaces the ML320 CDI. The BlueTec V-6 is the cleanest diesel engine out there, plus it's got impressive performance and fuel economy. Like every 2009 M-Class, the ML320 BlueTec enjoys an exterior/interior refreshening, as well as M-B's collision-anticipating Pre-Safe system.
Mercedes-Benz finally has something to distinguish the M-Class from its competition from BMW, Porsche and a host of luxury players from Japan. The slightly sportier exterior and interior restyle is an afterthought compared to the ML320 BlueTec's environmentally smart and gutsy BlueTec diesel V-6. There's even a case to be made for this M-Class against hybrids.
2009 is a refresh year for the Mercedes-Benz M-Class SUV. It starts with a modest restyling of the exterior and interior of all the M-Class models, and moves closer to a fresh-air world with the new ML320 BlueTec diesel.
The outdated cliché about diesels is they are noisy, dirty and slow. Back in 2007, the Mercedes-Benz E320 BlueTec sedan felled those notions quite well, and now the 2009 ML320 BlueTec busts the dirty-diesel myth even further. With the latest BlueTec SUV models – the M-Class BlueTec is joined by the 2009 R320 BlueTec and GL320 BlueTec – Mercedes has created a class of diesel SUVs that run as clean as or even cleaner than their gasoline-burning counterparts in the car, truck and SUV world.
You can read about the fascinating BlueTec breakthroughs that make it possible for the Mercedes diesel SUVs to claim class-leading high fuel economy and low emissions, as well as their exclusive status as 50-state-legal diesel sport utes. For now, however, just absorb that the ML320 BlueTec's 3.0-liter turbodiesel V-6, mated to a silken-shifting seven-speed automatic transmission, delivers 18 mpg in city driving and 24 mpg on the highway. That's likely around 20 percent better than any other midsize luxury SUV you've been looking at, even with diesel fuel prices higher than premium gas.
The ML320 BlueTec's V-6 summons a merely modest 210 horsepower, which is a shrug in this class, but the engine also commands a torrent of 398 lb.-ft. of torque that starts at 1,600 rpm and lasts until 2,400 rpm. That means extreme initial acceleration around town and a grinning rush onto onramps. Past that peak, however, the surge falls away and you're left with a V-6 pulling a two-and-a-half-ton SUV. That means passing slower vehicles at highway speeds takes an extra bit of planning.
Towing is another notable diesel talent, and the ML320 BlueTec fulfills it with a respectable 5,000-lb. towing capacity. Not at the top of its class, but still respectable.
The rest of the driving experience is just like driving a non-diesel M-Class. Ride and handling are tuned to a better-than-SUV balance, with just a little body roll a good dose of on-road stability. The brakes deserve extra credit for their surefooted feel and performance. And the interior is luxury quiet, with none of the diesel tick getting into the cabin.
Like all M-Class vehicles for 2009, the ML320 BlueTec gets a mild facelift that includes a tougher-looking, lower-set grille and front bumper, and a new design treatment for the headlights and foglamps. New stainless-steel front skidplates, bigger side-view mirrors and a wider rear bumper close out the exterior redo.
Inside, Mercedes has reupholstered the doors and added power lumbar support for the driver, as well as a new 4-spoke steering wheel with paddle shifters, and iPod connectivity. Most of the standard interior oohs and ahhs are all in place, including power everything (including 8-way power-adjustable front seats), dual-zone climate control and a 6-disc CD/DVD changer. From the utility side of things, 72.4 cubic feet of cargo area (with the rear seats folded) is excellent for the class, although no third-row seating option is offered.
Anything that doesn't come standard, you can find on the options page, including a rear-seat entertainment system, full-leather seating, and Premium Packages that bundle high-tech goodies like rear-views cameras, navigation with voice control, and HD radio.
Four-wheel drive comes standard, as does Pre-Safe, which uses throttle, braking and steering input sensors to detect when a crash may be imminent. If such a determination is made, the seatbelts are firmed up, the front passenger seat moves into a better position for effective airbag deployment, and the side windows close. If a rollover is detected, the sunroof will close as well.
Arriving in October, the 2009 ML320 BlueTec is expected to start at around $46,000.