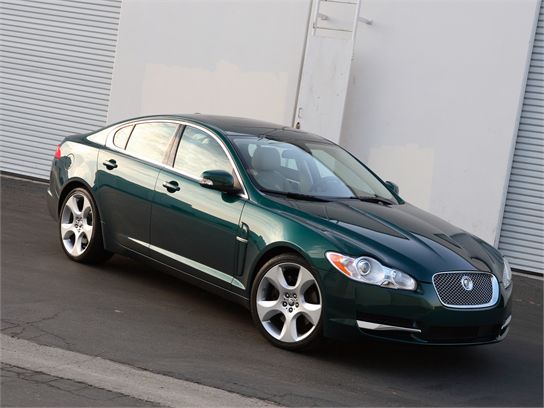 The 2009 Jaguar XF is an all-new design from the company, one that it hopes will redefine expectations of the brand. The XF is equipped with a choice of naturally-aspirated or supercharged V-8 engines, a sport-tuned suspension, innovative interior appointments and styling that makes a definite break from Jaguar's past.
 Jaguar has finally shaken off its past and thrust itself into the 21st Century, and not a moment too soon. While the XF doesn't have an immediately recognizable Jaguar shape, it is a nice looking car that's luxurious, feature-packed, fun to drive and priced exactly where you'd think it should be.
Crow, as it turns out, doesn't really taste all that bad. At least, it doesn't when you're a cynical automotive journalist who has suddenly discovered that the 2009 Jaguar XF is a remarkably good car. The XF boasts an innovative, clever and comfortable interior, all the luxury Jaguar features you expect (and then some), ludicrously wonderful power from the supercharged V-8 engine, and heavy doses of driving pleasure for the lucky soul behind the wheel. If experiencing the Jaguar XF – especially the supercharged version – requires one to eat a little crow, well, hand us a fork.
Why the avian meal? Well, when the XF was first unveiled in 2007, the reaction varied from lukewarm to downright hostile. It didn't look like a Jaguar, which means that unlike the S-Type it replaces, the bigger XJ sedan or even the XK coupe, this Jag bears no resemblance whatsoever to a classic Jaguar car. Whether that's a good or bad thing depends on your opinion of the company's historical lines.
Yet get beyond the styling and it's impossible to ignore this simple fact: The new XF is the first thoroughly modern Jaguar, and a car that can be mentioned alongside the BMW 5 Series, Mercedes-Benz E-Class and Lexus GS as an equal without eliciting muffled giggles from the owners of those Japanese and German brands. For a new generation of buyers who aren't hidebound by Jaguar's classic styling, the XF may in fact prove to be irresistible.
Page 2
There are three self-descriptive models of XF available: Luxury, Premium Luxury and Supercharged. Prices start at $49,975 for the XF Luxury model, move up to $55,975 for the XF Premium Luxury, and wind up at $62,975 for the XF Supercharged. All prices include a $775 destination charge. All Jaguar XF sedans get a 4.2-liter V-8 engine mated to a six-speed automatic transmission with steering-wheel-mounted paddle shifters; the Luxury and Premium Luxury's version puts out 300 horsepower and 310 lb.-ft. of torque, while the Supercharged model putting out 420 hp and 413 lb.-ft. of torque.
Standard on all XF sedans are leather seating surfaces, wood and aluminum interior trim, climate control, rear parking assist, and Jaguar's new touch-sensitive glovebox release and overhead lighting. You also get JaguarDrive, the company's new rotary-dial gear selector, which includes a sport mode that allows manual gear selection through the steering-wheel paddles.
The suspension on the XF is a double-wishbone design in front and rear, which allows precise placement of the tires on the pavement at all times, regardless of suspension travel. On the Supercharged versions, the company's Computer Active Technology Suspension (CATS...get it?) is standard, and allows precise control of the car's two-stage shock absorbers. Variable-assist power steering is also standard across the board.
Jaguar has blessed the XF with an exceptionally rigid body structure, using high-strength steel throughout for both crashworthiness and reduced weight. To avoid crashes altogether, it is equipped with four-wheel disc brakes with antilock: 12.83 inch diameter front rotors on naturally aspirated models and 13.97-inch rotors on supercharged ones. All models also get an electric parking brake which automatically shuts off when the transmission is moved from Park.
Luxury models include 18-inch wheels, American Walnut wood trim, and a 320-watt sound system with a six-disc in-dash CD changer. Step up to the Premium Luxury version and you get 19-inch wheels, three-way heated front seats, keyless entry, burl walnut wood trim, softer leather seats and a navigation system with voice-activated controls. In addition to the more powerful engine, the Supercharged model gets Jaguar's computer-activated suspension, 20-inch wheels, front parking sensors, oak wood trim, front-seat coolers in addition to the heaters, and a Bowers & Wilkins 440 watt surround sound audio system. It also has a blind-spot indicator and power rear window shade.
Most of what is standard on the Supercharged is optional on the Luxury and Premium Luxury models. For example, the front parking aid and rear-view camera are $1,800 as an option set, the electric window shade is $450, and the navigation system and high-end audio system are $1,500 each. Yet even on the loaded Supercharged, there's room for one more optional item: a $2,200 adaptive cruise control system.