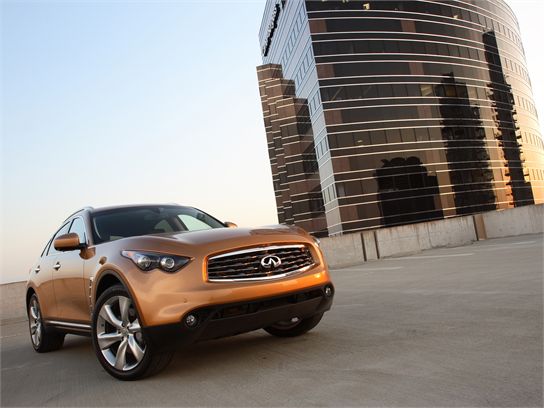 Excellent V-8 power
Surprisingly good handling
Standout looks
Interior too cozy for some
Terrible rear visibility
Poor fuel economy
BMW X5 4.8i, Mercedes-Benz ML 550, Land Rover Range Rover Sport
The 2009 Infiniti FX50 crossover has an identity crisis, one that stems from its very origins. Imagine you're an automotive engineer. Corporate bigwigs come to you one day and tell you to come up with a single platform upon which sports cars, sedans, sport coupes and crossover SUVs can be built. It's sort of like asking a chef to make a salad, soup, entrée and dessert using all the same ingredients.
This actually happened though, sometime in the not too distant past at Infiniti's corporate parent Nissan. The really amazing thing is that the engineers actually pulled it off, developing vehicles as different as the Nissan 350Z and the Infiniti FX crossover off the same basic underpinnings.
It's the 2009 Infiniti FX50 that has our attention today. From the looks, it's a hunky, large bodied crossover utility vehicle, which of course is the point. However, thanks to its shared platform, the Infiniti FX50 is also a high-riding sport sedan, one capable of surprising feats of cornering, braking and acceleration unusual for vehicles of this size or class. However, the same platform that giveth those benefits taketh away in terms of passenger room, cargo space and visibility. The upshot is the Infiniti FX50 is a luxury crossover that thinks it's a luxury sport sedan. Whether that's a good thing depends on what you were looking for when you walked into the Infiniti showroom: Enthusiast drivers will love the power and handling, but anybody hoping to tow a boat, haul camping gear, or even tote five in comfort will probably keep shopping.
The fact that the Infiniti FX50 comes with a 390 hp 5.0-liter V-8 engine is a clue that the vehicle's specifications were laid out in happier times, when gas was cheap and plentiful, and buyers didn't mind throwing gallon after premium gallon into the gas tank. Today, while we like its power – no, scratch that, absolutely love the smooth power and torque delivery – we hated the 14 mpg we got during our week with the big Infiniti.
Back to that power bit though. Stomp on the go pedal and the Infiniti FX50 leaps forward, its big V-8 roaring to redline, your fingers flicking the steering-wheel paddles as you shift through the transmission's seven speeds. It's great fun, even if doing so means you'll empty your tank quicker than a wino drains a case of Chateau Lafite.
Yet when you dial it back, all is not well. The FX50 crossover's throttle is downright jumpy -- you can't help but launch hard from a stop because it feels like the first 5 percent of pedal travel translates to about 50 percent of the throttle opening. The transmission isn't much fun in "Drive" either. It's slow to upshift and especially downshift, and on more than one occasion we watched a hole in traffic close as we waited for the transmission to make up its mind. Sure, we could have flipped the paddle, but isn't the point of an automatic having it do such tasks for you?
It's in the suspension tuning that the Infiniti FX50 crossover's hidden personality is most apparent. Climb into any big SUV-looking wagon these days, and you expect a certain amount of compliance to the ride. Expect that in the Infiniti FX50 and you're bound to be disappointed. It's smoother than the previous-generation FX, but only slightly. On pockmarked pavement and freeway expansion joints, the ride gets downright harsh. It even makes smooth-looking streets feel bumpier than they otherwise seem. All of this goes double if you hit the "sport" mode on the adjustable shocks. Part of the blame rests with the humungous 21-inch wheels and tires that are standard on the Infiniti FX50, yet the suspension itself is more stiffly sprung than it needs to be.
That said, it all comes together when you decide to flex the suspension's muscle. The Infiniti FX50 steering is quick and accurate, with good feel and weight. The body rolls little for a vehicle this size and mass, and the big Infiniti's all-wheel drive helps get power to the ground as quickly as the jumpy throttle can mete out. The brakes were another surprise: A strong pedal feel greets you, and stays with you even under hard braking. Thank the beefy 14-inch rotors and fixed calipers for that one. Still, we're not convinced that the FX50's handling is superior to the BMW X5, which offers up pretty much the same sport-sedan-disguised-as-a-crossover theme, but with a more comfortable ride.
The exterior styling of the Infiniti FX50 is as polarizing as it is radical. Some see the bulbous proportions, huge wheels, fender vents, gaping twisty-barred grille and headlights that seem to peek from behind the sheetmetal and a trickle of drool forms at their mouths. For others, it looks something like an Infiniti G35 sedan with a case of elephantiasis. Whatever you think, the FX50 crossover is hard to ignore, especially in our test car's Mojave Copper paint, which resides somewhere in the color spectrum between brown, orange, gold, and a few other colors we couldn't quite nail down.
Once inside the Infiniti FX50 – facilitated by a keyless entry system – Infiniti fans will have a strong sense of déjà vu. That's because the interior is remarkably similar to everything else in the manufacturer's lineup. It's a good layout, but if we were laying out more than 60 large on a luxury crossover, we'd want a little more distinction inside from the $32,000 G35 sedan.
We can't argue with the way it all works though. The seats are broad and comfortable, with coolers and heaters in front. The keyless ignition is nice, although the proximity of the "Start" button to the radio "Off" knob may confuse you the f