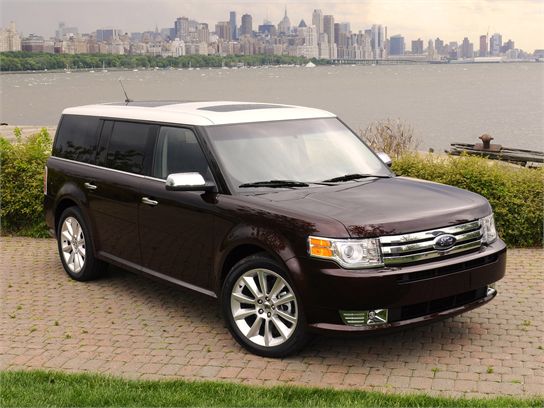 Ford's Flex is all new for 2009, positioned alongside the brand's Taurus X crossover and serving as an alternative to a range of vehicles, from the Toyota Highlander to the Honda Odyssey. With seating for up to seven passengers, a decent V-6 engine, available all-wheel drive, unique styling, and a 4,500-lb. tow capacity, the Flex should get plenty of consideration for suburban family duty.
GMC Acadia, Honda Pilot, Toyota Highlander
There's a lot to like about the all-new Ford Flex, from its comfortable interior to its stand-alone styling and reasonable price. But there's also plenty of room for improvement – like more third-row room, a more powerful and fuel-efficient V-6, and a tighter turning radius.
No matter what you are, who you are, or where you are, competition is something that's guaranteed to be part of daily life. Think back to your high school days, where there were cool and uncool kids, to the working world where the charismatic become employed and the merely average are left to refine their resumes and read self-improvement books, to the dating world, one akin to a real-life rendition of musical chairs that is literally an exercise in survival of the fittest. Life, it seems, is one big competition.
For those who are not the strongest, smartest or sexiest, there are ways to beat the system. Of course, a fat wallet never hurts, but aside from that there's the concept of originality – be your own person, dare to be different, and you just might earn equal parts attention and respect. Well, at least the attention part. We're guessing it's the mindset from which the 2009 Ford Flex was born, a rig that looks like the oversized uncle of the Scion xB and Mini Cooper Clubman. Having failed in the minivan market (Windstar, Freestar), and underperforming in the three-row crossover field (Freestyle, Taurus X), Ford has bucked convention with the introduction of its newest family hauler, one that's not quite a minivan, not quite a crossover, not quite a station wagon, and not quite an SUV. Yet, it will battle them all – the Toyota Highlanders, Honda Odysseys, et al. – to be selected for placement in the suburban family garage.
For the most part, we'd argue that the Flex deserves to be there, especially if its owner refuses to see the unwavering practicality of a minivan. But with a turning radius courtesy of Greyhound, fuel economy averaging in the teens, and third-row space that benefits little from the Flex's unique design, there's proof that being different doesn't necessarily translate to being better.
Page 2
Whatever you call the Flex – crossover, van, wagon, thing – you can get it in a variety of flavors. Considered the entry-level model, the front-wheel-drive SE starts at $28,995 including a $700 destination charge and comes equipped with a keyless entry keypad, 18-inch alloy wheels, Advance Trac, an MP3 player, front-side and side-curtain airbags, rear parking sensors, and three rows of seating that'll accommodate up to seven passengers. That's in addition to all of usual amenities, such as air conditioning, power windows, and as is the case with all 2009 Fords, a capless fueling system. For an extra $770, Ford will swap out the second-row bench and replace it with a 40/40 seat (dropping seating capacity to six). Other options include a six-disc CD changer and Sirius satellite radio ($430) and the Microsoft SYNC communications system ($395).
What you can't get on the SE is all-wheel drive. For that, you'll need to consider the mid-level 2009 Ford Flex SEL. In front-wheel-drive guise, the SEL starts at $32,770 including the destination charge; all-wheel-drive tacks on $1,850. Covered by the higher base price are chrome exterior and wood interior accents, heated mirrors and front seats, leather upholstery, and a multi-zone climate control system. Buyers of the Flex SEL also get a standard Sony sound system, complete with a six-disc CD changer and Sirius satellite radio. The SEL can be dressed up with a Vista moonroof that lets daylight shine on all three rows ($1,495), a rear DVD system with an eight-inch screen ($1,020), a nifty refrigerated second-row console ($760), a power tailgate, and more.
At the top of the Ford Flex ladder is the Limited model, outfitted with standard HID headlights, the power liftgate, a 110-volt inverter, several memory functions, LED taillights, upgraded leather, and one feature that's definitely unique for this class – second-row footrests. For that, you'll drop $35,405 including destination, with all-wheel-drive capability tacking on $1,850, and a navigation system with Sirius Travel Link and a rearview camera tacking adding an extra $2,375.
Page 3
Regardless of which version of the Flex you choose, power will come from the same 3.5-liter V-6 engine. With 262 peak horsepower unleashed at 6,250 rpm and 248 lb.-ft. of torque reaching its peak at 4,800 rpm, this six-banger isn't the most robust in the class, but it does run on regular 87-octane gasoline and offers a respectable EPA-rated 24 mpg on the highway when paired with a front-wheel-drive Flex; opt for all-wheel drive and the extra weight will drop highway mileage to 22 mpg.
A standard six-speed automatic transmission delivers power to the alloy wheels, which measure 18 inches on the SE and SEL and roll on 235/60R18 tires; the Flex Limited is fitted with 19s or optional 20s wrapped in 235/55R19 and 255/45R20 rubber, respectively. Under the skin is a suspension system comprised of MacPherson struts up front and a multi-link setup out back, as well four-wheel antilock disc brakes. Put it all together, and you've got a rig that weighs and tows about the same amount – 4,500 pounds.