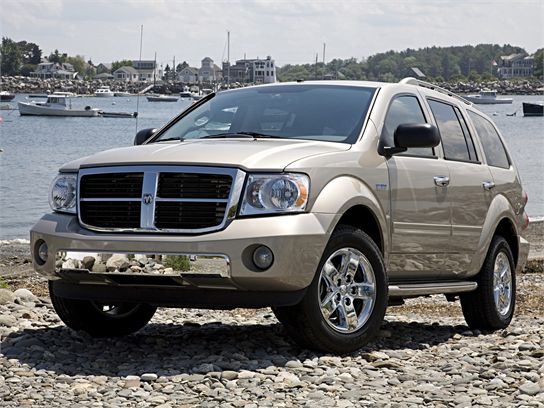 All new for 2009, the Chrysler Aspen Hybrid and Dodge Durango Hybrid offer Hemi power, up to 20 mpg thanks to two-mode hybrid technology co-developed with GM and others, plenty of features, and four-wheel-drive capability for about $45,000.
Cadillac Escalade Hybrid,Chevrolet Tahoe Hybrid, GMC Yukon Hybrid
Torquey diesels and wimpy hybrid powertrains once made the notion of a large gas/electric utility vehicle laughable. Then came two-mode hybrid technology, and as a result, a Hemi V-8 that can achieve 20 mpg in a four-wheel-drive eight-passenger SUV weighing nearly three tons. It makes sense to us, especially with a price thousands less than the competition.
If there's one point that politicians, oil companies, consumers, and automakers can agree on, it's this: Gasoline is expensive, and today's cars and trucks need to get better gas mileage. We're making a dent in our dependence on petroleum with smaller vehicles, including hybrid versions of cars such as the Honda Civic. But in these cases, you're simply talking about making already fuel-efficient vehicles more fuel-efficient. That doesn't help the millions of drivers who want and/or need a full-size SUV.
Enter the Dodge Durango Hybrid and its cousin, the Chrysler Aspen Hybrid: eight-passenger SUVs that tow up to 6,000 pounds, feature standard four-wheel drive, and record about 20 mpg despite housing a Hemi V-8 engine under the hood. Using a two-mode transmission developed in partnership with BMW, GM, and Mercedes-Benz, fuel economy ratings for both big SUVs represent a 46-percent gain in city mileage and a 25-percent overall gain.
Clearly, filling our streets with vehicles that achieve up to 20 mpg won't solve our energy crisis, but for those consumers who find that large SUVs continue to make sense, the 2009 Dodge Durango Hybrid and 2009 Chrysler Aspen Hybrid mark a positive move forward. Sales start in September.
Page 2
Starting at $45,340, the 2009 Dodge Durango Hybrid is essentially a gas/electric version of the regular four-wheel-drive Limited model. The Chrysler Aspen Hybrid carries a slightly higher price tag: $45,570. Prices, which represent a premium of about $3,600 over their non-hybrid counterparts, include an $800 destination charge but don't reflect an expected tax credit of $1,800.
Standard features are numerous, with highlights including UConnect navigation/tunes/phone in place of the brand's familiar MyGIG system, leather upholstery, a power tailgate, and heated power-adjustable front seats. There are also a number of safety features, such as stability control, a rear park assist system with a backup camera (a must on a vehicle as large as the Durango/Aspen), a tire pressure monitor system, and side-curtain airbags that span all three rows. Chrysler also outfits every Durango and Aspen with what it calls Trailer Sway Control, technology designed to keep everything rolling smoothly when you're hooked to a load. 
Since these hybrids are essentially well-equipped Limited models, there's not a lot left for the options list. But, if you want your new fuel-efficient SUV to come fully-loaded, you'll want to ask for the rear DVD entertainment system, the power sunroof, and the trailer tow package.
Page 3
Yes, it's got a Hemi. Packed under the hood of the 2009 Dodge Durango Hybrid and 2009 Chrysler Aspen Hybrid is a stout 5.7-liter Hemi V-8 engine featuring variable-valve timing, reworked heads, and the brand's Multi-displacement System (MDS) that cuts power to four cylinders under light loads. Fuel economy is rated at 19 mpg city and 20 mpg highway, just one mpg less in the city than primary competitors from General Motors. On its own, the Hemi delivers 345 horsepower at 5,300 rpm and 380 lb.-ft. of torque at 4,200 rpm.
Impressive, yes, but this is a hybrid, so that's only part of the equation. Joined to the V-8 is an electric continuously-variable transmission (ECVT) with two operating modes and four fixed-gear ratios. Dubbed two-mode, the technology adds 350 pounds to the SUV's curb weight, includes a 300-volt Nickel-metal hydride battery pack placed under the second-row seat, and uses electric motors located within the transmission housing that generate 87 horsepower and 235 lb.-ft. of torque; the motors and engine generate an estimated 385 horsepower combined. In the first of the two modes, the Durango Hybrid/Aspen Hybrid can operate under full engine power, a combination of engine and electric power, or on 100 percent battery power up to 25 mph. An Auto Stop feature cuts power at 25 mph and below, again allowing the Hemi to shut down and the vehicle to operate solely on electric power. The second mode kicks in at higher speeds and under higher loads, such as when towing or passing.
In an effort to limit the Hemi's workload, a number of components are electric and can, therefore, tap into the hybrid system without requiring inefficient operation of the engine. These include electric rack-and-pinion steering, an electric air conditioning condenser, and electrically-activated regenerative, antilock disc brakes (vented front, solid rear). Those stoppers reside behind 18-inch alloys rolling on Goodyear Wrangler SRA 265/60R18 tires; the whole shebang is connected to an independent front suspension and a live rear axle. All 2009 Dodge Durango Hybrids and 2009 Chrysler Aspen Hybrids are delivered with full-time four-wheel drive.