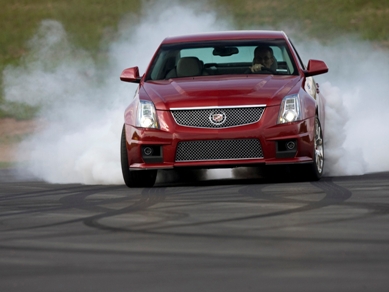 556 supercharged horsepower
Backed by a 5-year/100,000-mile powertrain warranty
Handling befitting a genuine sport sedan
Heads-up display not available
Improved manual transmission still a bit clunky
Fuel economy
BMW M5, Mercedes-Benz C63 AMG, Mercedes-Benz E63 AMG  
When it first hit the streets, the Cadillac CTS-V helped marry the crested brand to terms such as fun, powerful, and aggressive. A rear-drive Caddy with a Corvette engine and a manual gearbox? Let the good times roll, people. Truth be told, that first iteration was indeed a hoot to drive, though it felt more like a hot-rodded entry-level luxury car than a genuine performance sedan.
That changes with the debut of the 2009 Cadillac CTS-V, based on the all-new and immensely impressive second-generation CTS, with a few special tweaks thrown in. Those would include a supercharged, 556-horsepower V-8 borrowed not from the regular Corvette but instead from the Corvette ZR1, two new transmissions, two brake packages courtesy of the engineers at Brembo, 14-way power front seats designed by Recaro, and a mean, muscular look that will literally cause your dog to wet itself. In the world of cars, luxury sport sedans are like students at an exclusive Ivy League school. With the debut of the 2009 CTS-V, Cadillac has finally received its acceptance letter. Models go on sale in October.
At the heart of the 2009 Cadillac CTS-V, under that power dome aluminum hood, is a 6.2-liter V-8 engine paired with a 1.9-liter Eaton supercharger that helps generate 556 horsepower at 6,100 rpm and 551 lb.-ft. of torque at 3,800 (400 lb.-ft kicks in at about 1,000 rpm). This is essentially the same engine used in the new Chevrolet Corvette ZR1, though that ride gets a 2.3-liter supercharger. The EPA has yet to release fuel economy figures, but during our day of all-out flogging we saw mileage in the low teens. As expected, the CTS-V prefers to drink the good stuff.
Turn the key and that almighty V-8 stirs to life with a rumble that will make any car nut's heart skip a beat. Much effort has been put into toning down the supercharger and the work has paid off – whether spiking the rpm at a stop or putting the hammer down for all its worth on a straightaway, you'll be hard-pressed to hear that familiar whine. Instead, the cabin is filled with a raw V-8 grumble…and excessive road/tire noise when under way. Power delivery is immediate, available in a variety of flavors. For those who prefer a smooth take off, ease on the throttle and the CTS-V will take flight gradually. However, if you're like us, a hard slam of the go pedal is always in order, and with that the Caddy pushes you into your seat with brute force, leaving your kidneys and some of your breath behind. To put that into perspective, Cadillac claims the CTS-V will hit 60 mph in 3.9 seconds – Viper SRT10 and Corvette ZR1 territory.
Top speed is between about 175 and 195 mph, depending on your transmission choice. The standard six-speed manual tranny features a new short-throw shifter and nicely modulated clutch that's not a chore to use in traffic. The rubbery feel of the previous-gen transmission is gone, and you can ram through the '09 CTS-V's gears, but more precision and even shorter throws are needed to make this a truly impressive unit. A six-speed automatic transmission is all-new for 2009, complete with a manual shift mode and paddles. Shifts are smooth during leisurely drives, but can be quite abrupt under full acceleration. The paddles are only effective when the shift knob is clicked into the manual position, and the reaction time could be dialed up a bit.
Given Cadillac's luxury car status and the 2009 CTS-V's sport sedan intentions, credit goes to the engineers who succeeded in finding an impressive middle ground between ride and handling. They did it by using GM's Magnetic Ride Control system, designed to react quicker than setups using traditional shocks. That, paired with Tour and Sport suspension settings, lets you dial in the CTS-V's ride to your preference. With that said, we're essentially talking about a four-door Corvette, so the ride is decidedly stiff, but not unbearably so, and at normal speeds on city streets you might even consider yourself coddled. Under those conditions, we failed to notice any difference between the Tour and Sport settings, but Cadillac engineers assured us that would become clear when we pushed the car at Infineon Raceway.
For our first run, we set the suspension to Sport and took advantage of the CTS-V's Competition Mode, providing more latitude from the stability and traction control systems (they can also be completely disabled). Out on the track, body roll was negligible, the steering appropriately heavy and responsive, and the Brembo brakes 100 percent effective after plenty of abuse. That extra latitude we mentioned let us swing the rear end out easily as we powered out of turns, turning the CTS-V into a decidedly entertaining drifter. With those runs in the books, we set the suspension to Tour mode, and after one corner of excessive body roll, quickly clicked back to Sport.
Though modified a bit for V-Series duty, the 2009 Cadillac CTS-V's interior differs little from that of the base model. There's the option of 14-way power Recaro front seats, offering power upper and lower bolsters, power lumbar, and a manual extension for added thigh support. Like the standard buckets, the Recaros are quite comfortable but a little on the narrow side; the standard seats don't have the lower extension and subsequently lack proper thigh support. Covering the seats is leather upholstery with suede-like inserts, material that can also be fitted to the steering wheel. The comfortable rear bench, with outboard buckets, includes a fold-down center armrest and a pass through for access to the spacious trunk.
Among the CTS-V's limited options is an expansive sunroof and rear glass roof panel; a mesh liner makes the interior feel light even with dark upholstery. Included with the gauges is a tachometer that flashes red when you approach redline. It's a good idea, but it begs to be incorporated into a heads-up display, something available on other high-end GM vehicles but not the CTS-V.
Page 2
For as long as some of us can remember, rides wearing badges from BMW, Audi, Mercedes-Benz, Jaguar, and others have ruled the luxury performance sedan roost. That's started to change in recent years, with Japanese companies such as Infiniti and Lexus upping their games, and now with the release of the 2009 Cadillac CTS-V, the domestics have officially entered the fray. Unlike the previous iteration, which was fun yet not wholly competitive, the all-new '09 CTS-V hits the scene showcasing its overwhelming power, impressive handling dynamics, and unapologetic badass attitude. It seems that the performance sedan party has officially been crashed.
$59,900
6.2-liter supercharged V-8
556 hp @ 6,100 rpm
551 lb. ft. @ 3,800 rpm
6-speed manual
4,200 lbs.
 TBA
191.6 in.
72.5 in.
113.4 in.
58.0 in.
42.4 in./35.9 in.
38.8 in./37.2 in.
5
13.6 cu. ft.
By Thom Blackett Photo credit: Cadillac