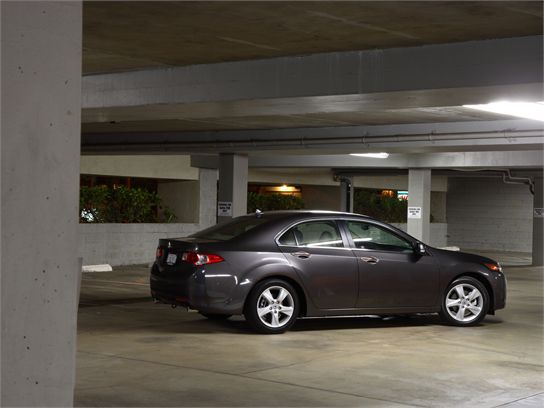 Debuting for 2009 is the second-generation Acura TSX, sporting a fresh new look, more interior room, a 201-horsepower engine that releases cleaner emissions and delivers more torque than before, and the safety of Acura's ACE body structure.
Audi A4, Lexus IS 250, Volkswagen Passat
Acura has done an admirable job in updating the TSX, giving the car a premium and sporting feel beyond the expectation set by its sub-$30,000 starting price. Better yet, with an EPA rating of up to 28 mpg, the debut of the 2009 TSX might be perfectly timed for shoppers adding efficiency to a criteria list that already includes luxury and comfort.
In a weird way, driving the 2009 Acura TSX is like stumbling upon the perfect recipe.
We're not chefs, but we've grown up with traditional grandmothers and watched enough Food Network shows to realize that some of the best creations to ever come from a kitchen are not products of a strictly-followed recipe, but rather the results of using a list of ingredients and instructions as inspiration. The culinary artist-to-be may indeed start with the essentials – flour, fresh vegetables, a well-seasoned iron skillet – but what makes the masterpiece is that particular pinch of salt and the extra drop of olive oil. It may even be traced back to the slightly over-ripened sweet pepper purchased from the local organic market. Whatever the cause, the dish that eventually comes from the oven is delectable, and simply outshines each of the versions you've tasted before. Sorry, grandma.
That's essentially what's happened with the Acura TSX, though we'll stop short of calling this fuel-efficient sedan delectable. As good as the previous model was, there was always something missing with its cookie-cutter styling and inability to excite its driver. On paper, the recipe for the 2009 TSX may appear equally bland, but something's there now that actually left us licking our lips, so to speak. The styling has been tweaked just enough to be noticed, the larger interior is more luxurious, the powertrain is more engaging, and it delivers up to 28 mpg when gasoline prices are climbing north of $4.00 per gallon. It's enough to leave you asking for seconds.
Regardless of special ingredients or opportune timing, the fact remains that the 2009 Acura TSX is a marked improvement over its predecessor, a sporting and luxurious sedan worthy of consideration by shoppers seeking equal parts style, comfort, luxury, performance, and quality…for a bang-for-your-buck price of about $30,000.
Page 2
To all those indecisive car shoppers out there – the 2009 Acura TSX is for you. With only two trims, abundant choice isn't really the name of the game here. You've got your base TSX, with a manual or automatic transmission for $29,720 including a $760 destination charge, or your TSX with Technology Package that goes for $32,820, again including the destination charge and available with either gearbox.
In exchange for roughly 30,000 of your hard-earned dollars, the TSX delivers a host of standard goodies, such as stability and traction control systems, 17-inch alloy wheels, perforated leather upholstery, and heated front seats that include an eight-way power adjustment for the driver and a four-way power adjustment for the passenger. Nice, but not really $30,000 nice, so Acura has tossed in a power moonroof, a dual-zone climate control system, XM satellite radio, as well as USB and auxiliary input jacks. Serving to round out the bang-for-your-buck quotient are HID headlights, front foglights, heated mirrors with integrated turn signals, and the safety of front-side and side-curtain airbags. That's all in addition to Bluetooth HandsFreeLink wireless phone capability, handy technology in states like California where yammering on your iPhone while driving is a big no-no.
That's what you get if your TSX is the so-called base model. Go with the Technology Package, as we did for this review, and you end up treating yourself to a voice-activated navigation system, a banging 10-speaker surround sound system with 415 watts and a CD/DVD changer, and real-time traffic information with a rerouting feature and current weather conditions. You'll also benefit from a rearview camera in the navigation screen, so backing over Junior, or Junior's treasured tricycle, is a little less likely.
Page 3
Acura has long been known for deriving the most power possible from relatively small engines. Consider that, to date, Acura is the only brand in the premium/luxury segment without a V-8 anywhere in its lineup. Therefore, it's not surprising to discover that the TSX, Acura's entry-level vehicle, comes to market with a high-revving four-cylinder engine which delivers performance comparable to some of its competitors' small V-6s.
At the heart of the front-wheel-drive 2009 Acura TSX is a 2.4-liter four-banger that reaches redline at 7,100 rpm and features i-VTEC (Intelligent Variable Timing and lift Control) and direct injection. Output registers 201 horsepower at 7,000 rpm and 170 lb.-ft. of torque at 4,500 rpm when mated to a five-speed automatic transmission with paddle shifters and a sport mode; go with a six-speed manual for the same price and you'll be working with slightly more torque – 172 lb.-ft. The EPA suggests that you'll see 19 mpg in the city and 28 mpg on the highway if you're shifting your own gears or 20/28 if your TSX is equipped with the five-speed auto. Premium is the fuel of choice.
The powertrain propels a four-door sedan that rides on a double-wishbone front suspension and multi-link rear suspension, while an updated rack-and-pinion unit has been designed to limit torque steer and electronic brake assistance works with four-wheel antilock disc brakes – ventilated up front – to slow things down.