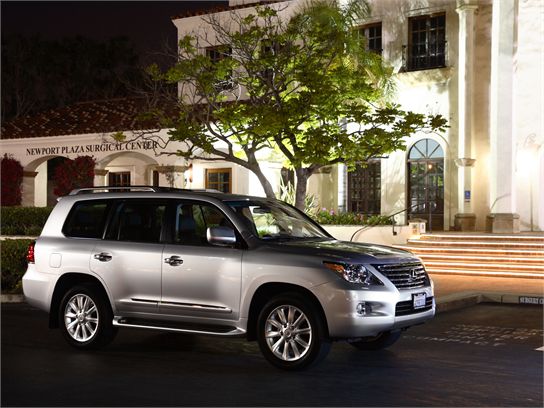 Gone is the LX470, replaced for 2008 with the LX 570 using the same 5.7-liter V-8 engine found in versions of the Toyota Tundra and other Toyota products. Styling has been worked over a bit, the price has jumped, and there's more luxury and off-road technology.
Hummer H2, Land Rover Range Rover, Toyota Land Cruiser
It's hard to find fault with a comfortable and powerful full-size rig like the 2008 LX 570, unless of course you consider that it performs comparably to the nearly-identical Toyota Land Cruiser that goes for about $10,000 less.
Conspicuous consumption. It can be seen with the labels on our clothes, the brands we buy at the supermarket, the houses we live in, the choices we make from the menu, and yes, the cars we drive. The phenomenon feeds into our fascination with celebrities (think MTV Cribs), and has us gradually considering it normal for a well-to-do couple to live in a 10,000 square-foot mansion with eight bathrooms. Peer behind the gates, into one of the couple's many garage bays, and you just might spot a 2008 Lexus LX 570.
To be fair, Lexus' full-size SUV comes to the table with much to praise, from its strong V-8 engine to its bounty of luxury and supreme comfort for first- and second-row passengers. Plus, there's no denying that is one high-quality vehicle. But with fuel economy registering only 12 mpg in the city, an exorbitant $74,000 starting price, and impressive off-road technology that is almost guaranteed never to be used by any buyer, the 2008 Lexus LX 570 screams conspicuous consumption. Some would argue that efficiency and price are on par with the competitors, a point that's at least partially justified. However, what's different here is that a nearly-identical vehicle, with comparable capability can be had for about $10,000 less. That'd be the Toyota Land Cruiser, another full-size SUV with some conspicuous consumption issues of its own.
But for those for whom only a Lexus badge will do, you'd do well to hurry – word is the LX 570 doesn't stay on lots for long, and with only 9,500 units available, your chances of getting one are rapidly declining.
Page 2
When considering the purchase of a 2008 Lexus LX 570, the only questions buyers will face involve options and colors. Without varying trim levels, most every feature is standard, including leather upholstery, a four-zone automatic climate control system, heated front seats, power-sliding second row seats, a power-folding third row split seat that also tumbles up toward the glass on each side, a 10-way power-adjustable driver's seat with memory, and an eight-way power-adjustable seat for the front passenger. Befitting this luxury vehicle are the power sliding and tilting moonroof, power tailgate (the split lower section is manual), voice-controlled navigation system with Bluetooth integration, and 312-watt sound system with a six-disc CD changer, XM satellite radio capability, and an auxiliary jack. All that, plus a full gamut of traditional power features, meaning you won't be cranking down your own windows or crawling over the seats to unlock the rear passenger door.
Options for the LX 570 include ventilated front seats, heated second row seats, and an intelligent cruise control system with pre-collision technology that readies the brakes and seatbelts for what the vehicle determines to be an unavoidable collision. Audiophiles will want to select the 450-watt, 19-speaker Mark Levinson Reference surround sound system with its six-disc DVD changer and 30-gig hard drive that will store up to 2,000 of your favorite tunes. This is combined with Lexus Link telematics to create the separate Technology Package. To keep second and third row passengers content during a long road trip, Lexus offers a rear DVD entertainment system comprised of a nine-inch flip-down screen and two wireless headphones. Finally, given the LX's sheer size, drivers will also likely appreciate the Park Assist system's wide-view monitor in the dash that displays what's in front of and beside the vehicle.
Lexus has priced the 2008 LX 570 at $74,565, including a $765 destination charge. Pricing for options has yet to be announced. Our test vehicle, outfitted with ventilated front seats, Park Assist, the rear DVD setup, the Technology Package and a cargo mat, rang up at $82,740.
Page 3
Power for the 5,995-lb. 2008 Lexus LX 570 comes from the same engine that's found in the redesigned Toyota Tundra pickup truck. It's a 5.7-liter, 32-valve V-8 with variable-valve timing that boasts 383 horsepower at 5,600 rpm and 403 lb.-ft. of torque at 3,600 rpm. Premium fuel is recommended, a gallon of which the EPA estimates will cover 12 miles in the city and 18 on the highway. Directing output to the ground is a six-speed automatic transmission with a manual mode and a full-time four-wheel-drive system with a true low range and a Torsen limited slip center differential. With this comes a Crawl Control feature that keeps the LX moving at extremely slow speeds – helpful for drivers navigating technical off-road terrain. The suspension consists of double wishbones up front and a four-link trailing-arm setup with a solid axle on the rear, while steering is the work of an rpm-sensitive hydraulic rack-and-pinion unit. Standard wheels measure 20 inches and roll on 285/50R20 all-season tires.
The LX 570 also features an Active Height Control (AHC) system which assists entry and exit by dropping the LX by about two inches; when low range is engaged, the system raises the vehicle by three inches to improve off-road ability. An Adaptive Variable Suspension System (AVS) includes different settings that allow the driver to dial-in the desired ride type: 1) the softest setting; 2) the system selects the appropriate suspension setup; 3 and 4) adjusts the suspension to compensate for heavy loads, higher speeds, or driving on rough roads.
In an effort to keep occupants safe, the big-daddy Lexus utilizes ventilated antilock disc brakes coupled with brake assist and electronic brake force distribution technology, stability control, and a body structure composed of high-strength steel. The LX 570 also features side airbags for the first two rows, front knee airbags, side-curtain airbags spanning all three rows, front active head restraints, and a tire-pressure monitor. To round things out, Lexus has outfitted the LX with systems including Advance TRAC and hill-start assist to aid with traction when necessary.