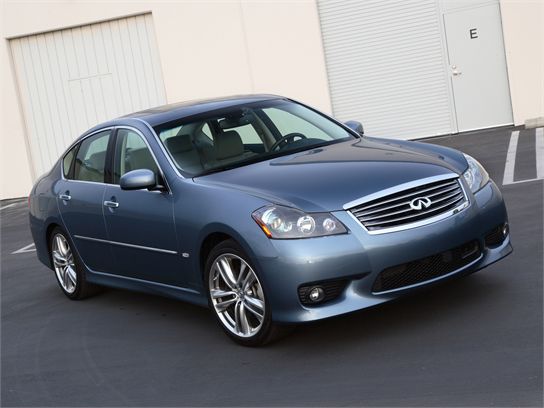 The big news arriving with the 2008 Infiniti M is the new M45x all-wheel-drive variant, massaged styling, a Sport Package that replaces last year's designated Sport models, and technology including a new Lane Departure Prevention system and an updated navigation system.
Audi A6, BMW 5 Series, Lexus GS
Despite its relative lack of horsepower, we had a blast putting our M45 test car (equipped with the Sport Package) through its paces. Comfort, performance, and style come in equal amounts on the updated M, with the Infiniti standing apart from masses of BMWs and offering more fun than a Lexus GS.
Those of us who spend too many hours each week within the confines of the corporate world know all too well about business attire. Regardless of who we may be on the weekends, what we choose to do between 6 p.m. and 8 a.m., each one of us faces the mandate of arriving at work looking a certain way, complete with buttoned up collars and neutral colors. But with the electronic time cards punched, you head out for a few beers with this staid crowd, only to realize these books best not be judged by their covers.
Same goes for cars like the 2008 Infiniti M. Attractive, yes, but Infiniti's full-size luxury sedan is not draw-dropping gorgeous and it likely won't stop traffic. In a sea full of desirable high-class cars, the M stands among its competitors rather than apart. Ahh, but then you meet up with it for a drive home after a long day. Dressed up for work, the Infiniti M is right there with you when it's time to take off the tie, open the windows for some fresh air, and breathe some life into a body that's been on autopilot for the past several hours. Proper when it needs to be, but capable of breaking out a wild side when the time is right – that's the 2008 Infiniti M.
Page 2
Infiniti sells its large sedan in two primary flavors – the V-6 powered M35 and the V-8 powered M45. Prices start at $44,065 for the rear-wheel-drive M35 and $45,815 for the all-wheel-drive M35x, including a $715 destination charge. Each comes standard with 10-way power front seats, a power moonroof, leather upholstery and interior trim, a 160-watt sound system featuring a six-disc CD changer and XM satellite service, and a dual-zone climate control system. Befitting its luxury status, the entire M lineup also features a power tilt and telescoping steering wheel and Bluetooth hands-free connectivity, not to mention a push-button ignition system as well as front-side and side-curtain airbags.
Of course, Infiniti has provided plenty of options, such as the Advanced Technology Package ($2,800), which packs on a 14-speaker Bose Surround Sound System, intelligent cruise control, Lane Departure Warning and Prevention systems, and more; the Sport Package, composed of 19-inch alloys wrapped in 245/40R19 summer rubber, rear active steering, sport suspension and seats, and more for $1,650; and the Technology Package with its iPod interface, navigation system, XM NavTraffic, and more for $3,350. If that all sounds good to you, it might be best to simply opt for the Premium Package, which for $9,650, includes the Technology and Advanced Technology Packages, power and heated rear seas, and rear climate controls.
For those who want V-8 power under the hood, the starting prices rise to $51,715 for the rear-drive M45 and $54,215 for the all-wheel-drive M45x. These figures include the $715 destination charge and a $1,300 gas guzzler tax, and along with the addition of the Technology, Advanced Technology and Sport Packages, brought the price of our 2008 Infiniti M45 test car to $57,865.
Page 3
Though it obviously looks different, the 2008 M shares its backbone with two other popular Infiniti models – the G35 sedan and the FX crossover. M35 and M35x models draw power from a 3.5-liter V-6 that's good for 275 horsepower at 6,200 rpm and 268 lb.-ft. of torque at 4,800 rpm. Move up the M45 or M45x and you'll be working with a 4.5-liter V-8 capable of producing 325 horsepower at 6,400 rpm and 336 lb.-ft. at 4,000 rpm. Regardless of which engine you choose, the transmission will be a five-speed automatic with a manual-shift mode and a rev-matching feature for downshifts. Fuel economy is rated at 16 mpg city/23 mpg highway for the M35, 16/22 for the M35x, 16/21 for the M45, and 14/20 for the M45x.
The M45 is about 115 pounds heavier than the M35, yet Infiniti has used aluminum in the construction of the doors, hood and trunk to help limit curb weights on all models. They've also fitted the car with an engine-speed-sensitive rack-and-pinion steering system, ventilated antilock disc brakes coupled with electronic brake force distribution and brake assist technology to provide capable stopping power, and a suspension setup composed of double wishbones up front and a multi-link assembly on the rear. Rear active steering, a feature that adjusts the lower rear suspension links in response to steering and speed sensors, is available on rear-wheel-drive versions of the Infiniti M. All-wheel-drive variants, on the other hand, are treated to the ATTESA E-TS system that's also used on the Infiniti FX crossover.