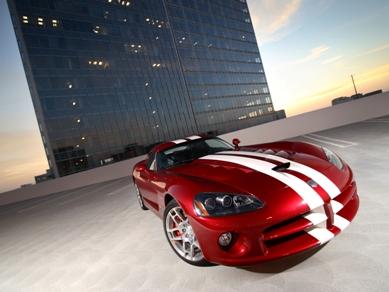 For the 2008 model year, the Dodge Viper SRT10 received a larger, more powerful engine, revised styling, and a race-prepped ACR version.
There's nothing quite like the Dodge Viper SRT10. With horsepower and handling that rival many race cars – and an ACR race version – the Dodge Viper is pure unfettered driving performance, with none of the trimmings.
Sometime before the 2008 model year, somebody at Dodge looked at the 510-horsepower Viper and decided it needed more. More power. More styling. More...everything. Amazingly, this individual managed to convince his (and you know it had to be a guy) superiors that yes, indeed, the Dodge Viper would be much better with an even 600 horsepower, more vents in the hood, and what the hell, a full-on street-legal racing version from the fun-meisters over at the company's ACR division.
Which brings us to the car you see here.
The 2008 Dodge Viper SRT10, like every Dodge Viper that came before it, is more than just a car. It's an icon, one that is forever burned on the automotive psyche as America's Exotic the same way that the Chevrolet Corvette will always be America's Sports Car. Its appeal lies in what it brings – massive power, handling and braking – as much as what it doesn't – traction or stability control, a roomy cockpit, a comfortable driving experience.
Whether you like the Dodge Viper depends on if you buy into the premise of the whole thing. On one hand, many enthusiasts decry the ever-present creep of technology into high-performance cars, saying that it dilutes the experience, and in all fairness, we're not immune to the thinking. However, the Dodge Viper takes the idea of pure performance to an extreme, and at more than $86,000, there are many cars that deliver just as much performance, but with comfortable interiors, easy ingress/egress, usable cargo and storage space and, yes, stability and traction control. With every GT-R that Nissan makes, or every Z06 Corvette produced by Chevrolet, the Dodge Viper looks more and more like an anachronism.
But man, what a rush.
Page 2
There are two flavors of Dodge Viper SRT10. The first is the "standard" version. Starting at $86,345 (including the $880 destination charge) for the convertible and $86,295 for the coupe, it comes standard with the 600-hp 8.4-liter V-10 engine, six-speed manual transmission, limited-slip differential, and completely insane styling. For 2008, the hood gained extra vents to help manage all the heat the big engine puts out, and the air intake is bigger to feed it more air. For an additional $12,050, coupes can get the Competition Group, which turns a Dodge Viper SRT10 into a Dodge Viper SRT10 ACR, literally a street-legal race car thanks to an adjustable suspension, grippier tires, and huge (but functional) front and rear wings.
The surprising thing about the Dodge Viper is how Spartan it is. You get things like air conditioning and antilock brakes, even though Dodge Viper owners don't need creature comforts -- they're hardcore drivers. So Dodge doesn't offend them by offering heated and cooled seats, a leather-wrapped dash or a backup camera. In a fine display of the car's politically incorrect persona, it does have a standard cigar lighter.
Options on the Dodge Viper are limited to appearance and a few audio upgrades. For an additional $3,000, you can get painted-on racing stripes; there's a $1,790 navigation system with a laughably tiny screen; you can get the looks of the Competition Package with a $6,500 aerodynamics upgrade; different wheels are available for $700. One of the most expensive "packages" on the Viper is a mandatory one from the feds: the $1,700 gas guzzler tax.
Page 3
Normally, we don't discuss width and height and other dimensions, but the 2008 Dodge Viper SRT10's dimensions are a little peculiar. It is 14.5 feet long, 6.2 feet wide (just less than half its width), and just under 4 feet tall. In other words, "long, low and wide" describes it, yet there's so much more to the exterior styling. Every curve is exaggerated, every vent twice as big as you'd think it needs to be. Park it in your garage and you'll see how small it is in person, but the styling is so dynamic that it looks huge.
All of which makes the tiny interior all the more strange. Dodge doesn't list interior volume measurements, but the interior is compromised by the Viper's incredibly wide drivetrain, all of which sits behind the front axle line. This means a good chunk of the engine and transmission are shoved into the passenger compartment. The driver's legs are pushed off to the left, and there's precious little head room. Tall drivers sit bolt upright. It's surprisingly hard to see out of as well. The huge pontoon fenders make it hard to place the front tires, and rearward visibility is decidedly pinched. Getting in and out isn't easy, either, especially in the coupes. The exhaust pipes are positioned under the door sills, so not only is there an ungodly amount of noise, you literally run the risk of burning yourself if you aren't careful.
The Dodge Viper boasts a decent amount of cargo room under the hatch, as long as you only pack soft sided luggage and don't mind a little squishing. The car's lack of height (a Dodge Viper is two inches lower to the ground than a Chevy Corvette) and tiny passenger compartment means there's little room left over for anything else. On the other hand, considering the Viper's lack of amenities, constant interior racket, harsh ride, sensitive steering and look-at-me styling, we can't imagine taking it on a long road trip anyhow. The Dodge Viper SRT10 is a weekend car, one that you drive to the track, have your fun, and drive home.
Page 4
There is a long list of cars most of us would rather drive every day than the 2008 Dodge Viper SRT10. As amazing as its performance is, as a day-to-day conveyance, the Dodge Viper falls far short of other mega-dollar sports cars. But comfortable commuting isn't in this car's mission plan. No, the Viper is all about pure, unfettered driving performance. It boasts power, styling and handling well beyond its price tag. So what if it's loud and uncomfortable? The Dodge-80-8 Viper says, "Man up and drive," and if that message isn't for you, then move on. If it is you, there's no better car on the planet.
$88,045
$87,995
$100,045
8.4-liter V-10
8.4-liter V-10
8.4-liter V-10
600 hp @ 6,100 rpm
600 hp @ 6,100 rpm
600 hp @ 6,100 rpm
560 lb.-ft. @ 5,000 rpm
560 lb.-ft. @ 5,000 rpm
560 lb.-ft. @ 5,000 rpm
Six-speed manual
Six-speed manual
Six-speed manual
3,450 lbs.
3,450 lbs.
3,450 lbs.
13 city/22 hwy
13 city/22 hwy
13 city/22 hwy
175.6 in.
175.6 in.
175.6 in.
75.2 in.
75.2 in.
75.2 in.
98.8 in.
98.8 in.
98.8 in.
47.6 in.
47.6 in.
47.6 in.
42.4 in.
42.4 in.
42.4 in.
36.5 in.
36.5 in.
36.5 in.
Two
Two
Two
N/A
N/A
N/A
By Keith Buglewicz Photo credit: Oliver Bentley