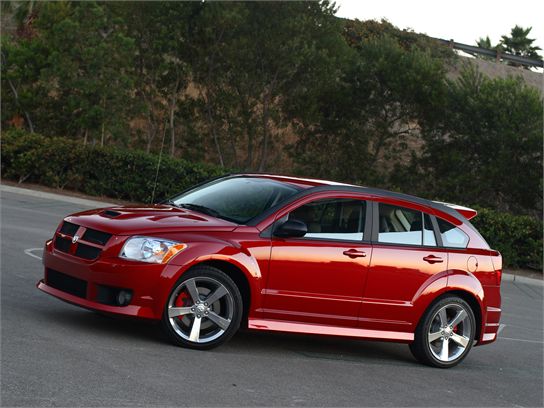 The 2008 Dodge Caliber SRT4 is the performance version of the existing Caliber, and includes a turbocharged 2.4-liter inline-four engine, larger brakes and wheels and an upgraded leather-trimmed interior. The performance Caliber also comes with an operational hood scoop, wider grille opening and a large spoiler for improved air flow and better down force.
Mazda Mazdaspeed3, Chevrolet HHR SS, Subaru WRX
The 2008 Dodge Caliber SRT4 tries to meld the practicality of a small family sedan and the versatility of a sport utility vehicle with seat of the pants performance to create a vehicle that's practical as well as powerful. Problem is, the Caliber was no great shakes to begin with, and as the saying goes, don't teach a pig to sing: It's a waste of your time and it annoys the pig.  
Big SUVs are out and compact fuel sippers are in, but some people still need something bigger than a Prius to handle trips to the local home and garden center or favorite big box retailer. So, automakers have revisited the hatchback, turning once again to wagon-like vehicles that are basically downsized utility vehicles.
Dodge's entry for this niche is the Caliber: A five-door wagon with seating for five and plenty of cargo room to haul those 144-count super packs of Huggies when they go on sale. But just because you need a car that handles the kids as well as it does the groceries doesn't mean you have to give up performance. Many of the new generation of hatches offer performance variations, and the Dodge Caliber is no exception. Dodge brings the 2008 Caliber SRT4 to the table, a turbocharged 285-horsepower rendition of the base Caliber. The difference between the 2008 Dodge Caliber SRT4 and the competition is that most of the competition is building performance versions on proven, well thought out base models. Sadly, the Dodge Caliber is anything but.
Page 2
The 2008 Dodge Caliber is available in four trim levels: SE, SXT, R/T and SRT4. The SE is as no frills as you can get, starting at $14,580,. The SXT is priced at $16,164, and the R/T has an entry fee of $18,975. Our test model was the high-performance Caliber SRT4, with the standard 2.4-liter turbocharged four cylinder engine, sport-tuned suspension and price tag of $23,015. All prices include a $580 destination charge.
The SE is shod with P205/70R15 all-season Dunlops mounted on 15-inch steel wheels with silver painted wheel covers. Firestone P215/60R17 All-season touring rubber wrap around 17-inch painted aluminum wheels on the SXT, and P215/55R18 all-season performance Firestones on 18-inch painted aluminum wheels come standard on the R/T. Stopping power for the SE and SXT is handled by power front discs and rear drum brakes. ABS can be added to the manual transmission models for $400 and is included with the CVT2 package. The R/T comes standard with 4-wheel discs with ABS.
The SRT4 varies looks-wise by its larger grille and rear spoiler and functional hood scoop. It also comes with 19-inch painted aluminum SRT wheels with P225/45R19 all-season Goodyear tires. The SRT4 also comes standard with bigger four-wheel anti-lock disc brakes.
Our 2008 Dodge Caliber SRT4 came equipped with optional 19-inch polished aluminum SRT wheels for an upcharge of $400. To find our way back from our drive, our tester was outfitted with a GPS navigation system which includes a 6-CD/MP3 changer at a cost of $1395. Finally our loaner was equipped with the SRT Option Group II which includes a security alarm, tonneau cover, tire pressure monitoring display, vehicle information center, auto-dimming rearview mirror, universal garage door opener and UConnect hands free communication system for $1185. To put us further in the red, our SRT had the $150 upcharge Inferno Red Crystal Pearl Coat Paint. With the destination charge, our tester totaled out to $26,175
Page 3
The SE and SXT Calibers come standard with a 148-horsepower 1.8-liter four-cylinder; for an additional $150 a 2.0-liter power plant cranking out 158 hp is available. The 1.8-liter engine's fuel economy is expected to average 24 mpg city and 29 mpg highway, while the 2.0-liter is estimated at 23/27 mpg. Either configuration comes mated to a five-speed manual transmission or a Continuously Variable Transaxle II (CVT 2) for $1,000.
The Caliber R/T comes with a 2.4-liter engine pumping out 172 hp connected to a five speed manual gearbox . The CVT2 is an option in the front wheel drive model and is the only transmission available in the all wheel drive version. Mileage is estimated at 23 mpg city and 29 mpg hwy in the FWD five-speed version, 21/25 mpg in the FWD with CVT2 and 21/24 mpg in the AWD with CVT2.
The 2008 Caliber SRT4 comes with a turbocharged 2.4-liter four-cylinder engine that cranks out 285 hp at 5700 rpm and 265 lb.-ft. of torque at 2000 rpm, with mileage estimated at 21 mpg city and 26 mpg highway.However, during our test we were only able to achieve a combined average economy of 18.6 mpg. The 285 horses are routed through a six-speed manual transmission and an electronically tuned differential.
Suspension for the Caliber SRT4 is made up of independent MacPherson Struts in the front and independent multilink suspension with upper and lower lateral links in the rear. Front and rear damping is handled by ZF Sachs twin-tube dampers and bringing everything to a halt when the light turns red are beefed up 4-wheel disc brakes with ABS.
All other Calibers come with four wheel independent suspension consisting of front MacPherson struts and coil spring over gas-charged shock absorbers and a rear multi link coil setup.
In the SE and SXT versions, momentum is halted with front disc and rear drum brakes, but disc brakes at all four corners is available as a package in the SXT with the CVT2 transmission. Braking in the R/T is handled by four-wheel disc with ABS.