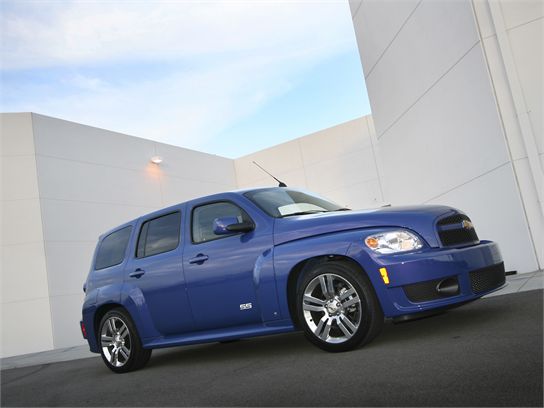 The Chevrolet HHR SS is all new for 2008, packing the same turbocharged engine found in the Cobalt SS that's good for up to 260 horsepower, a sport-tuned suspension, SS-specific accents, and a base price less than $24,000.
Dodge Caliber SRT4, Mazda Mazdaspeed3, Subaru Impreza WRX
The Chevy HHR was begging for an aggressive rendering like we see in the new SS model, but the execution is hampered by an available automatic transmission that cuts power output and an interior in desperate need of a quality upgrade.
Potential unrealized. It's a concept that stings more than simple disappointment. As children, we learn through grades and athletic tryouts that, while we continually strive to improve, each of us has inherent strengths and weaknesses. These lessons continue into adulthood. There are countless opportunities to be disappointed, in ourselves and others, yet if we've attempted our best all we're left to do is learn and move forward. On the flip side is potential that's been left unrealized, seen in the bright student too lazy to study, or the company that waters down a promising product with poor execution. Which, coincidentally, brings us to the 2008 Chevrolet HHR SS.
Engineered by the GM Performance Division – the General's version of Chrysler's SRT group and Ford's SVT program – the idea of a Super Sport version of Chevy's front-drive wagon holds appeal. The sub-$24,000 price makes the HHR SS affordable, the turbocharged four-cylinder engine delivers performance and decent fuel economy, and its five-passenger configuration slots it neatly into the family car category. Toss in GM's 100,000-mile powertrain warranty, a sportier appearance, and Nürburgring-tested credibility, and the HHR SS has the makings of a hit. That's the potential part. The unrealized portion is delivered via low-rent interior materials and an antiquated optional four-speed automatic transmission that lacks a sport mode and significantly cuts power. The end result is a relatively entertaining little hauler, one that could've been so much more.
Page 2
If a retro-styled Chevy wagon packed with a modern turbocharged engine is your cup of tea, prepare to shell out at least $23,565. That's the base price of a 2008 HHR SS with a manual transmission, including a $640 destination charge. With that come standard goodies such as 18-inch alloy wheels, a six-way power driver's seat, essentials like power door locks and air conditioning, cruise control, an MP3 player and auxiliary jack for your iPod, and the safety of GM's StabiliTrak stability and traction control technology as well as tire pressure monitoring system. You'll also enjoy a tilt steering wheel wrapped in leather, OnStar telematics, and more.
That's a good deal of content packed into a small package, but if you're itching for a more feature-laden ride, perhaps you'll find some of the HHR SS's options to be appealing: Side-curtain airbags ($395); a power sunroof ($750); an automatic transmission ($1,000); and a limited-slip differential available only with the manual transmission ($495). To differentiate yourself from the masses, Blue Flash Metallic paint might be worth the $295 Chevy charges for this interesting hue; gnarly commuter traffic almost necessitates going with the XM satellite radio and its live traffic and weather updates ($200). For those who spend their days on twisty roads, far from congested highways, the aggressively-bolstered GM Performance Division driver's seat will be hard to pass up for a measly $95.
Page 3
While the base 2008 Chevrolet HHR models feature four-cylinder engines pushing between 149 and 172 horsepower, the SS version packs a turbocharged 2.0-liter four-banger with direct injection that pumps out 260 ponies at 5,300 rpm and 260 lb.-ft. of torque at 2,000 rpm. That kind of power is only available with the standard five-speed manual transmission, featuring the no-lift shift feature found on the Cobalt SS as well as a repositioned shifter; go with the optional four-speed automatic transmission and you'll see output drop to 235 horsepower at 5,550 rpm and 223 lb.-ft. of torque at 1,650 rpm. For optimum performance, you'll want to fill the tank with premium fuel, and based on EPA figures, those of you opting for the manual tranny can plan on recording 21 mpg in city and 29 mpg on the highway, whereas the automatic achieves 19 mpg/28 mpg. Our tester, equipped with the four-speed auto, spent a week and several hundred miles being subjected to all types of driving and returned 19.1 mpg.
The HHR SS's intercooled turbocharger offers nearly 20 pounds of boost pressure which can be tracked with a gauge mounted on the driver's side A-pillar. When outfitted with the manual gearbox, Chevy suggests the HHR SS will reach 60 mph in 6.3 seconds, and can scare the bejeezus out of the local fuzz with a top speed in excess of 150 mph.
Hitting a buck and a half is the job of the powertrain, though keeping the HHR SS under control at all speeds is the responsibility of a sport suspension comprised of front MacPherson struts and a rear semi-trailing twist beam axle. Stabilizer bars are standard; bushings have been stiffened, while the dampers and springs have been tuned specifically for SS duty. Same goes for a rack-and-pinion steering assembly that delivers more feedback and reacts quicker than the unit found on regular HHRs. Braking is accomplished with four-wheel antilock discs – front vented and solid rear – located behind 18-inch forged alloy wheels rolling on Michelin Pilot HX MXM4 235/45R18 all-season tires.