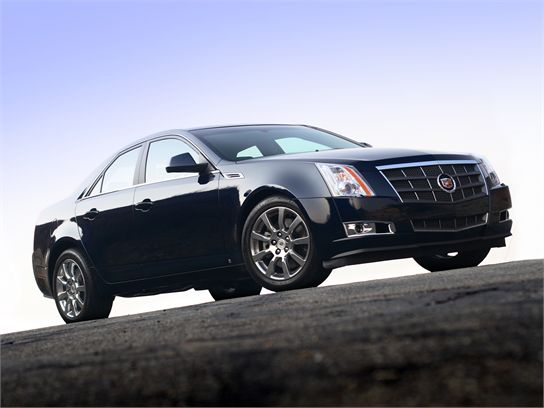 Sports teams and car companies are a lot alike. Each is part of a fiercely competitive and high-dollar business that depends on its players, striving to build the strongest squad possible and subsequently squeezing out weak performers. At the end of the year success is largely determined by the number of wins (sales). Failure allows your competition to eat your lunch and steal the favor of all but your most diehard fans.
Cadillac has known the scenario all too well. Once a brilliant star outshining much of the North American car market, GM's flagship luxury brand fell victim to increased pressure from all over the globe, and was quite simply outgunned, outwit, and outsold.
The 2008 Cadillac CTS proves a shift has been made.
As with any recovering sports team, a single win does not a winning streak make. Well, Cadillac can count at least three – its performance-oriented V Series line, the redesigned Escalade, and now the overhauled CTS. That smacks of a comeback, albeit one in its infancy. For its part, the CTS hits the streets with a striking new front end, an elegantly designed and higher quality interior, added muscle under the hood, and more performance built into the chassis. It's a strong package, as it will have to be when customers cross-shop it against the redesigned Mercedes-Benz C-Class, the upcoming revised Audi A4, the boosted BMW 335i, and others. We'll have to wait until the final buzzer to see how it all unfolds, but there's one thing that can be said for sure – this time, Cadillac showed up with its game face on.
Page 2
Cadillac sells the 2008 CTS in two base packages – 1SA and 1SB, the former including a 263-horsepower V-6 and the latter a 304-horsepower direct injection V-6.
Standard equipment includes the regular gamut of power features as well as an eight-speaker Bose sound system with an MP3 player and three months of complimentary XM satellite radio service, a dual-zone climate control system, one year of OnStar service including Turn-by-Turn Navigation, an eight-way power driver's seat, heated power mirrors, and a tilt and telescoping leather-wrapped steering wheel with secondary audio controls. The whole deal rides on 17-inch alloy wheels wrapped in 235/55 tires.
Options are comprised of individual items and special groupings dubbed Packages (Performance Luxury, Luxury Level One, Luxury Level Two, Seating) and Collections (Luxury, Premium Luxury, Performance). Among the items available are an upgraded sound system with a 40-gig hard drive and a navigation system, an expansive sunroof, a limited-slip differential, leather seats with memory, LED interior lighting along the dash and door panels, a rear park-assist system, HID headlights, upgraded performance brakes, and a split-folding rear seat.  
Buyers interested in the improved 2008 CTS will face a base price of $32,990, including a $745 destination charge. Opt for the direct injection V-6 and you'll be starting at $35,290. Those figures will deliver nicely-equipped models, but the aforementioned options might prove too tempting to ignore. All-wheel drive capability adds $3,200 to the price of a regular model and $1,900 to a CTS with direct injection. A six-speed automatic is standard on the direct injection model (a six-speed manual is a free option) but runs $1,300 on the base CTS. Other goodies include interior wood trim ($495), a sunroof ($1,495), and a Summer Tire Performance Package for models with the direct injection V-6 ($2,980). Those special Collections, adding everything from heated and cooled leather seats to a navigation system, range from $2,600 (Luxury Collection) to $8,165 (Premium Luxury). That last one tacks on everything except the kitchen sink – interior LED lighting, rain-sensing wipers, upgraded wheels, a remote start system, a power tilt and telescoping steering wheel, a sunroof, wood interior trim, leather seats with power lumbar, and much more.
Page 3
Those even remotely familiar with the previous version will recognize the 2008 CTS as that model's successor, yet many of the details have changed. Most dramatic among the updates is a bold new face that's shared with other Cadillacs, including the freshened STS and Escalade. A large triangular grille starts at the hood line and cuts a swath all the way down, intersected by an angled body color panel and accented by redesigned headlights featuring vertical light rods. The new taillights include the same and, collectively, these features help distinguish the CTS at night. The body has also been massaged and now incorporates wider wheel flares. According to Cadillac, aside from possibly a valve stem cap, the 2008 CTS is all-new.
Most complaints about the previous CTS had to do with the interior – it was not up to luxury-brand status in terms of design or materials. That's changed with the 2008 model thanks to a thoroughly revised dash and center console, not to mention higher-quality parts. There's a mesh headliner, plenty of soft-touch materials, fewer hard plastics, and a complete absence of generic controls that look as though they'd been swiped from the Chevy Cobalt assembly line.
Shoppers considering the 2008 Cadillac CTS can opt for rear- or all-wheel drive and choose between two engines, both 3.6-liter V-6s featuring variable-valve timing. (The 2.8-liter V-6 from 2007 is gone.) The regular 3.6-liter engine now boasts 263 horsepower at 6,200 rpm and 253 lb.-ft. of torque at 3,100 rpm. A new direct injection 3.6-liter V-6 pushes 304 horses at 6,300 rpm and 273 lb.-ft. of torque at 5,200 rpm, good for a Cadillac-estimated 0-60 mph time of 5.9 seconds. Each engine is designed to run on regular 87-octane gas. Transmission choices include a six-speed manual, revised for 2008 with tighter ratios, and a six-speed automatic with a manual-shift feature. Depending on your powertrain choice, EPA fuel economy ranges from the high teens in the city to the mid 20s on the highway.
Under the skin is a chassis that maintains last year's wheelbase but adds two inches in track width. Three suspension setups are available: FE1 for everyday driving; FE2 for slightly sportier handling; and FE3 for the true performance enthusiast. All systems include Bilstein shocks, though FE3-equipped models get load-leveling shocks on the rear. The speed-sensitive rack-and-pinion steering has been upgraded to be more responsive.
Among the safety features included on the 2008 Cadillac CTS are front airbags, front-side airbags, and side-curtain airbags. A tire pressure monitoring system is also standard, as are four-wheel antilock disc brakes, Stabilitrak, and traction control.